Featured Alumni: Emily Edwards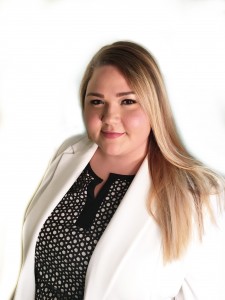 Emily Edwards
Administrative Intern at Carolinas Wealth Management
Class of 2014
Carolina Forest High School
Myrtle Beach, South Carolina
Can you briefly describe what you do in your current role?
I am currently enrolled as a full time student at Clemson University majoring in Accounting. I also work part time at an internship for Carolina's Wealth Management which is an investment and financial advising firm. My responsibilities include administrative tasks such as dealing with clientele, phone services and emails, in addition to opening new accounts for our customers. I handle all paperwork used to open the accounts and submit for approval from our back offices in Iowa.
What first comes to mind when you think back to your VE experience?
LEARNING! I learned SO much during my two years with Virtual Enterprise. I had never been introduced to anything business related, and at the time thought I wanted to pursue medicine. At first, I was overwhelmed and scared about taking on so many responsibilities within my company, but I grew to love the challenge and still use everything I learned while in the class on a day to day basis.
What was your favorite part of VE? 
My favorite part were the trade shows and different trips I was able to take through networking in VE. The trade shows were amazing because we were given a chance to meet and network with other young professionals, many of whom we had been working with via the Internet. It was also extremely rewarding to display all the hard work your company had done throughout the year. The business plan competitions were also a great experience, again, for networking and showing off all that your company had accomplished.
How does your VE experience relate to your current role? How does it relate to what you ultimately want to do in your professional life? 
My Virtual Enterprise experiences have helped me tremendously in my current internship as well as my college career. Working in a professional business setting can often be intimidating for young adults who are still in college, but thanks to VE, I had no trouble making the transition. I was very confident and prepared to enter the office because I had previous experiences networking and dealing with other professionals. I felt comfortable answering the phones, emails and introducing myself to others. They may seem like simple tasks, but things like that are what can really make or break you in a new office environment. In addition to all of those great things, Virtual Enterprise helped me learn about the business community as a whole. Much of the terminology used in my investment agency would seem foreign to me if I had not been so immersed in the VE community. In the grand scheme of things, I know what I learned in VE will carry over into my post-graduation professional career. I am pursuing an accounting degree, so all of the work I did with the business plan has been a huge help in my accounting classes and will continue to help once I start my career.
Do you believe that your VE experience was a differentiator in helping you find your first internship/job?
As I said before, prior to Virtual Enterprise I had never learned anything about the business community, so learning things as simple as proper email etiquette through VE has been vital to success in my field now.
How did you get reconnected with VE? How do you hope to stay involved? From your perspective, what are the differences between VE now and when you had it?
I am still in contact with my Virtual Enterprise teacher, Mrs. Melissa Gore. She inspired and encouraged me all throughout my VE journey and has made a huge impact on my life. I enjoy speaking and assisting her current VE classes over my breaks from college. Once you are an alumni, there are endless possibilities for you to share your knowledge with others and encourage them to create their own Virtual Enterprise legacy.
What advice do you have for current VE students? 
My advice to current students would be to immerse yourself in the VE world. It will be challenging, but ever so rewarding. I truly believe that the more you put into the program, the more you will get out of it. Treat your business as a real business, pour all of your heart and passion into your ideas and you will see your success skyrocket.
---
If you are a VE alumni with a story to share and would like to reconnect with VE, please contact Tyler Fugazzie, Marketing and Communications Manager, at tyler@veinternational.org or visit our Alumni page.