Learning to Run a Business by Running a Business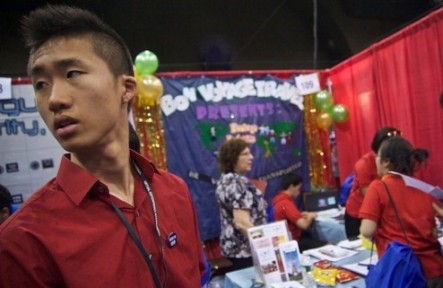 This story was published on the New York Times website on April 13, 2012.
By Elbert Chu
Last month, 2,500 people from across the nation and nine countries, including Bulgaria and Indonesia, gathered for a trade show at the Park Avenue Armory on Manhattan's East Side. Working for companies that ranged from software development to tattoo studios, they hobnobbed and made deals.
They are students enrolled in business classes that teach them how to run companies through simulation. Those classes are provided by Virtual Enterprises International, part of a network in which students create and run their own — though usually imaginary — businesses. What made this different from the hundreds of other trade shows in the city each year? All of the participants were high school students who represented 153 schools from the United States and abroad.
The program began 15 years ago, started by Iris Blanc, a former assistant principal at Tottenville High School in Staten Island. Ms. Blanc first saw classes being taught through the running of pseudo-businesses during a visit to Austria.
When she returned to New York City, she helped local superintendents start a pilot program with seven public schools. Now Virtual Enterprises connects some 10,000 American students online who are learning business skills and interacting with schools from 42 countries.
"We create an environment that doesn't say school," Ms. Blanc said. "The idea is for students to take ownership of their education." She refers to the daily classes as "business labs" because students attend the class dressed in suits, and rooms are equipped to resemble a company office.
At a time when there is lingering neglect — but improved appreciation — for vocational education, Virtual Enterprises is filling a niche at its participating schools.
It has support that cuts across the usual fields of education battle. "This just shows that when we put aside politics, we see the amazing work we can accomplish together," said Sterling Roberson, a vice president of the United Federation of Teachers.