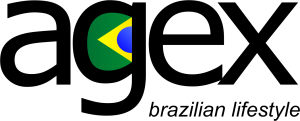 EFG BH – Escola de Formação Gerencial
Belo Horizonte, Minas Gerais, Brazil
About the Firm
AGEX sells traditional Brazilian products that celebrate Brazilian lifestyle and culture, including shoes, sportswear, beachwear, music, musical instruments, and interior design items.
The vibrant firm successfully brought a slice of Brazil to New York City at the [intlink id="9162″ type="post"]2014 International Trade Show[/intlink] and earned an Outstanding Achievement in Booth Design for their efforts.
The firm is interested in doing business with retail companies from around the VEI world. Going forward, AGEX plans on expanding their product mix to offer a diversity of products that reflect Brazil's worldwide influence.
Team Members
Coordinator: Professor Gilberto Franco
Marketing
Izabella Valadares
Gabriela Resende
Sales
Ronnye Castro
Cecília Horta
Accounting
Human Resources
Maria Luiza Alves
Lara Sterzik Fink
Purchase
Logistics
Product Catalog