by Yuridia Peña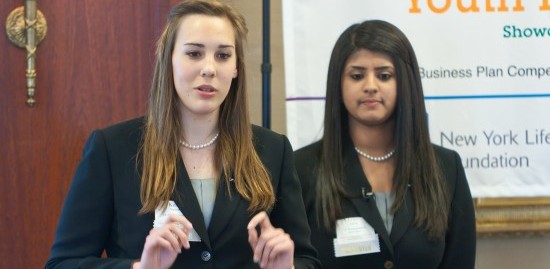 As student data continues to drive curriculum planning, public schools have increased test prep and college readiness courses forcing the number of extracurricular programs to dwindle. Virtual Enterprise International, however, is one of the few specialty programs that has survived the chopping block because its provides students with a competitive edge for college and the workplace.
Virtual Enterprise International (VEI) offers intensive courses on economics, computer software systems and marketing, to name a few. Students participate in national competitions where their teams present their business plans to a "Board of Directors" – a panel of judges. An international trade show offers students from around the world the opportunity to showcase virtual companies, sell products and promote their brand while analyzing their competitors' businesses.
Virtual Enterprises International derives from European apprentice programs that can be traced back to the 17th century when practice firms were set up for young adults who wanted to learn a trade or transition from, what today, we'd call a blue-collar job to an administrative position. In 1994, a group of school administrators visited Austria to observe an office simulation classroom that left them in awe. Superintendents, Principals and Assistant Principals piloted the program in seven high schools in NYC. The first high schools were mostly comprehensive sites with business programs including Murry Bergtraum, Norman Thomas and Evander Childs.
Today, advanced technology enables students to manage and sustain their companies online making it easy for high school students from around the world to trade, sell, merge and acquire stocks from their competitors. VEI has a network of 5,000 student-run companies – involving thousands and thousands of students – in 40 countries that offer a menu of products and services – from banking, insurance and technology to publishing, advertising,
retail, travel and leisure.
Expectations are high for students who participate in VEI programs. In addition to the courses mentioned above, students must also take a basic computer class offering Microsoft Word, Excel and PowerPoint tutorials. "I think we do a disservice for young people not to be ready (for the workplace) after 12-plus years of schooling," said Eddy Bayardelle, President of Virtual Enterprise International and the former President of the Merrill Lynch Foundation.
Mr. Bayardelle believes the program's mission is giving inner city kids a competitive advantage by providing them with the kinds of skills they'll need after college, or even after high school should they need to work through college or if college is not an option. "I'm not saying that you don't need degrees, but I don't think you should leave high school without business skills," he said.
Each Virtual Enterprise has a life span of seven years until they are liquidated. This fall at Fort Hamilton High School, seniors began to lay the foundation for a new enterprise. After many brainstorming sessions and pitches for a new company by students, the class narrowed down their options and decided between a security company and an application software company. The apps enterprise won the popular vote.
However, when the student-led executives later met, they overturned the vote and decided that the apps market was too fickle and a security company – later named Safe Guard Security Inc. – would be the best decision.
"The No.1 goal right now is to make a stable foundation. We don't want a weak company," said Artur Katsev, CFO, Safe Guard Security.
Chief Operating Officer Esraa Elzin juggles her regular classes and a college-credit business course with a part-time job at a local pharmacy. She says VEI "helps you be ahead of the game." Saiqa Khaskali enjoys her role as VP of Human Resources: "It doesn't really involve the business planning; it's more organizational and paper work."
"The class is about time management, they learn personal finance and how to be better consumers," said Mary Grace Alfredo, a VEI business teacher who has facilitated the program for 12 years.