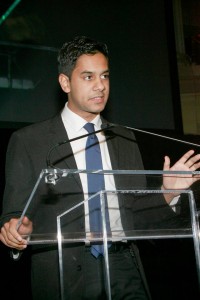 Josuel Plasencia
Co-Founder/Co-CEO of Project 99
Class of 2013
Academy of Finance and Enterprise
Long Island City, New York
Can you briefly describe what you do in your current role?
I am a junior at Babson College and the Co-Founder/Co-CEO of Project 99 (99leaders.org). This summer I will be interning at Accenture Consulting and this fall I will study abroad in Sao Paulo, Brazil.
What first comes to mind when you think back to your VE experience?
I think of all the amazing experiences I had, be it in the multiple business plan competitions, or traveling to Belgium with VE, as well as the multiple meetings I had with my team. It was a truly transformative experience that laid the foundation for my life now, at Babson College and beyond.
What was your favorite part of VE?
My favorite part was and still is how everything is interconnected. It is a true community. It is not just students and teachers; it is mentors, it is businesses, it is colleges, it is VE leadership, it is alumni and the list goes on and on. Here in VE, I was immersed for the first time in a true network. To top that off, every one of these groups of people had a mission, vision and intention of wanting to see me succeed.
How does your VE experience relate to your current role? How does it relate to what you ultimately want to do in your professional life?
At VE, for the first time in my life, I was given the opportunity to work for an actual business. That entailed learning many skills that are crucial in how I manage myself today. The list of skills I learned in VE would probably be too long to list. However to name a few, I would mention time management, organizational behavior, and finance.
How do you believe that your VE experience was a differentiator in helping you find your first internship/job?
It surely made a world of difference. When you speak about VE and the unique experience you are given to do something that many don't get to ever do until at least after college, you become a valuable asset. You are in a unique position to speak about leadership, which extends far beyond anything that can be offered in traditional classes.
How did you get reconnected with VE? How do you hope to stay involved? From your perspective, what are the differences between VE now and when you had it?
Once you are part of VE, you are part of VE for life. As an alumni, there are plenty of opportunities to reconnect and be involved. I encourage people to do the same and give back to the community. To be honest, there is little difference between my work with VE and my work now. I may be older and exposed to larger opportunities, but in the end, I am using many of the same skills.
What advice do you have for current VE students?
My advice is to build your VE story. This means to build your own experience.  Are you interested in finance? Network with finance professionals. Are you interested in Babson? Network with me. Are you interested in coding? Build an app. VE allows you to pursue your dreams in high school and now, even middle school! You just have to decide you want to do that.
---
If you are a VE alumni with a story to share and would like to reconnect with VE, please contact Tyler Fugazzie, Marketing and Communications Manager, at tyler@veinternational.org or visit our Alumni page.