Inside the Internships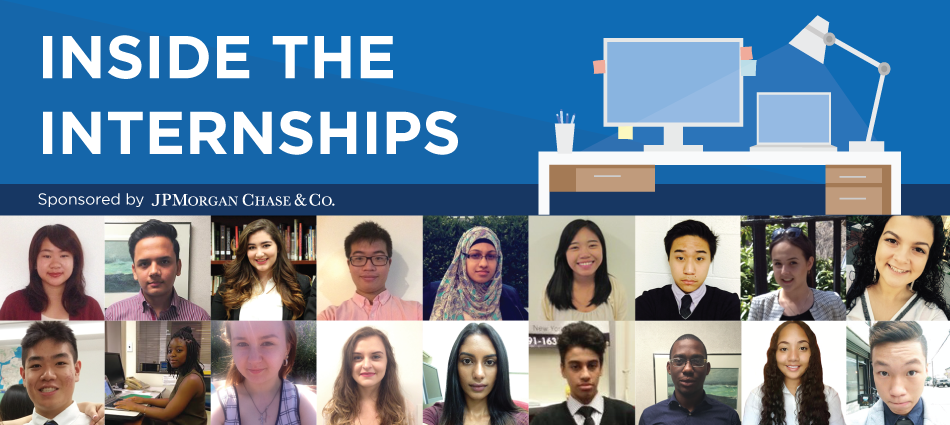 After successfully completing the VEI program, VEI students are more than ready to intern and make real contributions to organizations in need of their energy and skills. Paid internships are a win-win situation since organizations boost their productivity while providing students with valuable work experience, which better prepares them to thrive in college and their future careers.
Thanks to support from JP Morgan for the second year in a row, VEI students in New York City have the opportunity to spend six weeks this summer learning and contributing to the organizations listed below. These hosts represent a diversity of established and growing businesses spanning industries and sizes, each offering valuable working opportunities for graduating VEI students.
See the Featured Interns
See the 2015 Internship Hosts
Featured Interns
2015 Internship Hosts
The Advertising Club of New York
The Advertising Club of New York represents the vision & mission of a vibrant international advertising community across crafts. For over a century, they have connected professionals around a shared experience & passion in the name of exchanging ideas & best practices for business.
---
American Portfolios is a full-service broker/dealer whose primary mission is to provide the best business solutions, support and services that its financial professionals require to achieve financial freedom for their clients. The firm currently has more than 800 independent investment professionals located in over 360 branch locations throughout the nation and are one of the top 50 independent broker/dealers in the country.
---
The mission of The American-Scottish Foundation®, an international not-for-profit organization, is to establish links and strengthen ties between Scotland and the United States, through the pursuit of contemporary social, cultural, educational, and business activities.
---
Conde Construction is a general contracting/construction management firm specializing in commercial and residential renovations.
---
One of the "Big Four" professional services firms, Deloitte is the largest professional services network in the world by revenue and number of professionals. Deloitte's more than 210,000 professionals in over 150 countries provide industry-leading audit, tax, consulting, enterprise risk and financial advisory services to many of the world's most admired brands, including 80% of the Fortune 500.
---
Get Schooled is a national non-profit founded on the belief that students themselves have the power to improve their future if given the right information and motivation. They leverage the key influences in teens' lives to directly motivate them to stay committed to graduating from high school and going on to college.
---
Founded in 1979, Interfor International is a global investigation and security consulting firm offering comprehensive domestic and foreign intelligence services to the legal, corporate and financial communities. Interfor is staffed by highly skilled investigators and fraud examiners, many of whom have been associated with government, defense, and intelligence agencies worldwide, including the British Secret Service, Israeli intelligence, various European agencies, and the United States CID, CIA, DEA and FBI agencies.
Their investigators are also supported by a sophisticated research division using state-of-the-art technology. Interfor is fully licensed and operates in the United States, Europe, the Middle East, the Americas, Africa and Asia. While the nature of Interfor's services precludes disclosing the identity of specific clients, they include Fortune 500 companies, major law firms, an international airline and a number of Western governments.
---
LearningExpress, LLC is a leading educational technology company that provides effective eLearning solutions for workplace skill-building, professional development, and academic success.
They partner with libraries, institutions, corporations, and government agencies to provide customized online learning resources, employee engagement solutions, and skills development content.
---
Lighthouse Guild provides a full spectrum of integrated vision and healthcare services helping people who are blind or visually impaired as well as those with multiple disabilities or chronic medical conditions lead productive, dignified and fulfilling lives.
---
Manhattan Borough President's Office
Gale A. Brewer is the 27th Manhattan Borough President. Ms. Brewer previously served on the City Council for 12 years. As Councilmember, she successfully passed legislation guaranteeing paid sick leave for most hourly employees, compelling landlords to fix repeat violations, requiring all City data to be published online, and the nation's first law protecting domestic workers. She was the founding chair of the City Council's Technology Committee in 2002.
---
Over the past 20 years, The Medical Link has focused on providing employee benefits consulting; viewing, evaluating, negotiating and designing custom-tailored employee benefit programs that improve the wellness of an organization's staff and reduce the costs of their policy premium.
---
Movers, Not Shakers! has been helping people relocate into, out of, and around New York City since 2002. They have a growing business and love working for their clientele.
---
The Metropolitan Transportation Authority is North America's largest transportation network, serving a population of 15.1 million people in the 5,000-square-mile area fanning out from New York City through Long Island, southeastern New York State, and Connecticut.
---
National Executive Service Corps (NESC)
The National Executive Services Corps (NESC) is a nonprofit professional services firm offering high-quality and affordable management consulting, executive search, and financial outsourcing services to the nonprofit community. NESC is committed to strengthening the management of nonprofit organizations so that they can deliver more efficiently and effectively on their own missions.
NESC's expert consultants are known for organizational assessments; strategic and business planning; board development and governance; branding and marketing; capacity building; and, social enterprise, all tailored to the individual client. Over 2,000 New York Metro area nonprofits have benefited from NESC's services since 1977.
---
New Visions for Public Schools is dedicated to ensuring that all New York City public school students, regardless of race or economic class, have access to a quality education and can graduate prepared for college, career, and life. They design, create, and sustain effective public schools for students in high-need neighborhoods across New York City, serving 81 district and charter schools and reaching approximately 50,000 traditionally underserved students every year.
---
New York City Department of Education
The New York City Department of Education is the largest school system in the United States, with over 1.1 million students taught in more than 1,700 separate schools. The department covers all five boroughs of New York City, and has an annual budget of nearly 25 billion dollars.
The department is run by the Panel for Educational Policy and New York City Schools Chancellor, Carmen Fariña.
---
The SIFMA Foundation is dedicated to fostering knowledge and understanding of the financial markets for individuals of all backgrounds. Drawing on the support and expertise of the financial industry, the SIFMA Foundation provides financial education programs and tools that strengthen economic opportunity across communities and increase individuals' awareness of and access to the benefits of the global marketplace.
---
Solarus was founded by three individuals who have the vision to provide an extraordinary experience with all technology matters that affect one's business. Combined, they have over 50+ years of experience in the technology industry and have put together a model to exceed expectations.
---
State Farm is a group of insurance and financial services companies in the United States, with operations in Canada. From community involvement to disaster response, State Farm is committed to supporting the neighborhoods it serves and the neighborhoods their associates call home by helping to build safer, stronger and better-educated communities.
They are ranked 41st in the 2014 Fortune 500.
---
VEI knows firsthand how prepared our students are to make a real difference in an organization, and we are a proud employer of our own former students.
---
Wall Street Walks takes visitors through the historic capital of world finance – the one-square-mile of downtown Manhattan known as "Wall Street". Their visitors learn about people, places and events comprising over 200 years of history, as they walk among locations where it all happened. They welcome tourists looking for a unique New York City experience, as well as corporate outings, and student groups of all ages.
Wall Street Walks is part of the New York Visitor and Convention Bureau, NYC & Company, the NYC chapter of the American Society of Training & Development (ASTDNY).
---
Founded in 1970, World-Wide Business Centres is located in over 60,000 square feet of prime Manhattan office space on the 8th, 9th and 10th floors of 575 Madison Avenue.
WWBC is home to three floors of executive offices and conference rooms, all furnished and tastefully decorated complete with telephones and internet connections ready to go. Beautifully appointed reception areas are the focal point for the arrival of all visitors.
---
---
---
Read the Student Interviews from 2014's Inside the Internships