Nicole Taniguchi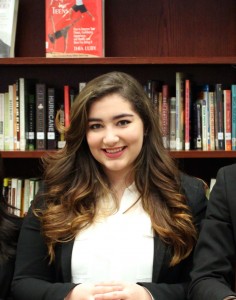 Nicole Taniguchi
MTA Intern
Jacqueline Kennedy Onassis High Schooll
Growing up I moved to many places and attended three different high schools in the span of two years. This constant shifting from place to place sparked an interest in reading and writing, which became the constants in my life.
When I moved to New York and began attending Jacqueline Kennedy Onassis High School, I quickly became interested in the VEI program. I was accepted into the class as a junior for T-Squared's first year and was promoted to VP of Sales and Marketing due to my diligence and motivation for sales and marketing. I was part of the presentation team for the Business Plan Competition, where we finished in 3rd Place at Nationals. It was during that first year of VEI that I grew to love business and realized it was what I wanted to do with my future.
My senior year I became the CEO of T-Squared. Our class became the inaugural class of Viacom's UP mentoring program, which allowed us to gain priceless knowledge from Viacom employees that guided us through our VEI company and personal goals and aspirations.
What excited you most about this internship opportunity?
Working in a company as big and intricate as the MTA. Every person who lives in New York City takes some form of transportation through the MTA, and seeing how they work from the inside was a great learning experience.
Tell us about what you learned during the internship.
I learned a lot about transit and how truly intricate it is. My department is Enterprise Asset Management, and before working there I never realized how the assets (trains for example) may wear and tear from overuse.
How did you connect with your new colleagues?
People who work in Enterprise Asset Management are extremely friendly and welcoming. They threw a birthday celebration for one of the employees and I was invited along with the other interns. We participated in team-building exercises which helped us form relationships with the other employees.
---