New York City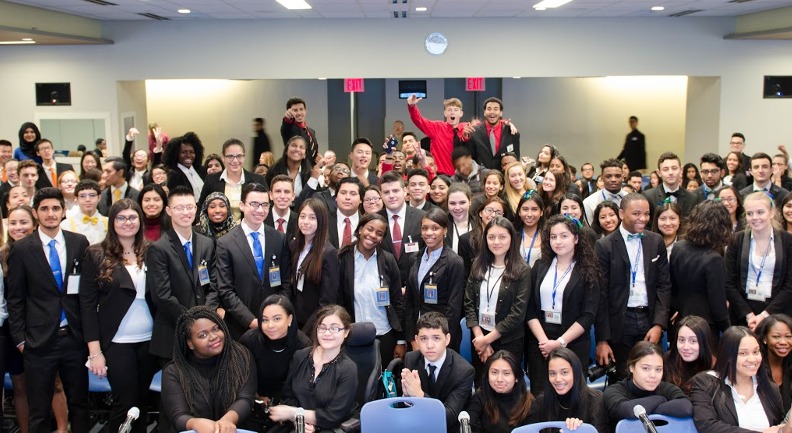 Welcome students, teachers, and guests to the New York City Virtual Enterprises page! Here you will find resources for all 4 of the VE curriculum courses, including: Writing and Presenting for Business, Business/Financial Math and Algebra (formerly known as Business Computer Applications), Entrepreneurship, and Virtual Enterprises.
Courses
Writing and Presenting for Business
This course is designed to introduce students to the fundamentals of communication incorporating basic computer skills with special emphasis given to the development of workplace skills. This course will enable students to expand on the basics and the fundamentals of Microsoft Word, Microsoft PowerPoint, and other necessary skills needed in today's business world. In this course, emphasis will be placed on what it means to effectively and ineffectively communicate, and help students to develop skills in both written and verbal communication. After successful completion of this course, students will have the skills necessary to communicate effectively in a variety of professional situations. Additionally, students will gain valuable experience with research, presenting, ethics, and collaboration.
This course offers an elaborate set of projects and activities designed to enhance students' Microsoft Excel skills as it applies to business and financial concepts. Within each Math Excel project, students are given a Mini Lesson followed by student activities and detailed instructions to complete the project. After successfully completing the course, students will have developed an understanding of the various business and financial documents necessary to run a firm as well as the Microsoft Excel skills vital to complete those documents.  In addition, several Math Excel projects also connect to the financial documents that Virtual Enterprises students are required to submit (ie. Income Statement and Break-Even Analysis). Therefore, Virtual Enterprise teachers and students are also encouraged to use these materials.
This is a rigorous, comprehensive one-year course in Entrepreneurship and Business which has the following primary goals:
To provide students with the skills, competencies and confidence to successfully pursue post-secondary education in a variety of business and/or business-related disciplines.
To develop effective entrepreneurs who will use their insights, knowledge and skills to develop ventures that are prosperous and respectful of the long-term health of society and our planet.
To use technology as applied in business.
To provide a foundation for a rich, meaningful experience in the VE simulation.
This course was created to simulate a real, functioning business within a high school classroom. Students get to utilize their entrepreneurship knowledge with this hands on course. Some of the activities and events that are part of the course include the Business Plan Competition, the Trade Fair, networking events, buying and selling with other firms, creating marketing material, and much more.
NYC Events & News
Read about how VE Alum Michael Russo used his Virtual Enterprises experience to become a full-fledged entrepreneur. Continue reading →
From July 11-14, 2016, more than 140 new and returning VE teachers gathered together at LIU Post for the second annual National Teachers Conference. These four days offered collaborative professional development, workshops, presentations, networking opportunities, a bus tour of New … Continue reading →
On June 10, 2016, Deloitte volunteers celebrated Impact Day in New York City by connecting with Brooklyn's Sweet N Savory Catering and Avant-Garde Furnishings of Fort Hamilton High School and Tech-Nique (an Imagination, Inc company) from High School of Arts, … Continue reading →
On Tuesday May 24th, 2016, 40 Entrepreneurship students in teams of five participated in the first-ever New York City Global Enterprise Challenge hosted at Microsoft. Inspired by the Practice Enterprise Business Challenge held in Karlsruhe, Germany, students were given two hours to … Continue reading →
On Friday May 27th, 2016, executives from VE New York City firms came together at Mercy College to recap on the year's progress for their firms. The day started with our first guest speaker, VE alumnus and recent Mercy College … Continue reading →
Contact
Paul Presti
NYC Regional Director
Phone: (212) 769-2710
Email: ppresti@veinternational.org
Gina Pol
NYC Program Coordinator
Phone: (212) 769-2710
Email: gpol@veinternational.org