Ride for VEI at SoulCycle Hosted by Viacom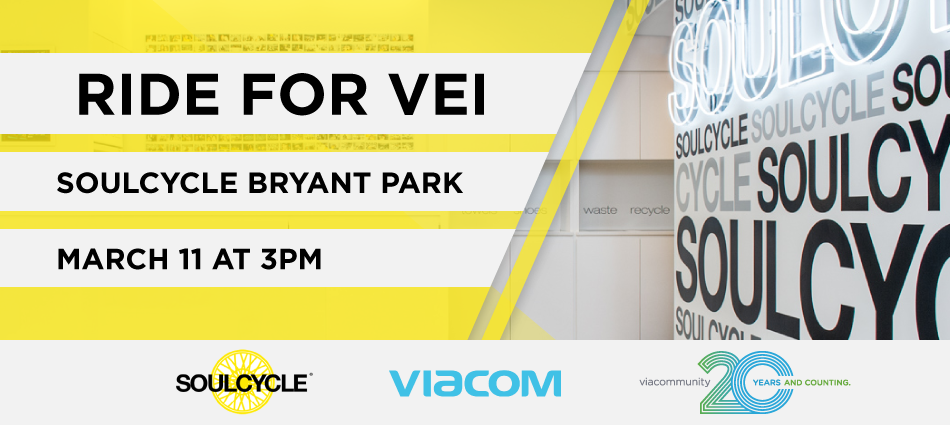 Have you always wanted to try a cycling class but never had the courage? Or are you a cycling guru and eager to ride for a great cause?
This is your opportunity! Viacom is hosting a special SoulCycle class on Friday, March 11 at 3 PM (arrive at 2:30 PM) to benefit Virtual Enterprises International (VEI). VEI is a national educational nonprofit that transforms students into young professionals by giving them the opportunity to create and run business ventures in their classroom. VEI partners with educators, business leaders, and industry professionals to develop the best talent pipeline in the country. VEI currently serves 12,000 students across the U.S., many from underserved communities.
Ready for the challenge? Sign up to cycle with your colleague while supporting the next generation of entrepreneurs!
Bike Reservations
There are 45 seats available for Viacom employees (Viacom will provide a 1:1 match for each seat reserved by a Viacom employee) and 10 seats available for VEI supporters. Bikers should arrive at 2:30 PM/2:45 PM. Bikes are reserved on a first-come-first-serve basis, so sign up now!
Viacom employees, contact David Corpuz, Corporate Communications, Corporate Responsibility, at david.corpiz@viacom.com with any questions.
VEI registrants, contact Rachel Robins, Events and Partnerships Manager, at rachel@veinternational.org with any questions.