Our Supporters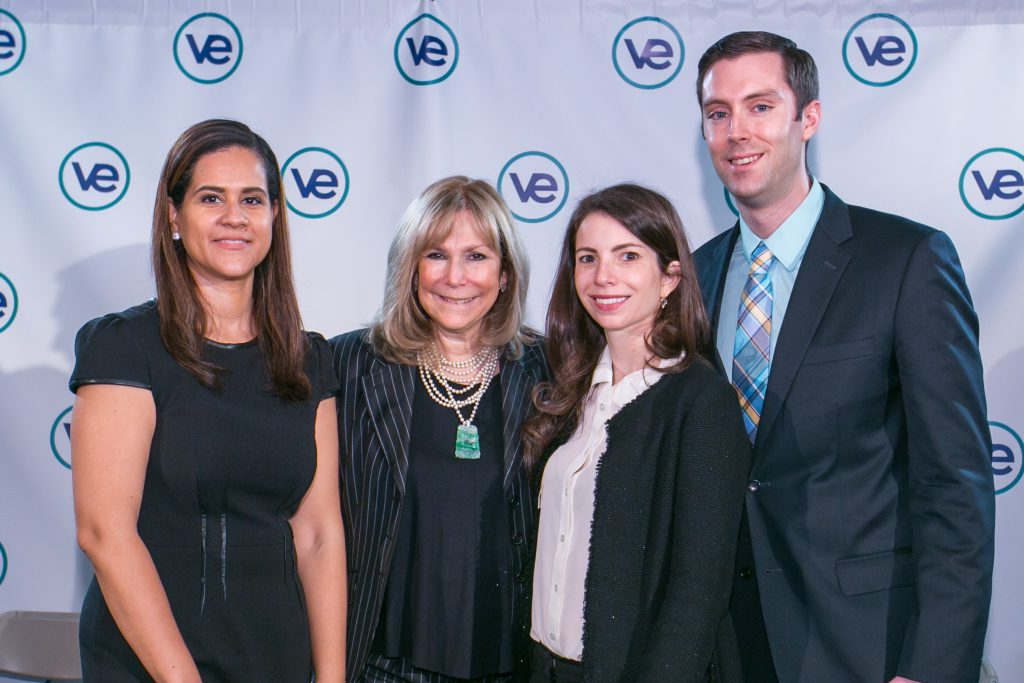 The generosity of many individuals and organizations makes it possible for us to provide students with the opportunity to experience the world of business firsthand and develop into talented professionals. We extend our thanks to each and every one of our FY2017 supporters for being a part of VEI's growing global community.
Donations from July 1, 2016 – June 30, 2017
If you're interested in supporting our mission, consider giving the gift of VE to more students by making a tax-deductible contribution. Every $150 means another transformed student.
American Portfolios Holdings, Inc.
Nielsen (in-kind)
TIAA
Angelo, Gordon & Co.
Bank of America
California Inland Empire Doing What Matters
Matthew and Pamela Chasin
Credit Suisse
Dale Carnegie
FedEx
The Fina Family
Gerstein Fisher
Grant Associates
Jay Lewis Family Charitable Fund
Long Island University
Prosperity
Jeffrey Taylor/Digital Risk
Vanguard Charitable Fund
Viacom
Wells Fargo
Agent Support Group
CNY Group
Council of School Supervisors and Administrators
Culinary Institute of America
Joseph and Nancy Delaney
Deloitte
TJ and Stephanie Durkin
Moe Fodeman
Goldman Sachs
Steve Israel
JPMorgan Chase
Marc Lessner
Linda and Curtis Luckman
RJ Madden
Jesse Maffei
Thomas Marano
McKelvey Family Charitable Fund
McGraw Hill Education
Mercy College
New York City Department of Education Office of Postsecondary Readiness
North Bay/East Bay California Doing What Matters
Jay Novik
Aaron Ong
Anthony Orso and Michael Lehrman/CCRE
Starwood Property Trust
Ryan Stroker
United Federation of Teachers
Steve and Sharkey Valentic
Kensington Vanguard
Debra Weiser
Wilson Sonsini Goodrich & Rosati Foundation
AJF Financial Services, Inc.
Steven Alper
Jean Altier
American Endowment Foundation
Banker Construction Corp
Caroline Berley
Rebecca Bextel
Stephen and Lori Beyer
Jaime Blanc and Derek Feinman
Cindy Boyd
Brainly
Stephen Breskin
Chris Burnett
CDW-G
Arvind Chary
Tracy Chinery
Christopher Whitehouse Foundation
CISCO
Paul Cronin
CTE Technical Assistance Center of NY
Xavier Dailly
Brian D'Ambrosio
Jeffrey and Kay Dimodica
Edgenuity
Guy Endzweig
Don and Cara Epstein
Daniel Ezra
Marla and Gregg Felton
Lynne and George Fina
Christopher Flatz
Fisher Family Fund
Christopher Flatz
G&G Planning Concepts, Inc.
Mark Gajowski
Carlos Garza
The Gassman Financial Group
Cheryl Glory
Mimi Grotto
Mary Haggerty
Zachary Herrera
Daniel Hoffman
Hofstra University
Joe Imbriano
The Intergrated Inc.
JCD Associates, Inc.
Yong Joe
John Keller
Michael Lascher
Lara Leaf
Ronald Madden
Magii, Inc.
Jeffrey Mayer
Douglas Millowitz
Moore Co.
Paul Nagai
Gabriella Nawi
New York University School of Professional Studies
Aaron Ong
Stephen Orr
Paige Patton-Morris
Pearson
Chuck and Carol Perl
The PIMCO Foundation
Promethean USA
David Rabuamo
Randy Reiff
Becky Schamis
Jerome Shapiro
Baron Silverstein
Andrew Solomon
Strategic Wealth Advisors Network LLC
Diane Terman
Steven Valentic
Carol Fuller Venezia
Steven and Helene Walsey
Jennifer Walsh
Ryan Walsh
Joshua Weintraub
ACORD
Antarina Amir
Anchin, Block & Anchin LLP
Bareburger
Michael Bissmeyer
Sara Bonesteel
Howard Brathwaite
Lloyd Bromberg
Nancy L. Buc
Barbara Butler
Simon Chow
Michael Coneys
Ravi Desai
Michael Distenfeld
Scott Domansky
Arlene Fauser
Louise Phillips Forbes
Rachel Freedman
R.B. Fulton
Cesar N. Gonzalez
Beth Grossman
Michael Hamilton
Lesley Herrmann
Jeanne and Norton Juster
Samuel Kaufman
Lili Kong
Bernadette Kriftcher
Wendy and Jerry Labowitz
Adele Laboz
Marc Lessner
Julie Levi
Brittany and Brandon Levin
Robin Lewis
Kara McShane
Paul Motusesky
Muriel Siebert Foundation
Andrea Diana Nem
Donna Newman
Elizabeth Nicholas
Notre Dame Alumni Club
Office Equipment Company
Ellen Palazzo
Ujjval Patel
Maria Peterson
Stanley Rabinowitz
Anand Ravipatt
Rashaan Reid
Mary Roth/RIMS
Matt Schaffnit and Rachel Freedman
Gabe and Jayme Schneider
Brian Sigman
Nicholas Smith
Joe Steffa
Kathryn Swintek
John Templeton
Traust Sollus Wealth Management, LLC
Bill Verde
Michael Walmark
Alexandra Wilkis Wilson
Ross and Michelle Anderson
Stephanie Astic
Max Baumrin
Mike Beck
The Benevity Community Impact Fund
Uri Ben-Ezer
Amanda Bloom
Jeffrey Bockian
Matthew Boone
Francesca Camilleri
Mary and Mark Canner
Bryn Canner
Niko Canner
Matthew Carr
Christy Chen
Connie Chen
Ken Colao
Andrew Corrigan
Sean Curran
Robin D'Elia
Corissa DeRose
Evan Dick
Stuart Farber
Farmingdale State College
Harriet Feiwel
Cindi Fisher
Jenine Fitter
Abigail and Eric Geller
Ronnie Giordano
Naomi Goldstein
Melissa Grappone
Karen Segal Green
Lee Green
Sarah Gurley
Josh Halegua
Alison Halpern
Jennifer Hammond
Brad Harris
Lauren Haskin
Adam Hirsh
Jeffrey Holmes
Bing Ying Hu
Gareth Hughes
Joe Imbriano
IO Education
Michael Israel
Rachel Jarrett
Richard Johnson
Tatiana Johnson
Teri Jones
Lindsay and Peter Kane
Kurt Kempkes
Oatty and Korki Kim
Kevin Klose
David Kornmeier
Tanya Krochta
Frances Kweller
Rob Lachenauer
Lynda Lazzari
Andrea and Ari Lefkovits
Naomi Lehrer
Donna Levitz
Francine Tomach Lifshey
Sara Lipman
Brooke and Paul Lipsitt
Jonathan Love
John Lucas
Ben and Sue Mandel
Joel and Riccy Mandel
Bonnie Mannfalk
David and Lisa Masarek
Peter McMullin
Dr. Eloise Messineo
Jayne Millard
Tammie Miller
Morris and Helen Messing Family Charitable Fund
Wendy Mure
Carol Mutterperl
Cheny Ng
Fukiko Ogisu
Bret Parker
Jared Parker
John Park
Jay Piazza
Susan Pravda
James and Nancy Quinn
Craig Rainer
Maria Rianna
Drummond Rice
Dan Ritchie
Daniel Rudin
Sarah Salanic
Christopher Salute
Leah Sanzari
Anthony Sfarra
Michael Sierko
David Sklar
Thomas Smith
Stephen Stabile
Paul Stanley
David Stein
Jeanne Strause
Abe Tawil
Elaine Taylor-Gordon
Lisa Teppa
Upasana Tyagi
Diane Weiser
Adam Wilkins
Kevin Wilson
Benjamin Wirtshafter
Monica Wood
Adam Yafei
Mei Zhang