About
With an emphasis on college and career readiness, VE is an in-school, live, global business simulation that offers students a competitive edge through project-based, collaborative learning and the development of 21st-century skills in entrepreneurship, global business, problem solving, communication, personal finance and technology.
Drawing on the European tradition of apprenticeships, this multidimensional, experiential learning model, which is part of a global network of student-run businesses in over 40 countries, transforms high school students into independent-thinking business professionals and their classrooms into offices.
In addition to giving students a head start on jobs and careers, VE reinforces students' academic skills and achievement, reignites their interest in education, and raises their desire to graduate and pursue lifelong learning. Through developing and managing businesses, students not only stay in school, but gain expertise in problem-solving, decision-making, communication, collaboration, technology, and accessing, using and analyzing information—21st-century skills that are key to success in both college and careers.
History
After visiting practice firms in Vienna, Austria and observing the benefits of this instructional model, the New York City Department of Education spearheaded the implementation of Virtual Enterprises in seven New York City public high schools, where it became the first and only program of its kind in the U.S. Since its inception, VEI has been implemented in 500 secondary and post-secondary schools nationwide, serving over 12,000 students annually.
The VE Approach: Learning by Doing Business Globally
VE replicates all the functions of real businesses in both structure and practice. Under the guidance of a teacher-facilitator and business mentors, students create and manage their virtual businesses from product development, production and distribution to marketing, sales, human resources, accounting/finance and web design. VE firms offer diverse products and services—from banking, insurance, and technology to publishing, advertising, app creation, tourism, and fashion.
Students select to work in different departments of their businesses, typically Administration, Accounting/Finance, Sales, Marketing, Human Resources and IT. The class selects a CEO and managers who oversee each department. Working in teams to make decisions about how to complete their departmental tasks in support of company goals and objectives, students learn from both their successes and mistakes.
"Study findings show that the VE program helps students to gain job-readiness and academic skills, which help prepare students for both careers and college. The program's greatest strength is its student-centered, project-based approach."                                                         – Charlotte Frank, McGraw-Hill Financial
As "employees" of the virtual business, students are accountable for its performance. They conduct market research, work cooperatively to develop and write a business plan, design and implement an e-commerce website, pay wages and taxes, maintain 401(k) plans, and develop an annual report at the end of the year. Through all of these activities, VE students learn professionalism, business acumen, corporate knowledge, presentation skills, and teamwork. And through their business and trade across industries, borders, and cultures, students develop hands-on knowledge of the expectations of both the workplace and the global economy.
VE firms engage in trade with 5,000 other Virtual Enterprise firms around the nation and across the globe. The transfer of funds is made electronically through a web-based simulated banking system that links all U.S.-based VE firms with each other and with Virtual Enterprise firms worldwide.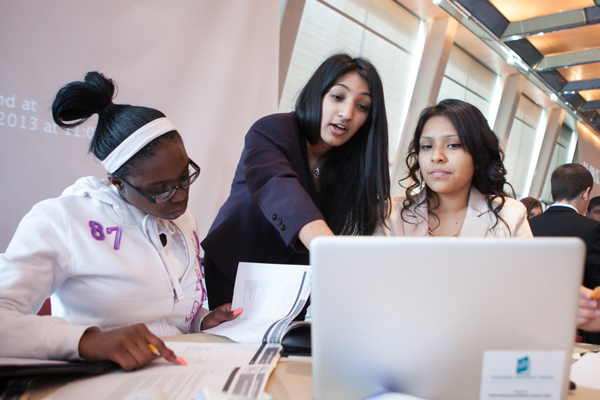 The VE approach emphasizes learning in four key areas:
Ownership: Students take responsibility for their own learning
Experiential: Students' learning is authentic and realistic
Cooperative: Students learn with and from others and understand the dynamics of working as part of a team.
Reflective: Students experience the consequences of their decisions and apply that learning to future challenges
Curriculum
VE has developed a standards-based curriculum to support the program's goals and objectives. The curriculum incorporates well-developed business and economic concepts that demand academic rigor while addressing interdisciplinary instruction, project-based learning, research, different learning styles, and real-world applications. An end-of-course assessment is available through NOCTI (National Occupational Competency Testing Institute).
VE is aligned with Common Core Standards, National Standards for Business Education (NBEA) and National Standards in Economics.
"Virtual Enterprises literally brings business to life for students of all backgrounds, enabling them to build skills that will give them a competitive edge in work and in life. From leadership development, to business management, to financial planning, VE students are gaining experience that is practical and that inspires them to dream big and achieve."
– Melanie Mortimer, SIFMA Foundation
The VE Student & Teacher
VE is unique in that it is open to all interested students—from future valedictorians to English-language learners—and does not use academic achievement as an entrance criterion. Since the program takes a student-oriented approach to teaching and learning that provides practical and task-oriented instruction in a real-world environment, every student has multiple opportunities to both contribute to and benefit from the hands-on learning it offers.
Another unique feature is the role of VE teachers. The VE learning environment emphasizes project-based, collaborative learning and teachers who guide and direct student learning rather than present prescribed daily lessons.
Extended Learning Opportunities
Students engage in various business activities throughout the year that create authentic extended learning opportunities. National and international trade shows, local and national business plan competitions, and the Global Business Challenge are all key components of the VE program.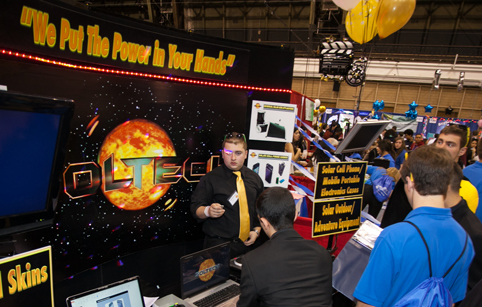 Trade shows, which are held annually in different cities across the U.S. and around the world, enable VE students to present and market the products/services of their virtual businesses in a competitive marketplace with both local and global Virtual Enterprise colleagues. Competitions build self-confidence as they allow students to publicly demonstrate their skills, knowledge and diverse talents in marketing, communications, computer technology, and global business.
Other extended learning opportunities include:
• College and university partnerships
• Mentoring by key members of the local business community
• Internships with high-profile businesses
• Leadership development workshops
• National and international student exchanges
Start a Program
To start a VE Program in a middle school, high school or college, or to receive additional information, click here to fill out an inquiry form.
Download middle school program brochure
Download high school program brochure
Download college program brochure