2015 Long Island Business Plan Competition and Trade Show Recap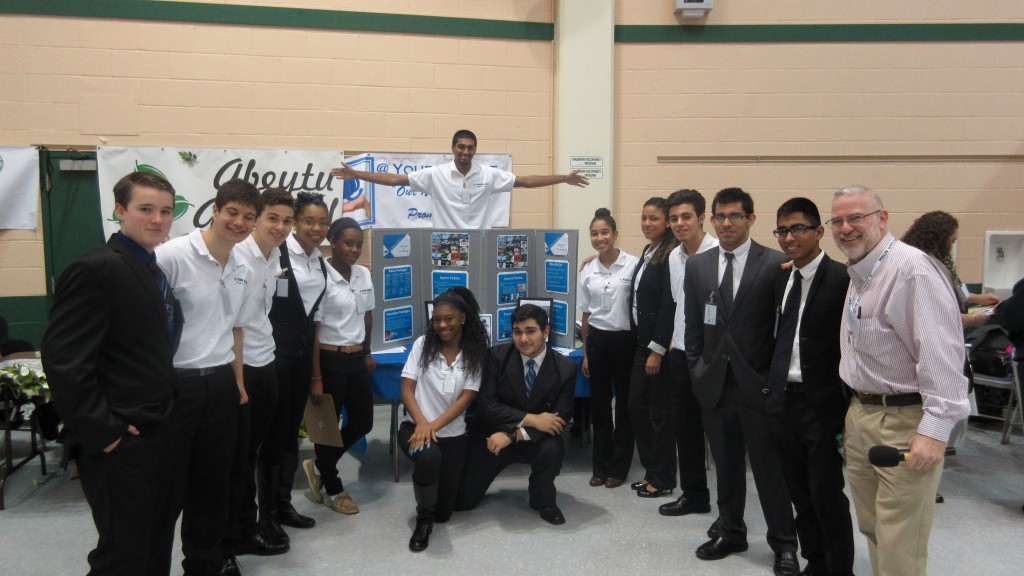 On Friday, January 16, 2015, 34 VEI firms attended Farmingdale State College for the bustling 2015 Long Island Trade Show and 30 teams participated in the first round of the Long Island Business Plan Competition.
Business Plan Competition Results
Following the same format as last year, the Business Plan Competition allowed student teams 10 minutes to present their plans to judges, followed by a brief Q&A session. The following seven semi-finalists will advance to the finals round on February 25th hoping to represent their schools and their region at the National Business Plan Competition on April 14 in New York City.

| VEI Firm | High School |
| --- | --- |
| Boxality | John F. Kennedy HS |
| EVO Tech | Patchogue-Medford HS |
| FlashComm | G.W. Hewlett HS |
| Helios | Westhampton HS |
| MOS | Connetquot HS |
| On the Move | John F. Kennedy HS |
| VE Connected | East Islip HS |
The finals round will be hosted by Long Island business partner American Portfolios Financial Services, Inc.
Judges
C.S. Richard Chan, Professor, Stony Brook University
Dawn Chiuchiolo, Program Manager, Junior Achievement of New York     
Dr. Kim Cline, President, Long Island University
Andrew Corrado, Senior Vice President, Signature Bank
Andrew Corrigan, Financial Advisor, American Portfolios
Richard Cross, Financial Advisor, American Portfolios
Vincent Cunningham, Community Outreach, PM, North Shore-LIJ Hospital System
Lisa DiBella, Vice President of Human Resources, American Portfolios
Melissa Dobler-Grappone, Vice President of Corporate Communications, American Portfolios
Joshua Elkin, Assistant to Senior Managing Director, VEI Alumni, American Portfolios
Tina Fiorentine, Program Manager, Junior Achievement of New York
Joseph Gabriel, AIA, Principal, Joseph Gabriel AIA Architects
Ken Gewanter, Senior Vice President, Stress Free Benefits Inc.
Mark Gunthner, Founder and President, Home Performance Technologies
James Hatala, Accountant, Consultant
Karla Helgans, Assistant Vice President, SIFMA foundation
Curt Juengerkes, Assistant Principal, Islip High School
Carl Kirchner, Director of Sales Operations, American Portfolios
Donna E. LaScala, Financial Advisor, American Portfolios
Edward Levine, President- Pinnacle Taxx Advisors-Hauppauge, American Portfolios
Frank Liselli, Professor, Farmingdale State College
Debbie Mansir, Programs Coordinator, East Hampton High School
Jill O'Sullivan, Professor, Farmingdale State College
Lauren Pearson, RN, Manager of Workforce Readiness, North-LIJ Hospital System
Susan Silverman Quigley, Certified Financial Planner, American Portfolios
Nancy Rasmussen, Owner, Expert Events
Ryan Attard Reilly, Director of Alumni Relations, LIU Post
Jennifer Riano-Goez, Program Coordinator/Instructor, Division of Business, Molloy College
Carmela Rossi, Senior Manager, Programs, Junior Achievement of New York
Jason Rudish, Educator, Baldwin High School
Michael Russo, Founder and CEO, VEI Alumni, Sticky Quotes (LI VE Alumni Network)
Lisa Scott, President, League of Woman Voters of Suffolk County
Thomas Smyth, Professor, Farmingdale State College
Lori Spina, VP HR Catholic Health Services Continuing Care Division, Catholic Health Systems
Robert Trotta, Suffolk County Legislator, Suffolk County Legislator
Kathy Williams, Educator, Southold High School
---
Trade Show Recap
Coordinated by At Your Service, the Trade Show featured dynamic salespeople vying for their booths and businesses to be the number one destination for interested guests and buyers. Long Island Regional Director Ellen Palazzo commented how, "the hard work was evident and the competition was stiff."
Digital Communications Coordinator Tyler Fugazzie got a chance to shop around, making purchases from Boxality, a firm that offers customers monthly surprise gifts based on personal preferences, an Ebay counterpart in VE-Bay, and, Helios and Solar Industries, two eco-friendly businesses who were staffed by equally friendly students.
Just bought a phone charger that sticks to the wall and uses the sun thanks to @solar_ve pic.twitter.com/P4waGrgbd2

— VEI (@VEInternational) January 16, 2015
Booth Photos
Trade Show Competition Results
Best Advertisement

| Place | VEI Firm | School/Location |
| --- | --- | --- |
| 1st | Business Casual Furnishing | W.C. Mepham HS |
| 2nd | At Your Service | West Hempstead HS |
| 3rd | Helios | Westhampton Beach HS |
Best Brochure
| Place | VEI Firm | School/Location |
| --- | --- | --- |
| 1st | Body Kinetics | Mattituck HS |
| 2nd | EVO Tech | Patchogue-Medford |
| 3rd | Electrified Learning | Rocky Point HS |
Best Business Card
| Place | VEI Firm | School/Location |
| --- | --- | --- |
| 1st | Cover Cell | William Floyd HS |
| 2nd | VMotive | Longwood HS |
| 3rd | Body Kinetics | Mattituck HS |
Best Catalog
| Place | VEI Firm | School/Location |
| --- | --- | --- |
| 1st | Helios | Westhampton Beach HS |
| 2nd | Body Kinetics | Mattituck HS |
| 3rd | At Your Service | West Hempstead HS |
Best Commercial
| Place | VEI Firm | School/Location |
| --- | --- | --- |
| 1st | At Your Service | West Hempstead HS |
| 2nd | Bonac Bagel | East Hampton HS |
| 3rd | VE Connected | East Islip HS |
Best Employee Manual
| Place | VEI Firm | School/Location |
| --- | --- | --- |
| 1st | Body Kinetics | Mattituck HS |
| 2nd | At Your Service | West Hempstead HS |
| 3rd | Boxality | John F. Kennedy HS |
Best Business Logo
| Place | VEI Firm | School/Location |
| --- | --- | --- |
| 1st | Helios | Westhampton Beach HS |
| 2nd | Forever Fit | William Floyd HS |
| 3rd | Body Kinetics | Mattituck HS |
Top Sales Firm
| Place | VEI Firm | School/Location |
| --- | --- | --- |
| 1st | FlashComm | Hewlett HS |
| 2nd | At Your Service | West Hempstead HS |
| 3rd | A Twisted Cleaning Service | Lawrence HS |
Best Sales Pitch
| Place | VEI Firm | School/Location |
| --- | --- | --- |
| 1st | Boxality | John F. Kennedy HS |
| 2nd | VE Connected | East Islip HS |
| 3rd | EVO Tech | Patchogue-Medford |
Best Booth
| Place | VEI Firm | School/Location |
| --- | --- | --- |
| 1st | EVO Tech | Patchogue-Medford |
| 2nd | Helios | Westhampton Beach HS |
| 3rd | Cover Cell | William Floyd HS |
Best Company Apparel
| Place | VEI Firm | School/Location |
| --- | --- | --- |
| 1st | At Your Service | West Hempstead HS |
| 2nd | Helios | Westhampton Beach HS |
| 3rd | OneOne932 | Bridgehampton HS |
Most Enthusiastic Firm
| Place | VEI Firm | School/Location |
| --- | --- | --- |
| 1st | Forever Fit | William Floyd HS |
| 2nd | Click-n-Shop Groceries | Glen Cove HS |
| 3rd | MOS Inc. | Connetquot HS |
Firm Favorite – Most Creative Firm
| Place | VEI Firm | School/Location |
| --- | --- | --- |
| 1st | Helios | Westhampton Beach HS |
| 2nd | No MiSteak | Newfield HS |
| 3rd | Shake That Cake | Oyster Bay HS |
Firm Favorite – Best Booth
| Place | VEI Firm | School/Location |
| --- | --- | --- |
| 1st | Shake That Cake | Oyster Bay HS |
| 2nd | Helios | Westhampton Beach HS |
| 3rd | EVO Tech | Patchogue-Medford |
Firm Favorite – Most Enthusiastic Firm
| Place | VEI Firm | School/Location |
| --- | --- | --- |
| 1st | Forever Fit | William Floyd HS |
| 2nd | PHONE X | East Hampton HS |
| 3rd | Eclectic Essentials | William Floyd HS |
Photos of Competition Winners