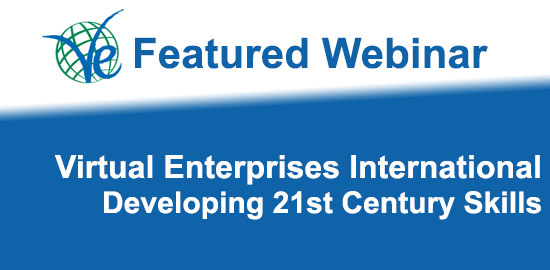 Sponsored by the New York State CTE Technical Assistance Center, this webinar provides attendees with a comprehensive overview of the Virtual Enterprises International (VEI) program model and demonstrates the significant achievement of students involved in the program. It also covers:
VEI's task -based curriculum
The wholesale marketplace
The national and international directories of VEI companies
The web-based banking system
Other rich resources provided for teachers and students.
Note: The recorded webinar will be available for streaming soon, and may be downloaded by clicking the following link.

Presented by
Iris Blanc, National Director, Virtual Enterprises International
Nick Chapman, Former VEI Coordinator and current Program Coordinator for NYC VEI office of the New York City Department of Education
If you would like more information about implementing a VEI program in your school, please contact Iris Blanc at  iblanc@veinternational.org.
With emphasis on college and career readiness, VEI is an in-school, live, global business simulation that offers students a competitive edge through project-based, collaborative learning and the development of 21st-century skills in entrepreneurship, global awareness, problem solving, communication, financial literacy and technology. The program, which exists in over 40 countries, replicates all the functions of real businesses in both structure and practice. Under the guidance of a teacher-facilitator and business mentors, students create and manage their virtual businesses from product development through distribution and trade with other Virtual Enterprise firms nationwide and worldwide.  Read more