Branding
Here are guidelines to help you use the VE brand and brand assets. To make any use of our marks in a way not covered by these guidelines, please contact Tyler Fugazzie at tyler@veinternational.org and include a visual mockup of intended use. This was developed in collaboration with Konrad & Paul.
Guidelines
This document includes an explanation of the VE logo and word marks, primary and secondary colors, suggested color ratios, proper and improper usage, fonts, co-branding examples, image branding examples, and details about the VE-JV brand.
View VE Branding Guidelines and Use Cases
Logos
Brand Logo
The primary part of the logo is the logo mark. This is now the heart and soul of what represents VE. The logo mark consists of two main parts – the VE letters joined together and a circle surrounding them, which we'll refer to as "the globe." The logo mark can be used by itself wherever possible, and we can further embrace referring to the brand as simply "VE."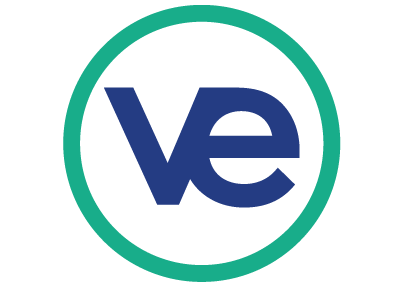 Full Logo with Type
The second half of the logo is the "logo type." This is set in the brand typeface Montreal and adjusted to look good alongside the mark. No one should ever type out this text by simply using the font next to the logo, but rather always use an approved logo lockup or file.

VE Blue
Hex: #293784, RGB: 41,55,132
VE Green
Hex: #09ab89, RGB: 9,171,137
Secondary Colors
The secondary colors reaffirm the diversity of the VE ecosystem. They are meant to be bright and hold good contrast against not only the main logo colors but against other design elements and photography as well. Certain colors, such as the yellow, tie to other VE branches, such as VE-JV. Again this is to emphasize the cohesiveness of the VE universe.
VE Yellow
Hex: #F7CE13, RGB: 247,206,19
VE Purple
Hex: #55469b, RGB: 85,70,155
VE Green 2
Hex: #39A871, RGB: 57,168,113
VE Orange
Hex: #EE7C36, RGB: 244,118,57
VE Red
Hex: #BF3838, RGB: 191,56,56
VE Aqua
Hex: #0E8698, RGB: 14,134,152
Fonts
For Print:
Headlines, Titles, and Important Call-outs
Montreal Regular
Montreal Bold
Substitute: Arial or Calibri Bold
Body Text
Open Sans
Substitute: Arial
For Web:
Add a VE Badge to your VE Firm Website
To authenticate a VE firm's website, link to VEI's national website and/or add a VE logo to the sidebar, footer, or header of the site. Please only link once, so add either one text link OR one image link.
Copy this embed code for text link:
<p>This is an official <a href="https://veinternational.org" title="Click here to visit VEI's website">Virtual Enterprise International</a> firm website. This online store is for educational purposes only.</p>
If you are using a platform to build the site (Wix, WordPress, Weebly, Squarespace):
Type "This is an official Virtual Enterprises International firm website. This online store is for educational purposes only." Highlight "Virtual Enterprises International", and link to https://veinternational.org