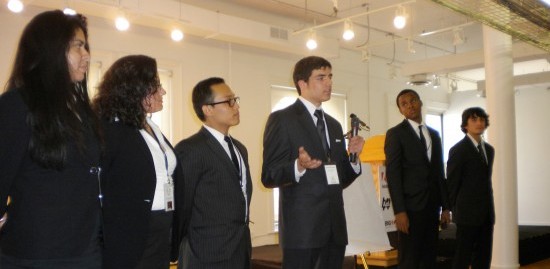 On October 5, 2011, the Advertising Futures Competition, a much anticipated event of Advertising Week (the largest and most prestigious annual gathering of advertising and media industry leaders in North America) took place at Big Fuel Headquarters in New York City. The Competition pairs ad agency mentors with teams of students to create an advertising campaign which is based on a brief developed by the Ad Council.
Twenty-nine teams from Virtual Enterprise programs throughout New York City met their agency mentors at a kick-off event on September 14 and were challenged to develop a campaign to support "Let's Move," a Michele Obama initiative that seeks to combat childhood obesity by empowering and motivating youth to make healthier lifestyle choices.
For the weeks following the kickoff, students and their mentors convened with their agency partners at the agency offices and worked together on developing a print campaign. In an exciting display of creativity and innovation, students presented their original ads to a panel of advertising experts and an audience of their peers during the seventh annual Advertising Futures Competition. Agency mentors proudly cheered as the students showcased their talent and original ideas.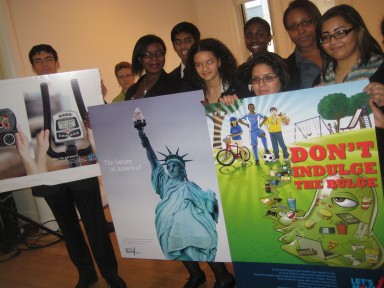 The first place team, from Grace Dodge High School, mentored by Tribal DDB, impressed the judges with a campaign whose advertisement and slogan, "Don't indulge the Bulge", was original, playful, and audience appropriate. Students from the Academy of Finance and Enterprise, mentored by Gotham, used irony to convey their message as their ad suggested that weight loss is a greater achievement than "winning" a video game, and garnered the second place award. An ad depicting an overweight statue of Liberty helped Jacqueline Kennedy Onassis High School, paired with Adrenalin, secure a third place spot. The winning campaigns will appear in The New York Times where the schools and agencies will be credited. The winning ad will also be featured on a billboard in New York City's Times Square.
VE extends a special thank you to the Advertising Club, the VCU Brand Center, the Art Directors Club and advertising agency mentors who worked with our exceptionally talented students!