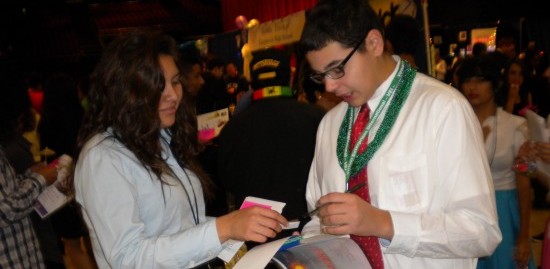 Over 1,000 VE students congregated in the Rabobank Arena, Theater, and Convention Center in Bakersfield, CA this fall to participate in the California State VEI Trade Show and associated competitions. The California State Trade Show and Competitions are an example of some of the program's extended learning opportunities available for VEI students throughout the year and in all participating regions.
Students received first-hand experience in addressing a high stakes situation during the Apprenticeship Competition. They were divided into teams and tasked with developing and pitching an advertising campaign. The winning team was declared "hired" at the closing ceremonies of the Trade Show. In addition to the mail-in competitions such as Company Catalog, Website, and Employee Newsletter, student knowhow and potential was tested via oral competitions like the Marketing Plan Presentation, Sales Presentation, Human Resources Scenario, and Job Interview Competition.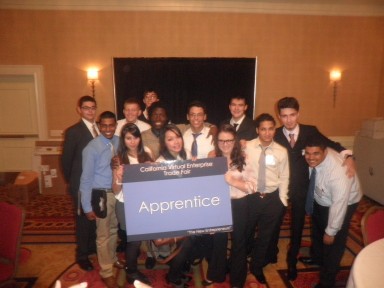 On November 30, 2011, Student teams from throughout the state of California competed in an Oral and Written Plan Business Plan Competition for the chance to participate in the National Business Plan Competition, set to take place March 27-28 2012 during the Youth Business Summit.
The following teams will represent their firms and schools in the National Business Plan Competition in New York City:
1st Place: Great Park Wildlife Center from Costa Mesa High School in Costa Mesa, CA
2nd Place: Abeille from Costa Mesa High School in Costa Mesa, CA
3rd Place: Helios from South Pasadena High School in South Pasadena, CA
4th Place: Hattitude from Centennial High School in Bakersfield, CA
5th Place: Play by Play Productions from Murrieta Valley High School in Murietta, CA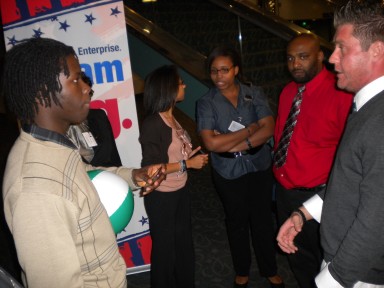 One particular event had a profound and motivating effect on the students who attended. The Extreme Entrepreneurship Tour featured motivational speakers Duane Spires and EJ Carrion. In addition, Mr. Spires, who recently spoke about Entrepreneurship at the White House, offered the first ten students to submit a business plan and recommendation letters $20,000 worth of his services to help them start their business. One group of students from New York City, who had met only a few days before, worked diligently throughout the night and submitted their business plan before breakfast the following day.

Mr. Spires later tweeted-
During the opening of the Trade Show, he also advised the students on how to approach the sales process. Watch it on video! Once the curtains were lifted to mark the beginning of the Trade Show, the students were off to man their booths and make sales before the closing bell. Based on the level of professionalism and energy evident at the California Trade Show and competitions, one could easily overlook that the exhibitors were, in fact, high school students representing virtual firms.