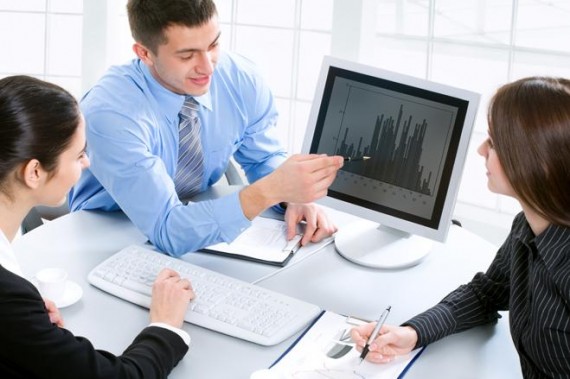 This story appears  on US Chamber of Commerce website, freeenterprise.com.
What do you get when you take 10,000 high school students from 500 schools and transform the conventional way of learning? The answer may surprise you.
Virtual Enterprises International (VEI), in collaboration with more than 500 business partners, is an in-school entrepreneurship program and global business simulation that transforms students into business executives and classrooms into offices. The year-long program replicates all of the functions and demands of a real business. Students work with a teacher-facilitator and a business executive to develop business plans, manage the day-to-day operations, and negotiate with other student-run simulated businesses throughout the world.
This creative program allows students to experience entrepreneurship through product development, distribution, marketing, sales, human resources, finance, and accounting. As "employees" of the virtual business, students are also accountable for the firm's performance. They conduct market research, develop business plans and annual reports, pay wages and taxes, and even maintain 401(k) plans.
This rigorous curriculum offers students a competitive edge through project-based, collaborative learning and the development of 21st century skills in problem solving, communication, financial literacy, and technology. All of this helps center the students on the focal point of the program—college- and -career readiness.
A report conducted by Columbia University's Institute on Education and the Economy analyzed the impact VEI has on student learning.
Their findings include:
Seventy nine percent say they have developed a realistic expectation of the workplace.
Fifty three percent indicate the program has motivated them to do better in other classes.
Sixty seven percent note that VEI helped them focus on what they wanted to study in college.
Ninety one percent of VEI seniors, which includes a vast majority of kids from underrepresented groups, will go to college.
Results like this don't come without collaboration. "A program like VEI can't be successful in a vacuum.  Our success over the past 16 years is the direct result of collaboration with the business community and with higher education." said Eddy Bayardelle, president of Virtual Enterprise International. "In addition to learning about business, our students become part of the business community through mentorships, internships, and events that bring business executives into their classrooms and into their lives. It's all about building those connections."
Closing the skills gap is crucial to the competitiveness of America's future economy. It is imperative that businesses and organizations collaborate to find new and innovative ways to get kids involved and excited for the future—a brighter future thanks to VEI.
To learn more about Virtual Enterprises International, please visit their website.