VEI students create and run their own businesses. Every firm is required to create and present a business plan.
"VE is a model of what we want our students to know, understand, be able to do, and demonstrate.
In all of the presentations I witnessed…I saw evidence aplenty of students as critical and creative thinkers."
Joyce M. Bisso, Ed.D., Superintendent of Hewlett-Woodmere Public Schools
The National Business Plan Competition is the culmination of seven months of preparation in and out of school and the collective effort of firm employees, coordinators, and business mentors. The twenty teams who qualified for and competed in the National Business Plan Competition distinguished themselves from the total U.S. Network pool of 500 firms, earning the chance to present their business plans to two rounds of judges at McGraw-Hill Financial's NYC conference rooms on the second day of this year's Youth Business Summit.
The top six teams from the morning round advanced to the final afternoon round, where the students presented to a select panel of judges and a packed auditorium. Judging was based on a comprehensive evaluation of the written and oral presentations. The top six finalists from 2014's National Business Plan Competition are listed below, with their team photos and a snapshot of their business plan presentation.
1st Place – Oasis (South Pasadena, CA)
2nd Place – FlashComm (Hewlett, NY)
3rd Place – T-Squared (New York, NY)
4th Place – West Coast Races (Murrieta, CA)
5th Place – Solarity (Staten Island, NY)
6th Place – Eden's Confections (Greer, SC)
List of the Top 20 National Business Plan Competition Teams
Special thanks to our judges for lending their time and expertise to help identify which business plans were the best of the best.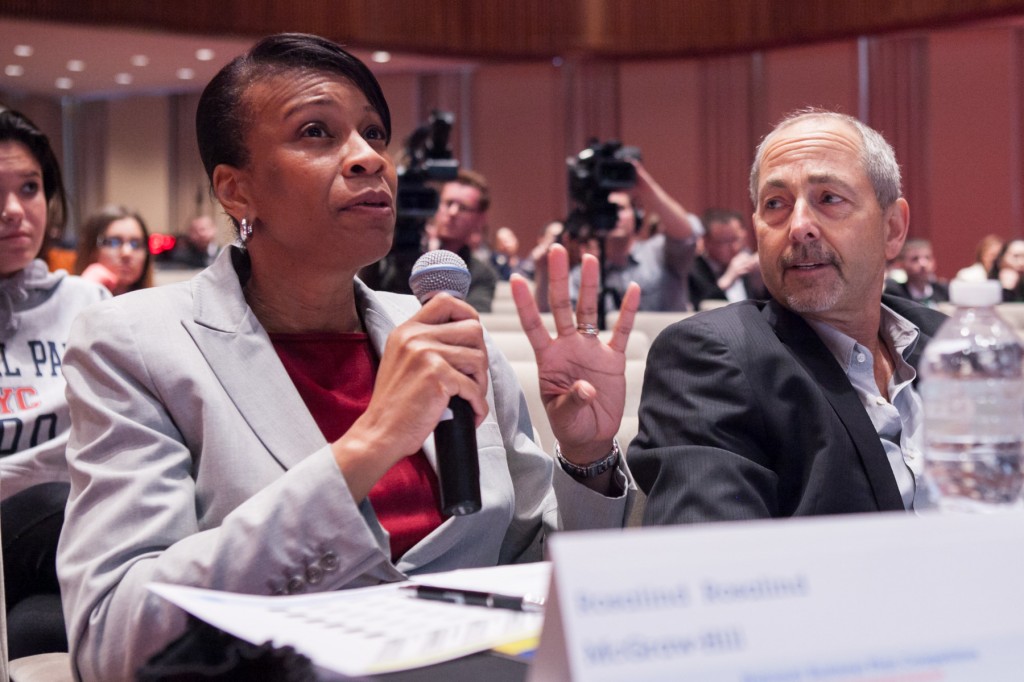 Morning Round Judges:
Charlotte Beyer, Principle Quest Foundation
Calgary Branagan, Epsen Fuller Group
Jay Bregman, Hailo Cab
Mehul Desai, HSBC
Janis Elfving, Calypso Technologies
Lesley Hirsch, CUNY Graduate Center
Marcia Iverson, NYS Tech Assistance Center
Patrick Lewis, Butterscotch Labs
Bonnie Manter, BBM Technologies
Scott Mendelsohn, NYCDOE
Bonnie Messing, Geller & Co.
Al Mills, American Express
Lynn Najiman, LRN Associates
Peter Rosenberger, New York University
Andrew Rosman, Long Island University
Angelo Scialfa, Fox Run Group
Mark Smith, Viacom
Nicole Spira, SJL Attorney Search
Janet Squitieri, Van Eyck Associates
Lindsay Starr, Morgan Stanley
Toni Tomai, HSBC (Retired)
Lara Wang, Citi
Joe Wehle, Ernst & Young
Sam Wong, MTA
Doug Young, CEE
Afternoon Round Judges:
Michael Beck, Choice Logistics
Rosalind Danner, McGraw-Hill Financial
George Fina, Michael C. Fina
Steve Israel, SMI Properties Group
Jay Lewis, Consultant
Martha Stark, Baruch College
Ed Weis, Mercy College
Photos