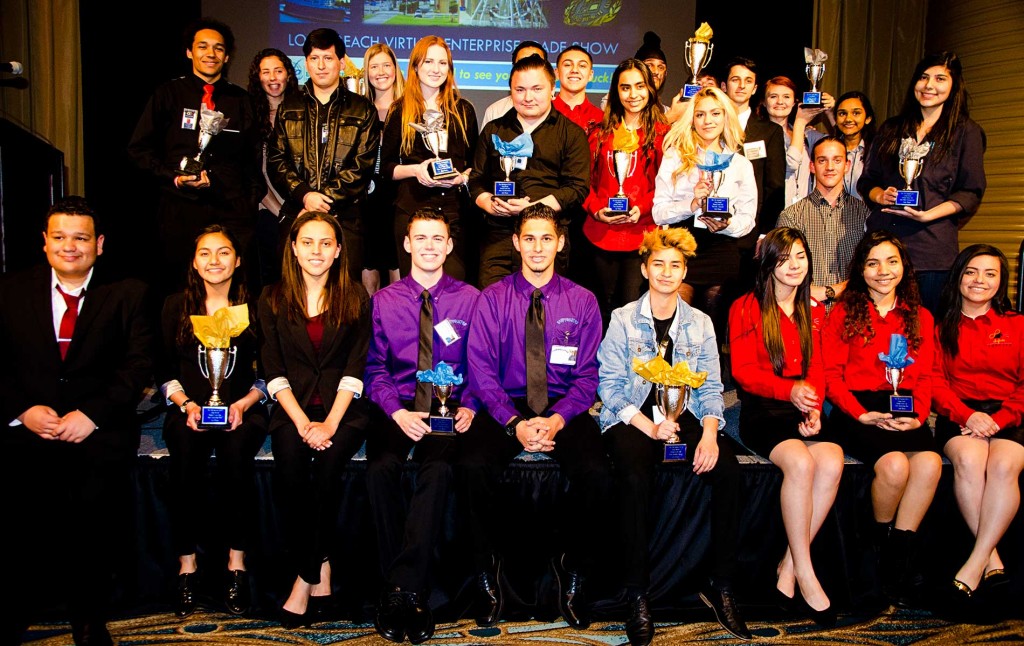 On February 12th, 2015, 64 different VEI firms from Central and Southern California attended the 7th Annual Long Beach Virtual Enterprise Trade Show at the Long Beach Convention Center in Long Beach, California.
The event marked the largest VEI marketplace in Southern California and the highest volume of trading in VEI's Western Region. Over 1,400 participants spent a full day promoting their brands, finding new business, and exchanging products and services.
The Trade Show included a variety of competitions: Best Marketing Plan, Best Human Resources, Manual/Scenario Presentation, The Perfect Pitch Elevator Speech, Best Website Design, Video Commercial, Employee Newsletter, Company Catalog, Impact Marketing, Most Professional Booth, Most Creative Booth, and Best Salesmanship.
Competition Results
Best Marketing Plan
| | | |
| --- | --- | --- |
| Place | VEI Firm | School |
| 1st | Go-tect | Costa Mesa HS |
| 2nd | Inception | Mount Miguel HS |
| 2rd | Xeriscapes | Murrieta Valley HS |
| 3rd | Infinite Theater | Arvin HS |
| 4th | Dare Devil Obstacles | La Mirada HS |
| 5th | FIL | Phineas Banning HS |
| 6th | Café Plus | Ridgeview HS |
| 7th | Aqua Pura | Century HS |
| 8th | Prototek Robotics | Estancia HS |
| 9th | Tech Styles | Oxford Academy |
| 10th | All Around the World | North HS |
Best Human Resources Manual/Scenario Presentation
| | | |
| --- | --- | --- |
| Place | VEI Firm | School |
| 1st | Cali Twist | Canyon Springs HS |
| 2nd | Xeriscapes | Murrieta Valley HS |
| 3rd | Cavalier Duct Tape Creations | Montclair HS |
| 4th | Kahve | Marina HS |
| 5th | Go-tect | Costa Mesa HS |
| 6th | MetroBand | Newport Harbor HS |
| 6th | Phoned It! | John F. Kennedy HS |
| 7th | Infinite Theater | Arvin HS |
| 8th | Aquafinity | Murrieta Valley HS |
| 9th | Tech Styles | Oxford Academy |
| 10th | FIL | Phineas Banning HS |
The Perfect Pitch Elevator Speech
| | | |
| --- | --- | --- |
| Place | VEI Firm | School |
| 1st | Pheressence | Santa Monica HS |
| 2nd | Poppin Pitaya | University HS |
| 3rd | Fanpocalypse | Centennial HS |
| 4th | EVO Tech | La Mirada HS |
| 5th | Go-tect | Costa Mesa HS |
| 6th | Camp Sparta | Redlands HS |
| 6th | Dare Devil Obstacles | La Mirada HS |
| 6th | Tech Styles | Oxford Academy |
| 7th | Titan | Ayala HS |
| 8th | CollectionR | Newport Harbor HS |
| 8th | DV8 Travels | Elizabeth Learning Center |
| 9th | Apeiro | Claremont HS |
| 10th | Solar-Tek | Century HS |
Best Website Design
| | | |
| --- | --- | --- |
| Place | VEI Firm | School |
| 1st | DV8 Travels | Elizabeth Learning Center |
| 2nd | McFly | Fountain Valley HS |
| 3rd | Tech Styles | Oxford Academy |
| 4th | Phoned It! | John F. Kennedy HS |
| 5th | Platinum Performance | Banning HS |
| 5th | Kahve | Marina HS |
| 6th | Sportsanity, Inc. | Elizabeth Learning Center |
| 7th | Infinite Theater | Arvin HS |
| 8th | The Perfect Date | Mount Miguel HS |
| 9th | Aquafinity | Murrieta Valley HS |
| 10th | Zico | Oxford Academy |
Video Commercial Awards
| | | |
| --- | --- | --- |
| Place | VEI Firm | School |
| 1st | Tech Styles | Oxford Academy |
| 2nd | Platinum Performance | Banning HS |
| 3rd | Café Plus | Ridgeview HS |
| 4th | Cavalier Duct Tape Creations | Montclair HS |
| 5th | The Perfect Date | Mount Miguel HS |
| 5th | Xeriscapes | Murrieta Valley HS |
| 6th | Sportsanity, Inc. | Elizabeth Learning Center |
| 7th | Kahve | Marina HS |
| 8th | Design Graphics Kompany | Banning HS |
| 8th | Phoned It! | John F. Kennedy HS |
| 9th | DV8 Travels | Elizabeth Learning Center |
| 10th | Inception | Mount Miguel HS |
Employee Newsletter Awards
| | | |
| --- | --- | --- |
| Place | VEI Firm | School |
| 1st | CollectionR | Newport Harbor HS |
| 2nd | Xeriscapes | Murrieta Valley HS |
| 3rd | Ultimate | Claremont HS |
| 4th | Cali Twist | Canyon Springs HS |
| 4th | Solar-Tek | Century HS |
| 5th | Titan | Ayala HS |
| 6th | Infinite Theater | Arvin HS |
| 7th | Berry Light Café | Hoover HS |
| 8th | Tech Styles | Oxford Academy |
| 9th | Reckless Off-Road | Century HS |
| 10th | Organic 'n Stuff | Lakewood HS |
Company Catalog Awards
| | | |
| --- | --- | --- |
| Place | VEI Firm | School |
| 1st | Tech Styles | Oxford Academy |
| 2nd | Pheressence | Santa Monica HS |
| 3rd | Titan | Ayala HS |
| 4th | Xeriscapes | Murrieta Valley HS |
| 5th | Relâcher Day Spa | Canyon Springs HS |
| 6th | Phoned It! | John F. Kennedy HS |
| 7th | Zico | Oxford Academy |
| 8th | Cavalier Duct Tape Creations | Montclair HS |
| 9th | Go-tect | Costa Mesa HS |
| 10th | Reckless Off-Road | Century HS |
Impact Marketing Awards
| | | |
| --- | --- | --- |
| Place | VEI Firm | School |
| 1st | Reckless Off-Road | Century HS |
| 1st | Cavalier Duct Tape Creations | Montclair HS |
| 2nd | FIL | Phineas Banning HS |
| 3rd | LSST | Phineas Banning HS |
| 4th | EATaly Andare | Citrus Valley HS |
| 4th | Dare Devil Obstacles | La Mirada HS |
| 5th | EVO Tech | La Mirada HS |
| 5th | Acoustic Cakes and Apparel | Hart ROP |
| 6th | Aqua Pura | Century HS |
| 7th | Wristi-fi | Redlands HS |
| 8th | Fanpocalypse | Centennial HS |
| 9th | McFly | Fountain Valley HS |
| 10th | Organic 'n Stuff | Lakewood HS |
| 10th | DV8 Travels | Elizabeth Learning Center |
Most Professional Booth Awards
| | | |
| --- | --- | --- |
| Place | VEI Firm | School |
| 1st | FIL | Phineas Banning HS |
| 2nd | Xeriscapes | Murrieta Valley HS |
| 3rd | DV8 Travels | Elizabeth Learning Center |
| 4th | Poppin Pitaya | University HS |
| 5th | Studio 15 | La Sierra HS |
| 5th | Galaxy Glow | Century HS |
| 5th | Go-tect | Costa Mesa HS |
| 6th | Wristi-fi | Redlands HS |
| 6th | EATaly Andare | Citrus Valley HS |
| 7th | TRUFIT | La Serna HS |
| 8th | Flight | Summit HS |
| 8th | Sportsanity, Inc. | Elizabeth Learning Center |
| 9th | Reckless Off-Road | Century HS |
| 10th | Platinum Performance | Banning HS |
Most Creative Booth Awards
| | | |
| --- | --- | --- |
| Place | VEI Firm | School |
| 1st | Cavalier Duct Tape Creations | Montclair HS |
| 2nd | Sip N Dip | Bloomington HS |
| 3rd | Acoustic Cakes and Apparel | Hart ROP |
| 4th | Inception | Mount Miguel HS |
| 5th | LSST | Phineas Banning HS |
| 6th | Design Graphics Kompany | Banning HS |
| 7th | Kahve | Marina HS |
| 8th | Camp Sparta | Redlands HS |
| 9th | Pangea Multicultural Bakery | Bloomington HS |
| 10th | Cultural Family Dining | AF Hawkins HS |
Best Salesmanship Awards
| | | |
| --- | --- | --- |
| Place | VEI Firm | School |
| 1st | Infinite Theater | Arvin HS |
| 2nd | Wristi-fi | Redlands HS |
| 3rd | Berry Light Café | Hoover HS |
| 3rd | Xeriscapes | Murrieta Valley HS |
| 4th | FIL | Phineas Banning HS |
| 4th | Studio 15 | La Sierra HS |
| 5th | Go-tect | Costa Mesa HS |
| 6th | Flight | Summit HS |
| 7th | McFly | Fountain Valley HS |
| 8th | The Perfect Date | Mount Miguel HS |
| 9th | Aquafinity | Murrieta Valley HS |
| 10th | Solar-Tek | Century HS |
Photos