A main feature of the VE experience is "Assuming the Role" which means students interview for departments, such as Finance and Marketing, and roles, such as CEO, VP, and Associate. Below are some clips from VE's social media world to show you what "Sep-team-ber" 2017 looks like as students enter their new professional roles and new company teams form in VE schools around the U.S.
Dressed for Success
VEI students busy discussing future of company. @VEInternational @Geneva304 #youngprofessionals pic.twitter.com/bq5kRhWI7z

— Jamie Dunlap (@DunlapJamie) September 20, 2017
@NVSpectrum dressed for success & rocked their interviews today! Way to go! @VEInternational @NVHSBusiness @neuquavalley #future204 #smile pic.twitter.com/Irc5FbbKTE

— John Hanson (@jhans77) September 19, 2017
VE Student Interviews
Thanks to everyone who took part in today's @VEInternational interview sessions. This was a great learning experience for our #VEStudents pic.twitter.com/kuQkZ8Yapi

— West High Business (@PWestBusiness) September 1, 2017
Armijo High School Virtual Enterprise interview day! Thank you for the amazing staff support. Aren't our students great!!! @VEInternational pic.twitter.com/HftmpO5tG5

— Lori Gonzalez (@lgonzalezteach) September 14, 2017
Interview day at @MK_VEI ✔️ Huge thanks 2 the Morris Knolls staff who made this an authentic experience 4 our future business professionals! pic.twitter.com/eptCTlZDti

— Ms. Benack (@msbenack) September 26, 2017
5th period is ready for their VE executive interviews! Looking forward to a successful year! @VEInternational pic.twitter.com/vtiuEdoH5W

— Lauren Mandel (@Mandel_CCHS) September 29, 2017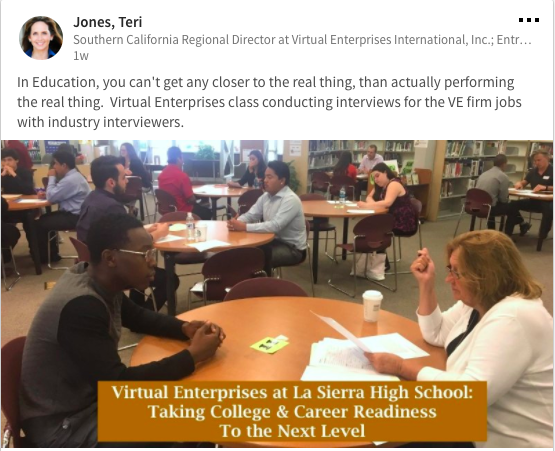 155 student interviews w 32 community guests. Big day! Great day! @Amanda_Dunham1 @jhans77 @bschmidtgall @MrsKNVHS @neuquavalley @ipsd204 pic.twitter.com/m1DGdq95wM

— NVHS Business Dept (@NVHSBusiness) September 20, 2017
Excelllent interviewing skills shown by @VEInternational students from @neuquavalley Our #futureready204 leaders are prepared @NVHSBusiness pic.twitter.com/to1fFmciEb

— Louis Lee (@204Secondary) September 19, 2017
Great day of Virtual Enterprise interviews!Thanks to everyone who helped out @VEInternational @FVHSActivities @fvhsbbn pic.twitter.com/RvOZ5Gkl2U

— Sarah MC (@smcteacher) September 15, 2017
CEO Interviews today for @VEInternational ! Pictured is one group of our candidates; 16 in total for 4 firms! Who will it be…?@NisdCTE pic.twitter.com/fQkF2hA8jp

— BME Academy (@BMEAcademy) September 7, 2017
VE Student Employees
HR for the win! pic.twitter.com/21IK3PYGgh

— The Blend Caves (@OHSTheBlend) September 15, 2017
We're so proud of you, Riley! #EmployeeoftheWeek pic.twitter.com/7Dexy18wz0

— Apex Outdoors (@CE_VEI) September 15, 2017
This weeks Employee of the Week: COURTNEY LAM! Great Web Designer for Elysium!? pic.twitter.com/9YEnZSmIme

— Global Warming (@GlobalWarmingVE) September 22, 2017
Congratulations to our first 2017-2018 employee of the month ?❗️ pic.twitter.com/sSdS7FXSwj

— BakeMyDay2k18 (@BakeMyDayVE) September 25, 2017
Congratulations to our Endure Inc employee, Alyssa Campbell, as her team finished 3rd in the Golf State Tournament! pic.twitter.com/SXrPYuI5Xq

— Endure Inc. (@EndureIncTn) September 28, 2017
VEI Team Updates
Congratulations Nick Chapman – promoted to President of @VEInternational ??We appreciate your hard work! #leadtheway #visitusatnvhs #6firms pic.twitter.com/MiL6f3ncWr

— NVHS Business Dept (@NVHSBusiness) September 6, 2017
We love seeing the school year take shape via photos of interviews, employees of the month, and VE businesses announcing their launch ?

— veinternational (@VEInternational) September 20, 2017
best office to work for I swear https://t.co/ZMk0YVcSv2

— umorna music (@umorna_music) September 6, 2017
As we enter October, these newly-formed teams of student business professionals will be starting to make their dreams work by forming their businesses, pitching and planning their businesses, and practicing and growing their career readiness competencies.