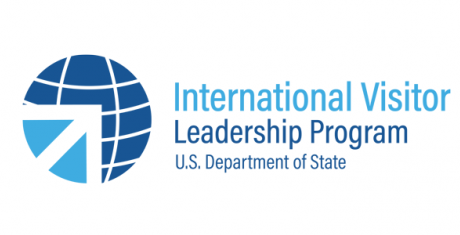 Seven high-level officials from the Brazilian Ministry of Education visited VEI's National Office as part of the U.S. Department of State's International Visitor Leadership Program. The program brings officials to the U.S. to visit educational institutions and meet with their counterparts to exchange experiences and best practices in innovative high school models that can help better bridge students to post-secondary education and/or the private sector.
The visitors interacted with VE student-employees of Imagination, Inc. at The Maxine Greene HS for Imaginative Inquiry in New York City, explored VE best practices for engaging young people in career-focused study and preparation, and learned about elements of the VE's international program and how the VE program engages students in relevant cultural interaction and experiences.
International Visitor Leadership Program Objectives
The Department of State has outlined the following specific objectives for the project.
Provide participants with a panorama of the U.S. education system.
Introduce participants to key leaders from major associations, think tanks and/or research institutions in the area of education.
To visit different models of high performing and innovative schools – regular, magnet, vocational-technical, charter, others – to learn about the structure and financing of these schools, curriculum development, and partnerships (with the community, post-secondary institutions, the job sector).
Examine student performance evaluation methods.
Program Participants
Ricardo CORREA COELHO, Program Director, Ministry of Education
Eduardo DESCHAMPS, State Secretary of Education, State Secretariat of Education at Santa Catarina
Maria Ester GALVAO DE CARVALHO, President, State Council of Education of the State of Goias
Julio GREGORIO FILHO, State Secretary of Education, Secretariat of Education of the Federal District
Rafael Esmeraldo LUCCHESI RAMACCIOTTI, Director of Education and Technology, Brazilian National Confederation of Industry
Claudia Sueli RODRIGUES SANTA ROSA, State Secretary of Education, State Secretariat of Education of the State of Rio Grande do Norte
Rossieli SOARES DA SILVA, Secretary of Basic Education, Ministry of Education
Alessio TRINDADE DE BARROS, State Secretary of Education, State Secretariat of Education of the State of Paraiba
Jose Marcos Pereira, U.S. Department of State Interpreter
Alex C. Ladd, U.S. Department of State Interpreter
Sebastian Vasconcelos (Adminstrative), U.S. Department of State Interpreter
Further Reading
Korean Educators Learn About the VE Approach to Career Readiness