This year's Fall Executive Conference took place at Deloitte's National Office on Wednesday, November 8. Thirty-five VE Executives from twenty-nine New York City high schools enjoyed the view of the city's skyline from the building's 42nd floor while participating in two competitions and enjoying talks given by Tom Smith, Managing Director of Deloitte Advisory, and Steve Gallucci, a New York Managing Partner. Deloitte's U.S. CEO, Cathy Engelbert, also provided some words of wisdom to the young executives.
The day started off with a light breakfast and networking event, followed by a warm welcome and opening remarks from Tom Smith, who is also a mentor for Imagination, Inc., a firm located at the Maxine Greene High School for Imaginative Inquiry. Students then proceeded to present prepared speeches to a panel of Deloitte and HSBC judges as part of the Elevator Pitch Competition–and congratulations to the winners!
1st Place: Nicholas Chin, VE Catering, Port Richmond High School
2nd Place: Sinbay Tan, MatchWear, Francis Lewis High School
3rd Place: Usman Ghani, LIFE, High School of Economics and Finance
Honorable Mention: Anwaar Barakat, Your Name Here, Fort Hamilton High School
Honorable Mention: Farogh Dar, Stellar Tech, William C. Bryant High School
Next, Steve Gallucci gave an inspiring talk about leadership strategies and management skills, followed by the Youth Business Challenge, in which executives formed teams and worked together to create a potential unethical workplace scenario, then developed a solution to the issue. They presented the scenarios to a panel of judges from Deloitte and HSBC. Congratulations to the winners of this competition as well!
First Place: Group 6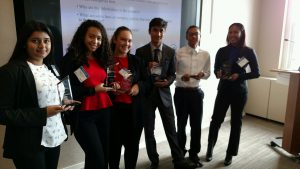 Second Place: Group 5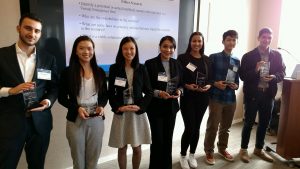 Third Place: Group 2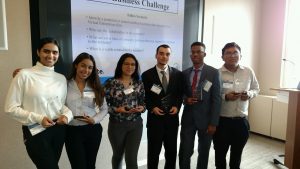 One of the highlights of the day was Deloitte's U.S. CEO, Cathy Engelbert, dropping by during lunch to give a brief speech to VE CEO's. She emphasized that authenticity and empathy were the most important leadership traits.
Afterwards, students participated in a Q&A session with a panel of VE alumni, who offered insightful advice about their leadership roles in VE, their college experiences, and their very first internships. The day ended with a fun trivia activity that tested students' knowledge about VE and what they had learned.
We would like to provide a huge thank you to all our Deloitte and HSBC judges, our alumni panel, Tom Smith and Steve Gallucci for speaking, and Cathy Engelbert for taking time out of her busy day to talk to our VE executives. We would also like to thank Deloitte for hosting the event and being a great partner for the past eighteen years. This event was a real treat!
More photos:
By Sonja Visser