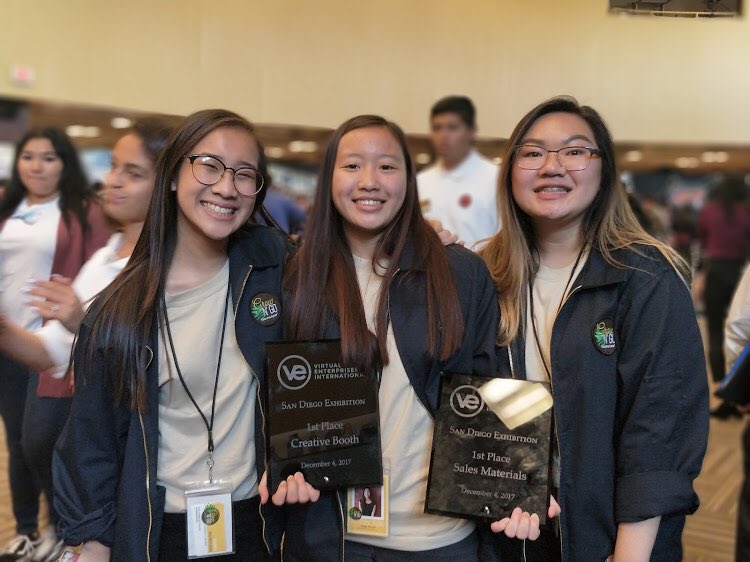 December 4, 2017
Jacobs Center
San Diego, California
Key Stats
950 total attendees
34 schools
45 firms
6 competitions
Competition Results
Results for top teams in Company Branding, Sales Materials, Video Commercial, E-Commerce Website, Creative & Novice Booth, Salesmanship, and Novice Salesmanship can be found at the Competitions Results page.
href="http://veinternational.org/competition-results/#17-18-regional" data-color-override="false" data-hover-color-override="false" data-hover-text-color-override="#fff">
Button Text
Social Media Contest Winners
Grow N' Go, Fountain Valley High School, Fountain Valley, CA
A proud pose with their first place plaques:
Good job to all of the companies today for such hard work. Grow N' Go took home first in creative booth and sales materials! #veinternational @VEInternational pic.twitter.com/4BhCC2AeDR

— Ecocentric (@FVHSVE) December 5, 2017
Basix, Centennial High School, Bakersfield, CA
For this group shot full of smiles at the exhibition:
New Frontier, Palm Springs High School, Palm Springs, CA
Displaying their top-of-the-line products at their booth:
Thank You to Our Supporters
On behalf of the VEI, we would like to say a big thank you to the individuals who helped with the judging of the business plan competitions and all the live competitions the day of the conference and exhibition. The success of the conference would not have happened without their help.
Thank you to California Community College's Economic and Workforce Development program for sponsoring trophies and operational support through the Doing What Matters for Business initiative and to Jennifer Patel at Mira Costa College for helping foster the relationship.