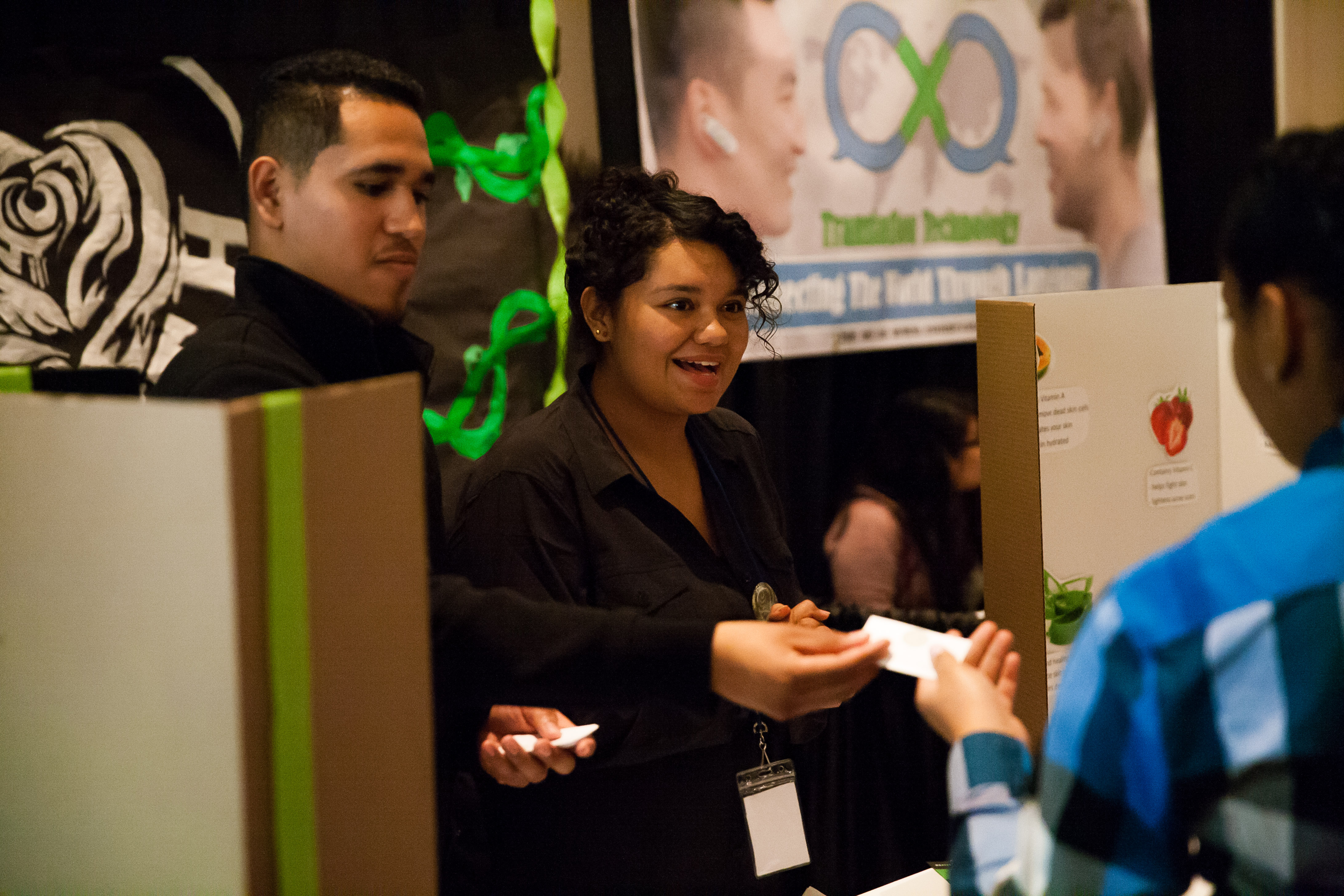 February 13, 2018
Pasadena Convention Center
Los Angeles, California
Key Stats
2,300 total attendees

49 schools

74 firms

1,300 students

70 volunteers
Competition Results
Results for the top teams at this event's competitions can be found at the Competitions Results page.
href="http://veinternational.org/competition-results/#17-18-regional" data-color-override="false" data-hover-color-override="false" data-hover-text-color-override="#fff">
Button Text
Social Media Contest Winners
World on a Plate, Banning High School
A group of chefs and entrepreneurs walk into an exhibition… and take home the gold!
Congratulations to Banning's MATCH academy business, World on a Plate, for winning the Gold Level award for salesmanship! #veinternational @BanningHSPilots @ASBPilots @PilotCenterBHS @ITEPinc @WilmWire pic.twitter.com/v9u4p3cEDa

— MrMariano (@MrMariano310) February 13, 2018
Ex Nihilo, San Juan Hills High School, CA
An employee of Ex Nihilo doing a sales pitch:
Essence, Mount St. Mary
Quotes
"I was so impressed with the level of professionalism of the students I loved their enthusiasm I wish that students everywhere could have this opportunity"
– Lori Gloede, Director of Business Development at Brain Zoo Studios

"I love this event. Not only do the students show such enthusiasm, but their booths are also very impressive and well thought out… many of the products play up what is happening in the current climate."
– Rosalind Niu, Student at Mount Saint Mary's University, Los Angeles and Operations Intern at WESSCO International

"Working with Virtual Enterprises in my senior year gave high school value and motivated me to continue with school. It allowed me to use my passion and talents in a way that connected academics to my work."
– Larry Chen, Renowned Car Photographer and Keynote Speaker
Photos
Thank You to Our Supporters
Thank you to the following organizations for their judge volunteers:
Alta Pacific Bank
Bank of America
Cash Crunch
Crescent Capital
KJG Media
LA SCORE Chapter
Laughing Lizard Adventure Park
LIU
Merril Lynch, Pimco
Originate
Playground SDC
PwC
Southern CA Edison
Spin PR Tradin Organic
The Better Group
UCLA School of Anderson
Wessco
Thank you to our Keynote Speakers:
Ash Sobhe, CEO of R6S and TedEX speaker
Dr. Robert Valli, Dean, School of Management at LIU, Post Campus
Jake Kelfer, Author of Elevate Beyond
Larry Chen, Car Photographer & YouTube Personality
Thank you to our sponsors from Doing What Matters Most for Business in the following regions: Orange County, San Diego & Inland Empire; and to DataPage, Inc for printing.