March 17-18, 2018
Oakland Marriott City Center
Oakland, CA
Key Stats
1,000 total attendees
36 schools
59 firms
800 students
40 volunteers
Participant Quotes
"VE student employees from New York, Illinois, Oregon, California, and Germany competed and traded with an incredible amount of energy and passion. Their creativity and hard work was evident by their amazing booth designs and professional salesmanship."
– Jake Stuebbe, Northern California VE Regional Director
"Virtual Enterprise better prepares our students, for not only the work world, but a step ahead in the college environment."
– Wil Richberg, VE Facilitator of James Logan High School in Union City, California
"It's not about the destination, it's about the journey. Our journey from New York to San Fran was an amazing experience. We won 1st place in the HR competition, and all the hard work we put in, and practicing until 2 am in the hotel hallways, it felt like such a genuine business experience."
– Dylan Mendoza, Human Resources of Nuapps of Francis Lewis High School in New York
"The VE program for us is opening a lot of opportunities for the students. We came all the way from Germany so we want to see how all the teams are prepared, how they are doing it, and gathering all the experiences."
– Martin Strauss, VE Facilitator of HLA High School in Gernsbach, Germany
Competition Results
Results for top teams in the WOW Factor, Marketing Plan, Financial Statements, Human Resources, Elevator Pitch, Venture Challenge, Employee Handbook, Video Commercial, and Company Branding competitions can be found at the Competitions Results page.
href="https://veinternational.org/competition-results/#17-18-regional" data-color-override="false" data-hover-color-override="false" data-hover-text-color-override="#fff">
Button Text
German and California Teams Bond Over Bicycles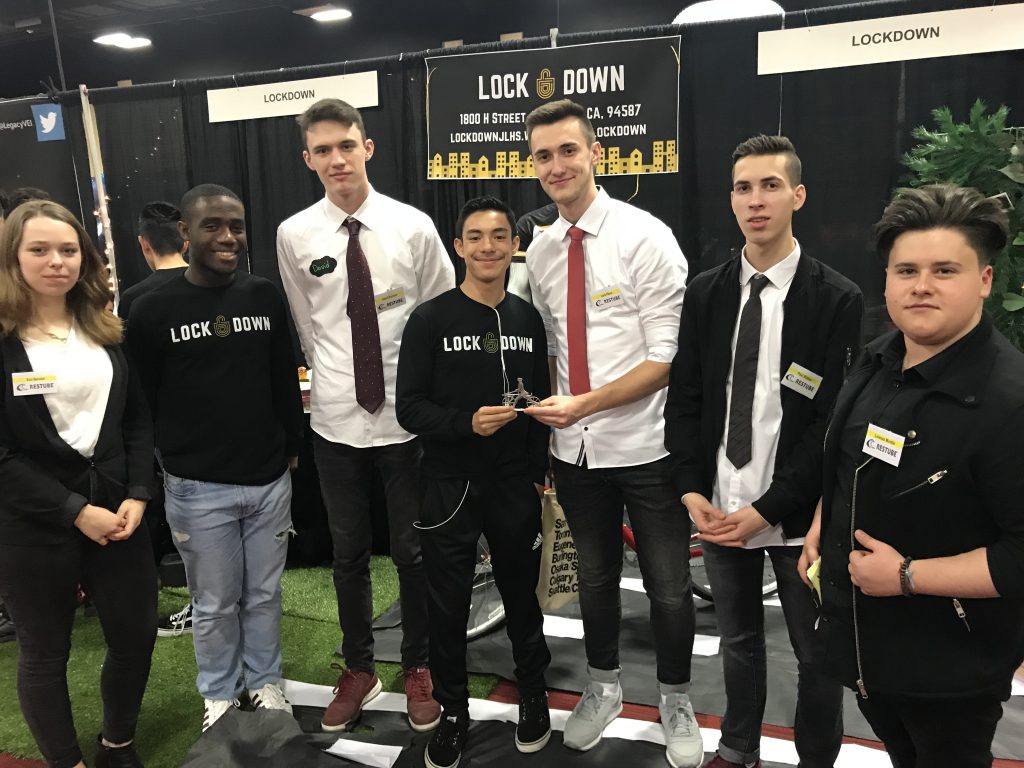 Lars Plonz, CEO of Restube from HLA Gernsbach in Gernsbach, Germany presents a sculpture of Karl von Drais, inventor of the modern bicycle, to the CEO of Lockdown from Union City High School in Union City, California. The team from Germany comes from a place where Von Drais once lived, so they felt instantly connected to Lockdown since their firm focused on selling smart bike locks for the urban commuter. The present was given to thank Lockdown for the hospitality and help they provided the team from Germany.
Lars said of the Bay Area Trade Show, "It was a great intercultural experience for our company to be part of the Bay Area Trade Show. We had the chance to participate in two competitions. First we thought it would be impossible to succeed but with all the support of the organizing team and the help of other VE students we had a great time. It was well worth the long trip to make this exceptional experience!"
Social Media Contest Winners
Big City Merch, Armijo High School, CA
https://www.instagram.com/p/BeHmVUQnFQ4/?tagged=veinternational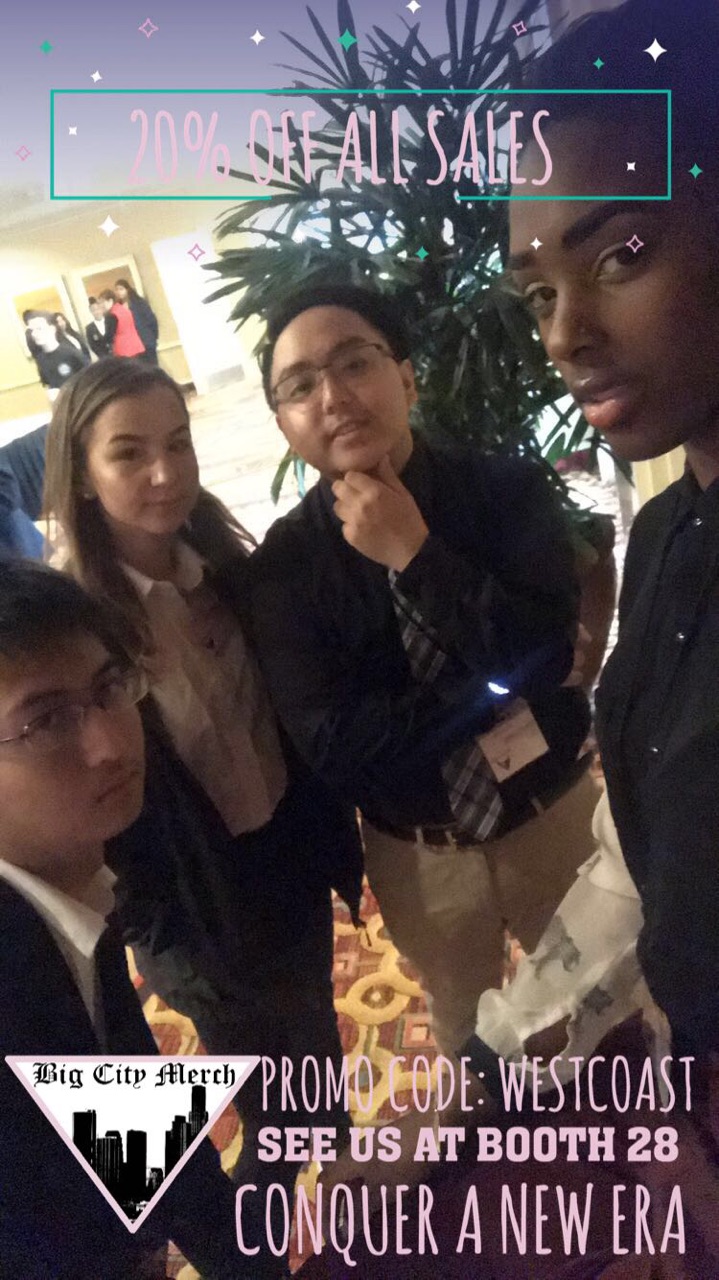 Grow N' Go, Fountain Valley High School, CA
BLOC, South Pasadena High School, CA
BLOC's trade fair was a success! It was wonderful meeting all of you and we hope you enjoyed your time as much as we did! #veinternational #sphsbloc #modular #furniture #adulting pic.twitter.com/KAYbPXUbvz

— BLOC (@vei_BLOC) January 19, 2018
Photos
Thank You to Our Supporters
Thank you to the DSN and to Long Island University for your generous donations in support of the VE program.
Thank you, also, to the volunteers, supporters, and staff members, for this event would not have been such a success without you all!