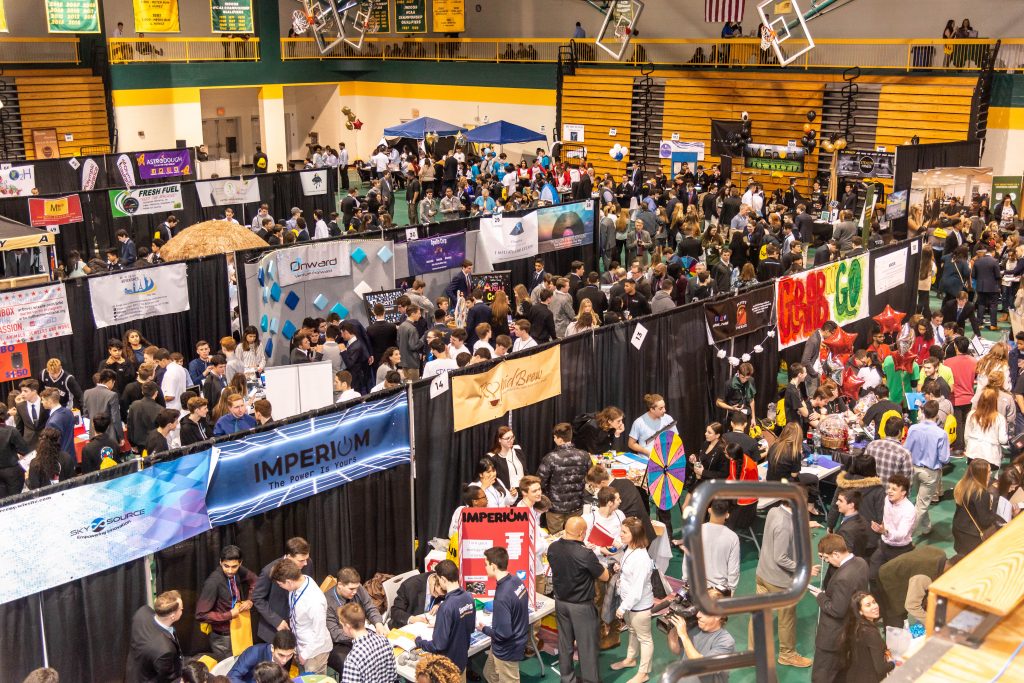 Long Island Regional Conference & Exhibition
January 9, 2019
LIU Post
Long Island, NY
---
Key Stats
2,100 total attendees
1,950 participating students
73 schools
102 firms
9 competitions
Photos


See more photos here.
Competition Results
Congratulations to the following teams for advancing to the final round of the Long Island Business Plan Competition!
A Lil Twist, Carle Place High School, Carle Place, NY
AstroDough, Syosset High School, Syosset, NY
Comforting Canines, Hewlett High School, Hewlett, NY
Infinity Bars, Herricks High School, New Hyde Park, NY
Leisure in the Triangle, The Berkeley Institute, Pembroke, Bermuda
NAPR, Hewlett High School, Hewlett, NY
Nova, Patchogue-Medford High School, Medford, NY
Poppy, Huntington High School, Huntington, NY
Rapid Brew, Centereach High School, Centereach, NY
Stirvana, Valley Stream North High School, Franklin Square, NY
Sway, Westhampton Beach High School, Westhampton Beach, NY
Results for top teams in Company Branding, Company Newsletter, E-Commerce Website, Employee Handbook, Sales Materials, Video Commercial, Booth Design, Impact Marketing can be found at the Competitions Results page.
href="https://veinternational.org/competition-results/#18-19-regional" data-color-override="false" data-hover-color-override="false" data-hover-text-color-override="#fff">
Button Text
Participating Firms
1 Click Tickets, Sayville High School, West Sayville, NY
A Lil Twist, Carle Place High School, Carle Place, NY
ABODE, Huntington High School, Huntington, NY
Altitude Extreme Sports, Sayville High School, West Sayville, NY
Amplify Audio, Miller Place High School, Miller Place, NY
Apollo Corp, Walt Whitman High School, Huntington Station, NY
Arbo, Sachem East High School, Farmingville, NY
AstroDough, Syosset High School, Syosset, NY
Authentic Sports Apparel, Schechter School of Long Island, Williston Park, NY
BEE…at ease, Bridgehampton UFSD, Bridgehampton, NY
Blended, Great Neck S High School, Great Neck, NY
Brama Chocolates, Oceanside High School, Oceanside, NY
Caffeine Dreamin', Lindenhurst High School, Lindenhurst, NY
Center Salvage, Center Moriches High School, Center Moriches, NY
ClearTech, Sachem North High School, Lake Ronkonkoma, NY
Coffee Cubed, Wantagh High School, Wantagh, NY
Comforting Canines, Hewlett High School, Merrick, NY
Day Away, William Floyd High School, Mastic Beach, NY
DefenseLine, Calhoun High School, Merrick, NY
Delta Dorms, Jericho High School, Jericho, NY
Doughnut Dynasty, Sewanhaka High School, Floral Park, NY
DronEats, Southold High School, Southold, NY
East Hampton Eco-packs, East Hampton High School, East Hampton, NY
Empire Crates, Bellport High School, Brookhaven, NY
Empire State Pizza, Rocky Point High School, Rocky Point, NY
Entertainment Express, Islip High School, Islip, NY
EVOLVE, Ralph McKee High School, Staten Island, NY
ExTravelganza Inc., Academy for Scholarship & Enterprise, Bronx, NY
Face it!, Floral Park Memorial High School, Floral Park, NY
Fit Pet, Lynbrook High School, Lynbrook, NY
Flex Fit, Glen Cove High School, Glen Cove, NY
Forever Fit By Floyd, William Floyd High School, Mastic Beach, NY
FreshFuel, East Islip High School, Islip Terrace, NY
FUTURE, Freeport High School, Freeport, NY
G Flash Music Production, Sayville High School, West Sayville, NY
Genesis, Patchogue-Medford High School, Medford, NY
Genuine Greens, Syosset High School, Syosset, NY
Glow Games, Mattituck High School, Mattituck, NY
Grab'n'Go, John Adams High School, Ozone Park, NY
HeartYEETZ, Cold Spring Harbor, Cold Spring Harbor, NY
High Flyers Inc, Connetquot High School, Bohemia, NY
HomePros, Plainview-Old Bethpage JFK High School, Plainview, NY
HOPE, Academy of Finance & Enterprise, Long Island City, NY
Horizon Entertainment, Sachem North High School, Lake Ronkonkoma, NY
Imagination, Inc., The Maxine Greene High School for Imaginative Inquiry, New York, NY
Infinity Bars, Herricks High School, New Hyde Park, NY
In-Site Media, John Jay High School, Hopewell JCT, NY
Leisure in the Triangle, The Berkeley Institute, Pembroke, NY
LuxDesigns, Francis Lewis High School, Fresh Meadows, NY
MatchWear, Francis Lewis High School, Fresh Meadows, NY
Mini Sports, Long Beach, Long Beach, NY
MiSport, Bethpage High School, Bethpage, NY
Moonlight Drive-In, Westbury High School, Old Westbury, NY
MovieMax, Schreiber High School, Port Washington, NY
MUNCHKINGS, Clarke High School, Westbury, NY
NAPR, Hewlett High School, Hewlett, NY
Nova, Patchogue-Medford High School, Medford, NY
O2H, Long Beach High School-NIKE, lido beach, NY
Olympic Insurance, Flushing High School, Flushing, NY
One Charge, North Shore Hebrew Academy High School, Great Neck, NY
OneSource Energy, Roy C. Ketcham High School, Wappingers Falls, NY
Onward, Walt Whitman High School, Huntington Station, NY
Out of the box Adventures, Sachem East High School, Farmingville, NY
Outlast Outerwear, Carle Place High School, Carle Place, NY
Pink Sand Travel Packs, CedarBridge Academy, Devonshire, NY
Plenty Package, Carey High School, Franklin Square, NY
Poppy, Huntington High School, Huntington, NY
Port Clothing, Northport High School, Northport, NY
Portside Sweets, Bellport High School, Brookhaven, NY
Pro-Tech(t), Oyster Bay High School, Oyster Bay, NY
Rapid Brew, Centereach High School, Centereach, NY
Retro Classic, Westbury High School, Old Westbury, NY
Snap Shack, Miller Place High School, Miller Place, NY
Sol Energy, Mount Sinai High School, Mount Sinai, NY
STEALTH, Bethpage High School, Bethpage, NY
Stirvana, Valley Stream North High School, Franklin Square, NY
SuppLI, Baldwin High School, Baldwin, NY
Sway, Westhampton Beach High School, Westhampton Beach, NY
Sweet Obsession, Elmont High School, Elmont, NY
T. Merchants, New Hyde Park Memorial High School, New Hyde Park, NY
Tailgate4You, Commack High School, Commack, NY
TechTastic, Massapequa High School, Massapequa, NY
The Party Project, Herricks High School, New Hyde Park, NY
The Whole Package, Calhoun High School, Merrick, NY
Tic Toc Tutor, East Meadow High School, East Meadow, NY
Tornado Fit, Lawrence High School, Cedarhurst, NY
Tota Vita, Syosset High School, Syosset, NY
TRUBLU Technologies, Smithtown High School West, Smithtown, NY
TruView VR, Mepham High School, N. Bellmore, NY
Twist UR World, Island Trees High School, Levittown, NY
Utter Goodness, Syosset High School, Syosset, NY
Variety Tech Inc., Academy for Scholarship & Enterprise, Bronx, NY
Vavel Eventures, Plainedge High School, Massapequa, NY
Viper Excursions Inc, Connetquot High School, Bohemia, NY
Visualize, Smithtown High School East, St. James, NY
Wave Works, Babylon High School, Babylon, NY
Whats in the Box?, Centereach High School, Centereach, NY
White Rhino Tech, North Shore Hebrew Academy High School, Great Neck, NY
Worldwide Entertainment Corporation, Islip High School, Islip, NY
WorldWide Water, Longwood High School, Middle Island, NY
Your Name Here, Fort Hamilton High School, Brooklyn, NY
Social Media Contest Winners
Poppy, Huntington High School, Huntington, NY
Sweet Obsession, Elmont High School, Elmont, NY
Leisure in the Triangle, The Berkeley Institute, Pembroke, NY
In the News