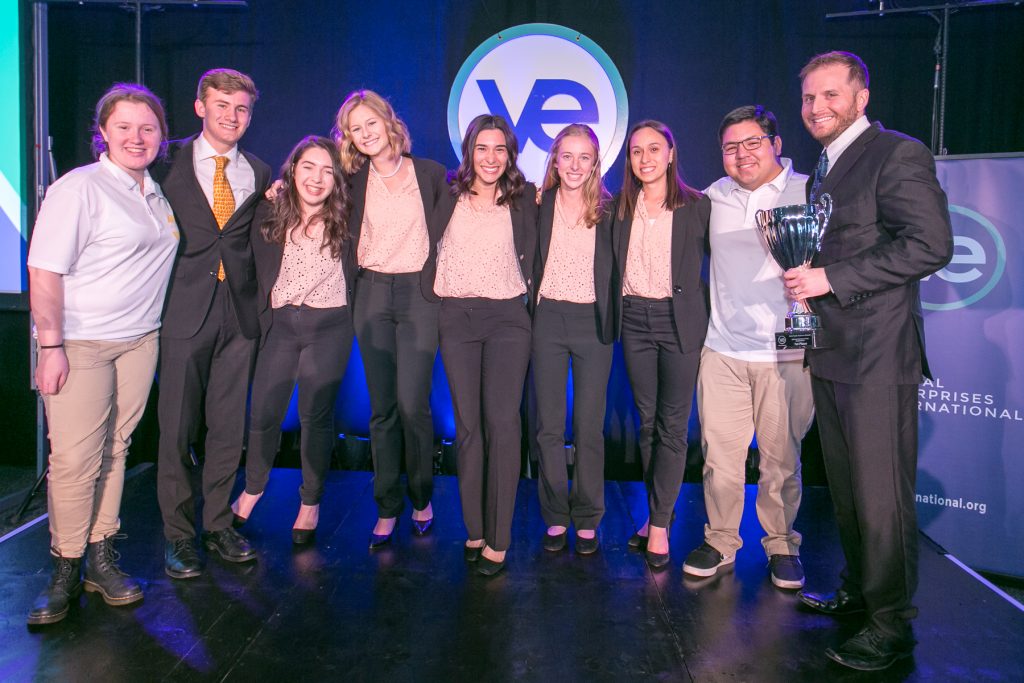 The following teams have qualified for the 2019 National Business Plan Competition, taking place during the 2019 Youth Business Summit on April 15, 2019 at Microsoft Technology Center.
This event is the most prestigious and rigorous annual business plan competition for public high school students. It challenges VE students from across the country to demonstrate their global business expertise through written business plans and oral presentations.
In order to qualify for this event, these teams have demonstrated the best-written plans and oral presentations at their respective local, state, and regional competitions.
| Firm | School | City, State | Region |
| --- | --- | --- | --- |
| VEKO | Edward R. Murrow High School | Brooklyn, NY | New York Metro |
| LuxDesigns | Francis Lewis High School | Queens, NY | New York Metro |
| FLY NY | High School of Fashion Industries | New York, NY | New York Metro |
| Blutivity | Yonkers Middle High School | Yonkers, NY | New York Metro |
| Deja Brew | Morris Knolls High School | Rockaway, NJ | New York Metro |
| Bloom Technologies | Germantown Friends School | Philadelphia, PA | New York Metro |
| AstroDough | Syosset High School | Syosset, NY | Long Island |
| Comforting Canines | Hewlett High School | Hewlett, NY | Long Island |
| Leisure in the Triangle | The Berkeley Institute | Pembroke, Bermuda | Long Island |
| Nova | Patchogue-Medford High School | Medford, NY | Long Island |
| Poppy | Huntington High School | Huntington, NY | Long Island |
| That's the Last Straw | Sweet Home High School | Buffalo, NY | Northeast |
| Unwind | Crystal Lake South | Crystal Lake, IL | Great Lakes |
| Area304 | Geneva CUSD #304 | Geneva, IL | Great Lakes |
| CampUS | Cary-Grove High School | Cary, IL | Great Lakes |
| Adastra | Stoney Creek High School | Rochester, MI | Great Lakes |
| Brew Crew | Careerline Technical Center | Holland, MI | Great Lakes |
| Sunny Snacks | Cooper City High School | Cooper City, FL | South |
| Amplitide | V.R. Eaton High School | Haslet, TX | South |
| VIVID+ | Parkway West High School | Chesterfield, MO | South |
| Adrenaline Rush | South Granville High School | Creedmoor, NC | South |
| Clarity | Greer High School | Greer, SC | South |
| Global Warming | Bearden High School | Knoxville, TN | South |
| Luxury Resort Management | East Hamilton High School | Ooltewah, TN | South |
| Current Threads | Bakersfield High School | Bakersfield, CA | West |
| Safe N' Sound | Murrieta Valley High School | Murrieta, CA | West |
| Ancora Safety | Centennial High School | Bakersfield, CA | West |
| Phoenix Wood | Stockdale High School | Bakersfield, CA | West |
| Nurture | Murrieta Valley High School | Murrieta, CA | West |
| iKOMO | South Pasadena High School | South Pasadena, CA | West |
| InVEst | San Juan Hills High School | San Juan Capistrano, CA | West |
| Monk Made | Cooper City High School | Cooper City, FL | South |