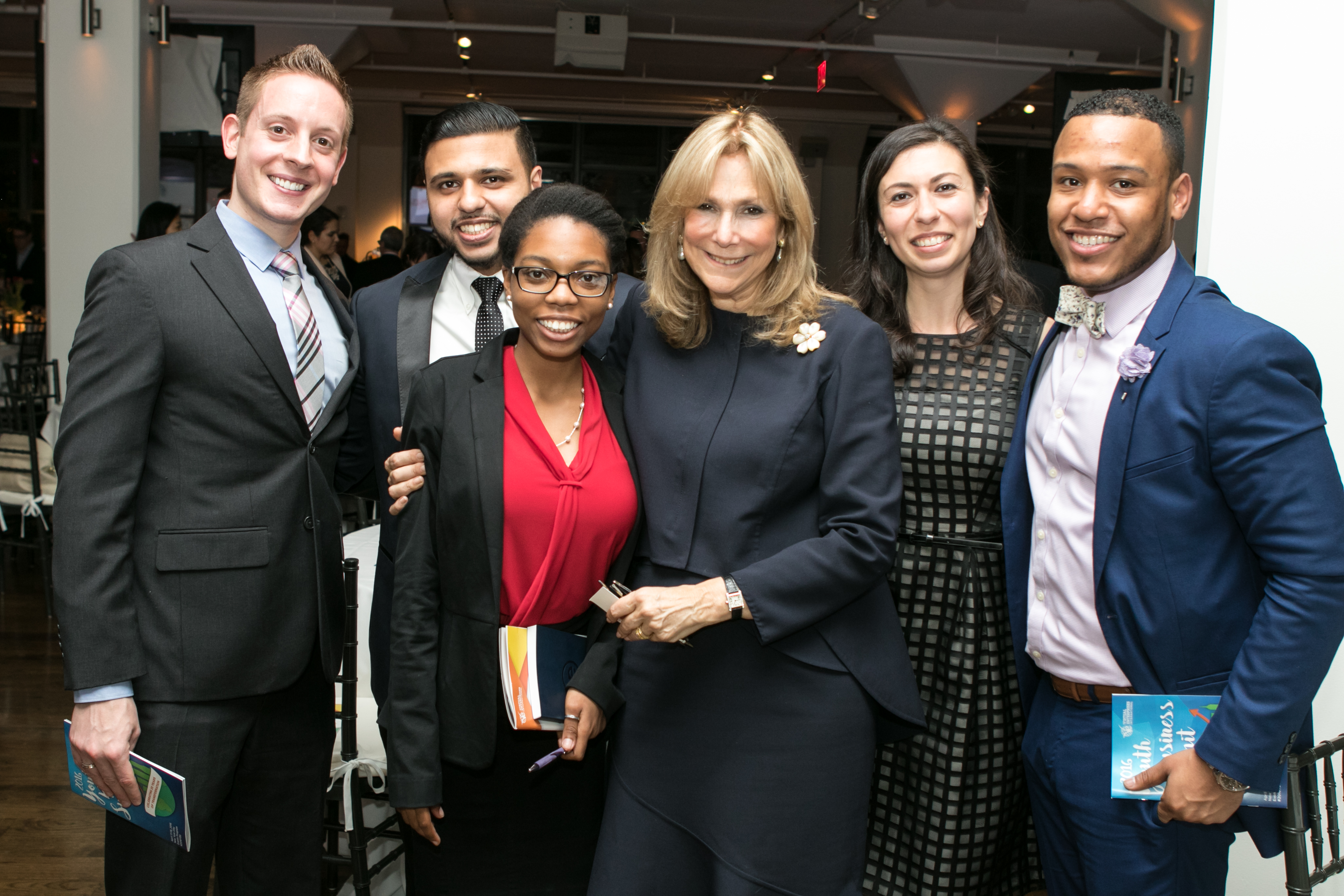 Article contributed by Abril Peña, National Engagement Coordinator
This year marks the 25th anniversary of Virtual Enterprises International, a business program that began in New York City in 1996 and has since enabled more than 175,000 students across the U.S the opportunity to learn business by doing business. Along the way, they develop in-demand skills that help them to flourish in both college and careers as well as test drive potential careers.
VE's 25th anniversary and Women's History Month offer a perfect opportunity to recognize and celebrate the woman who brought VE to life and continues to help shape its future. None of this would have been possible without the vision, determination and leadership of VE's Founding Executive Director, Iris Blanc, a long-time educator and champion of empowering young people through experiential learning, providing students with the opportunities, skills and resources they need to lead successful lives.
From Advertising to Teaching
Although she spent several years of her childhood in California, Blanc has deep roots in New York City, where she was born and went to both high school and college. After completing her B.A. and M.A. in education at Baruch College, she earned another Master's degree in Administration from New York University. To gain real-world business experience prior to launching her career as a business teacher, Blanc worked as a market-research assistant at Leber, Katz Partners and DKG Advertising, where she was fortunate to work under a woman who not only helped her navigate the traditionally male-dominated world of advertising, but also became both a mentor and role model.
After a few years in advertising, Blanc returned to her real love—business education—and served as a teacher at Tottenville High School in Staten Island. While at Tottenville, Blanc taught every business class the school had to offer—from accounting to business law to marketing—before being promoted to assistant principal. It was during this period that Blanc began teaching night classes at Kingsborough Community College in Brooklyn. A new phase of her career took off when she was asked to teach a class on using new word-processing machines, but discovered that there were no books or materials to teach from. In addition to creating a manual for using word processors, Blanc went on to write many of the first textbooks for technology applications in Microsoft Word, PowerPoint, Excel and Office as well as books on desktop publishing and entrepreneurship.
Starting Virtual Enterprises
In 1996, Blanc was one of six New York City educators who traveled to Austria to observe an educational model called "practice enterprises," in which students learn workplace skills in school. Upon her return, Blanc was tapped to launch a "practice enterprises" program in New York City. Nearly a year later, she piloted the program in six of the City's high schools, where classrooms were transformed into business spaces equipped with workstations, telephone lines and computers and students were transformed into entrepreneurs and business professionals.
Over the past 25 years, Blanc's visionary leadership has also transformed VE into a 21st-century model for career and technical education whose instructional programs have empowered students—many from under-resourced communities—to develop the academic, business, technology and professional skills that not only prime them for success in post-secondary education and the workforce, but enable them to build bright and financially secure futures. Since its founding, VE has touched the lives of nearly 175,000 young people from Long Beach, NY to Long Beach, CA, and Iris Blanc has been there every step of the way doing what she does best—educating, envisioning, inspiring and innovating.
From Iris Blanc's wealth of experience, here are 10 lessons she learned along the way:
Inspire people by conveying your passion.
Set high standards for yourself and for others.
Foster a culture of learning, growth, and respect in class, at work, or at home.
Be a coach, champion, and role model to someone who can benefit from your experience.
Listen and learn what people are feeling and thinking so you can provide the resources to support them.
Lead by example—don't expect others to do what you're not willing to.
Believe in yourself!
Be receptive to others' points of view.
Dream big to see what's possible both personally and professionally.
Always be gracious and never burn bridges.
These lessons speak to the type of leader Blanc has demonstrated to be while overseeing a growing organization — attentive, empathetic, and supportive. When asked to reflect on what they have learned and appreciated from Blanc's guidance over the years, a few VE team members replied:
"For anyone that has worked with Iris for any amount of time, you quickly realize she has an unrelenting standard of excellence and an internal clock that is always a few ticks ahead of yours… qualities which inspire and drive those around her." – Nick Chapman, VE President

"Iris has taught me to never give up and to always keep going, regardless of what challenges and awful circumstances life throws at you. What I love most about Iris is her dedication and compassion to working with students and going out of her way to help them succeed in school and in their professional lives. Iris is someone I truly admire and look up to." – Susan Chan, VE National Events Manager

"Iris is an inspirational and effective leader whose grace, charm, intellectual brilliance, drive and determination have changed the lives of scores of thousands of American students especially under-privileged and minority pupils. It is a pleasure and privilege for me to have helped Iris since 1996 as her legal counsel and collaborator." – Michael Coneys, Chairman & President, The Leo House


"Iris pushes us to fulfill our potential and pursue our educational and/or career goals. She is an amazing mentor and provides meaningful advice. It doesn't matter how busy she is, Iris still takes the time to check in with everyone to see how everyone is doing. She is dedicated, thoughtful, and caring." – Gina Pol, VE Program Support Manager

"What I love about working with Iris is that she always has a story to share about her experiences, and you learn so much from them! Her wealth of experience is inspiring and useful for all generations. Something she mentioned to me that has resonated with me as I do my work with VE is that even if you reach/impact one person, you've succeeded! All it takes is one person and that impact only grows from there!" – Elizabeth Pooran, NYC Program Coordinator
Thank You, Iris!
As Women's History Month comes to an end, the ongoing legacy of Iris Blanc continues to leave a tremendous impact on the thousands of students supported by VE, its educators, partners, volunteers, and community annually. Join us in celebrating 25 Years of VE by donating or getting involved today.