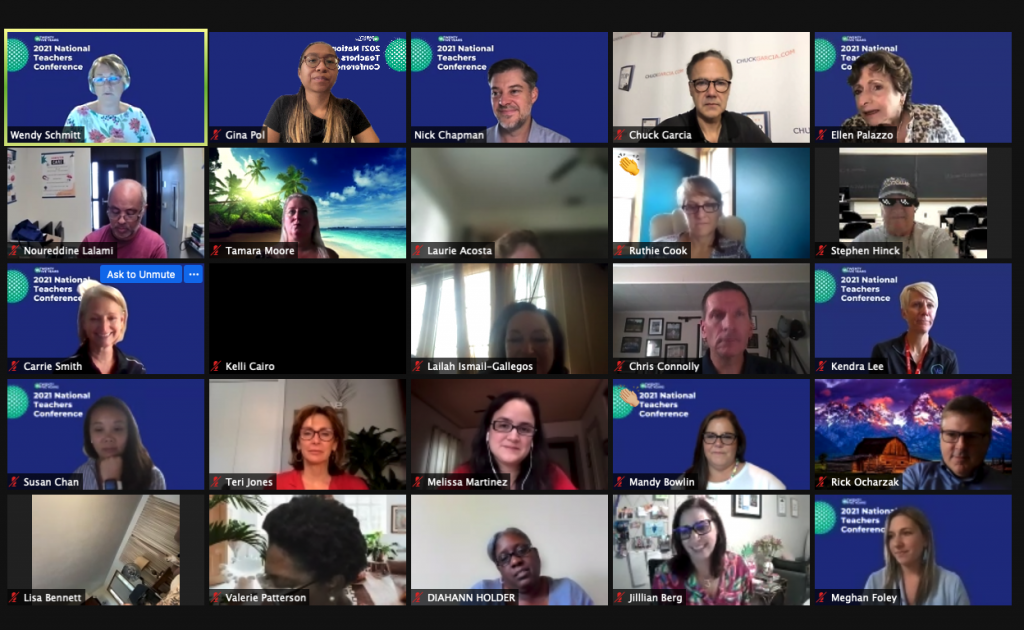 Last week, 170 teachers from across the country joined VE's 2021 National Teachers Conference. The conference consisted of four tracks for new VE facilitators, returning VE facilitators, new VE JV facilitators, and returning VE JV facilitators with sessions ranging from presentations to panel discussions to hands-on activities.
Check out the conference page to watch recorded sessions and access resources!
Session Highlights and What to Expect for 2021-22
Working to bring back in-person events wherever possible
A new look and feel to the VE Hub and Marketplace Tools
Driving competency development through the revised Career Readiness Framework
Updates to rubrics for competitions that are aligned to the Career Readiness Framework and associated curriculum tasks
Introducing "The Learning Series" resources for Online Collaboration Tools and QuickBooks Basics. Coming Soon: Work Readiness, Canva Basics, Social Media Basics, Video Conferencing Tools, and more!
LiveChat and real-time support for teachers and students
Updates to PRO Feedback for Career Readiness
QuickBooks certifications for students in the Accounting and Finance departments
Announcing CTE research study by RAND Corporation on An Experimental Evaluation of the Efficacy of Virtual Enterprises
Updates to curriculum and the VE-LMS lesson templates based on recommendations from VE focus groups and responses from the year-end exit surveys

Easy to access tabs for Objectives, Materials, Quick Guides and Deliverables
Quick Guides available and embedded in most lessons
Submission buttons under Deliverables to allow students to know what is expected of them
Embedded videos in each lesson to provide more visual learning
Pop-up resources that will reduce clicks and downloads
Special Thanks
Thank you to everyone who was able to attend this year's VE National Teachers Conference! The energy, positivity, and passion brought to the conference was visible from the session presentations all the way to our daily kickoff and happy half hour activities. A special thank you to our session presenters, moderators, partners at Intuit and LIU, and our guest speakers, Ed Koledo and Chuck Garcia.
National Teacher Conference FAQs
Q: Where can I find the presentation slides and recordings from the teachers conference?
A: For access to conference presentations, recordings, and resources, select the National Teachers Conference icon on the Hub or click here for the conference page. Scroll to the session you would like to access, then select "View Meeting Recording". The presentation slideshows can be found under "Objectives & Resources" and selecting "Presentation Link".
Q: As I sign into the Hub, the first thing it is asking me is if I want to carry last year's firm over to this year. If I choose *not* to renew last year's company, will I still be able to access its past submissions and results to use for reference next year?
A: If you choose not to renew the company, it will be deactivated from the Hub and you will not be able to reference past submissions. You can complete the setup and keep the firm and request that it is deactivated later by reaching out to your regional contact. By completing the setup, you can still access the firm's previous submissions by going into the Competitions Manager. Download the submissions and feedback you would like to keep. If you choose to start a new firm for the school year, notify your regional team and they will be able to add an additional course to your Hub account. Once you begin adding students to the course on Teacher Admin, please be mindful of the course they are added to because you won't be able to swap students between the two courses.
Q: How do I add students to my courses?
A: On the Hub Dashboard, students are entered from the "Teacher Admin" icon. Review the Hub User Guide for step-by-step instructions on account setup and adding students.
Q: How do I set up a QuickBooks account?
A: For information on QBO account setup, refer to QBO Setup at a Glance on the conference page. Click the link at the bottom for full instructions on setting up an account.
Q: Will I receive PD hours for the conference?
A: Professional Development certificates will be sent to all participants based upon the sessions you attended.
Q: I need help on the Trade Shows. Specifically on what to do, how to prepare and what to expect.
A: The lesson and resources from Operations Task 5 – Organize Trade Show Activities includes details and resources on expectations and how to prepare for a trade show. Refer to our Online Trade Show Guide for information on preparing for an Online Trade Show.
Q: In the firm bank account, how do you turn off recurring charges from other firms which were set up in the previous school year?
A: From the Firm Bank Account, click into "Scheduled Transactions" from the left hand side and select the recurring transactions to delete.
Q: What are the three methods of funding for a new VE firm?
A: A new VE firm will receive initial seed funding of $20,000 upon approval of their Business Registration Form. For additional virtual funds, firms can submit an Equity Investment Application, Small Business Loan Application, or Out-of-Network Contracts as outlined in the Capital Needs Flowchart from Finance Task 3.
Q: How does someone outside VE participate in the program, specifically to help fund a business?
A: There are many opportunities to get involved with VE:
Mentoring a firm or class
Volunteering to judge in-person or online events
Providing (virtual) capital as an angel investor (an individual who provides capital for a business start-up, usually in exchange for convertible debt or ownership equity)
Making an Out-of Network Contract purchase from a firm (outlined in Finance Task 6)
Providing actual monetary support or donations to help defray costs related to travel expenses, classroom supplies, etc. (typically a local business or education partner)
For more information, please visit https://veinternational.org/for-partners/