The Inland Empire Center for Entrepreneurship (IECE) at Cal State University San Bernardino (CSUSB) was host to a new generation of entrepreneurially inspired students at the March 10th Western Region Virtual Enterprise International (VE) Regional Tradeshow and Competition. IECE has been a valued sponsor of the event since 2018, with this year being the first time that it was held at CSUSB. More than 1100 students from Arizona, California and Oregon were gathered to showcase the work they have done this year on their virtual companies.
VE is committed to developing students by providing them with business experiences that are grounded in real conditions. Students develop a concept for their company, and then as a class operate in sophisticated ways, serving key executive roles and developing marketing and sales strategies.
Mike Stull, professor of entrepreneurship and director of the IECE and the CSUSB School of Entrepreneurship, noted that "by hosting the VE Tradeshow and Competition program here on campus, we want to introduce these amazing budding entrepreneurs to the incredible benefits that higher education can offer in entrepreneurship to help develop new ideas, innovation and efficiency." Said Stall, "Our education program goals are to foster an entrepreneurial mindset and philosophy of 'Think Like An Owner!™' by developing creative, innovative individuals who can identify local and global problems and create innovative solutions."
Over the course of the day's events, which included both high school and middle school businesses, students showcased goods and services, and monetized their efforts through the VE marketplace banking system. Students were also invited to submit for several online pre-judged competitions and a series of in-person events hosted for VE and VE-JV students in the Western Region.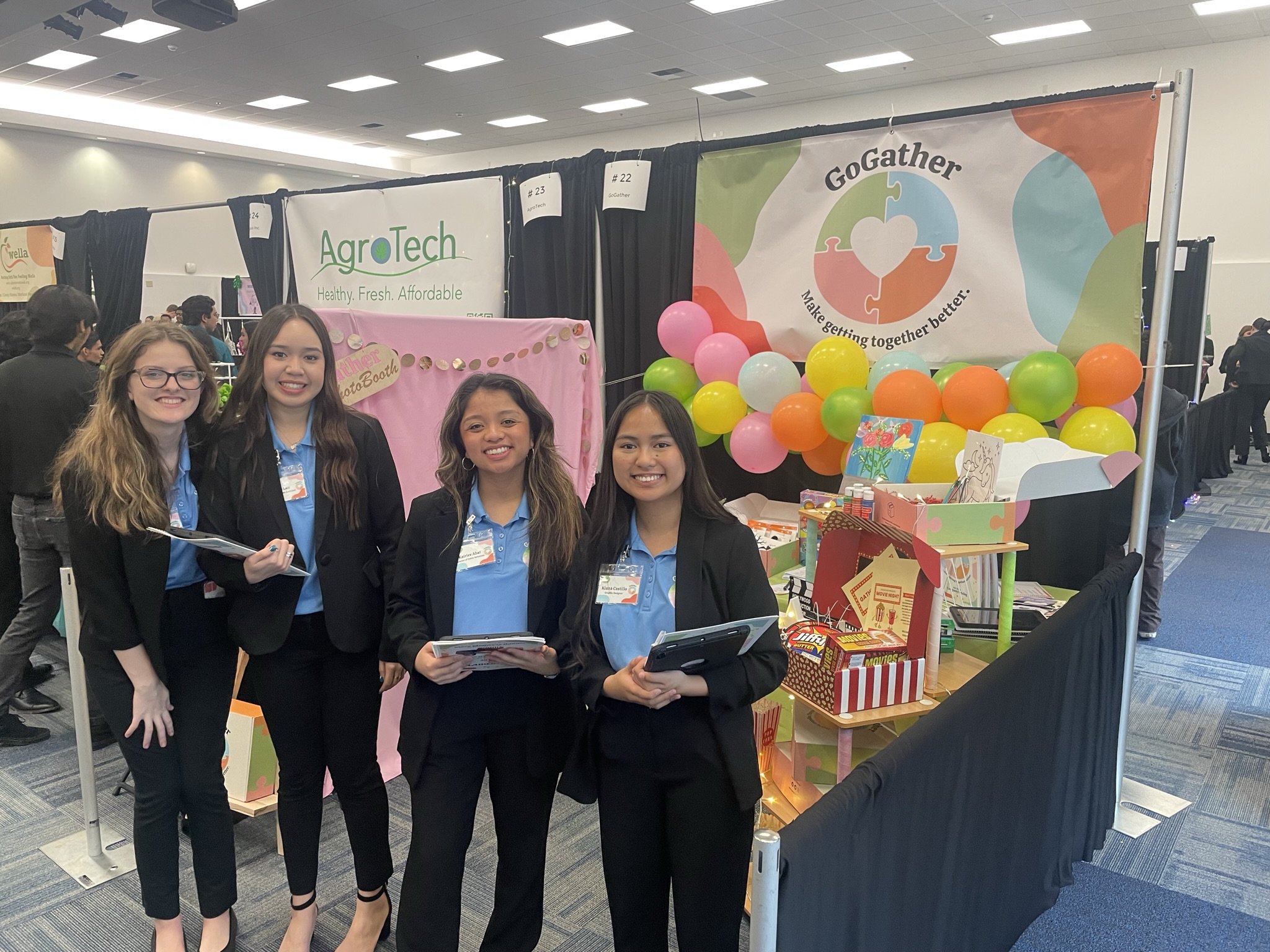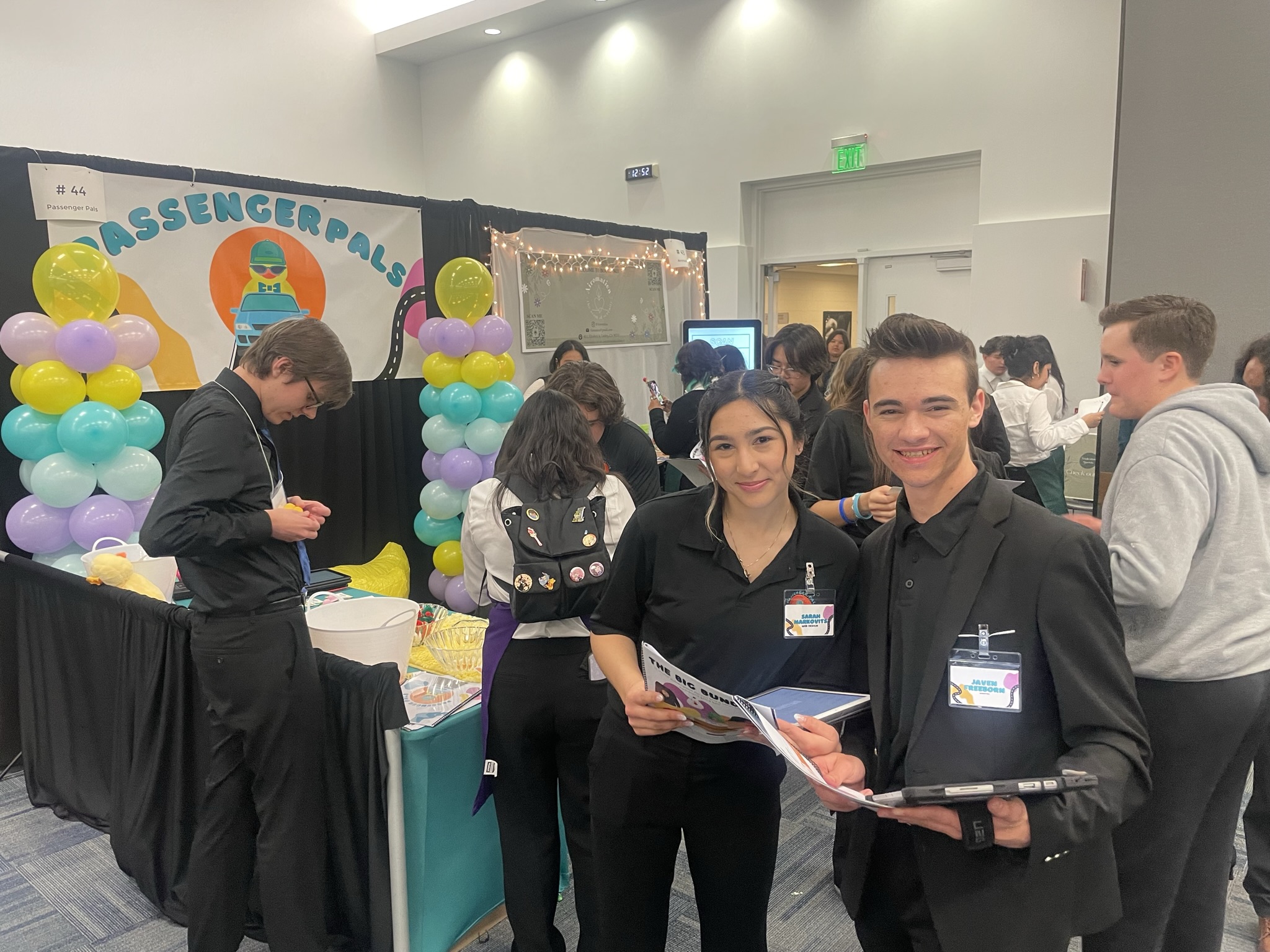 Events included an IECE Leadership Scavenger Hunt to encourage sales, collaboration and discovery as well as nine other competitions in Marketing, Finance, Quickbooks, Email Campaigns, production of a St Patrick's Day Banner Ad, creation of a Sales Pitch Video, Company Branding, Trade Show Booth Design and Trade Show Sales Pitch.
More than 50 volunteers supported the competitions, trade show sales and campus activities. Several of the schools attending will be heading to New York City for the 2023 Youth Business Summit this April, and will be representing the Western region in several live presentations and in an international trade show.  
VE extends special thanks to California State University San Bernardino, IECE as the sponsor/host, and specifically Dean Tomas Gomez-Arias, Director Mike Stull and Assist. Director Stacey Allis. We also thank VISA [corporation], Inland Empire Women's Business Center and Inland Empire [SBDC] for providing professional volunteer online judges. A big shout out also goes to Kids that Code and the University of Redlands.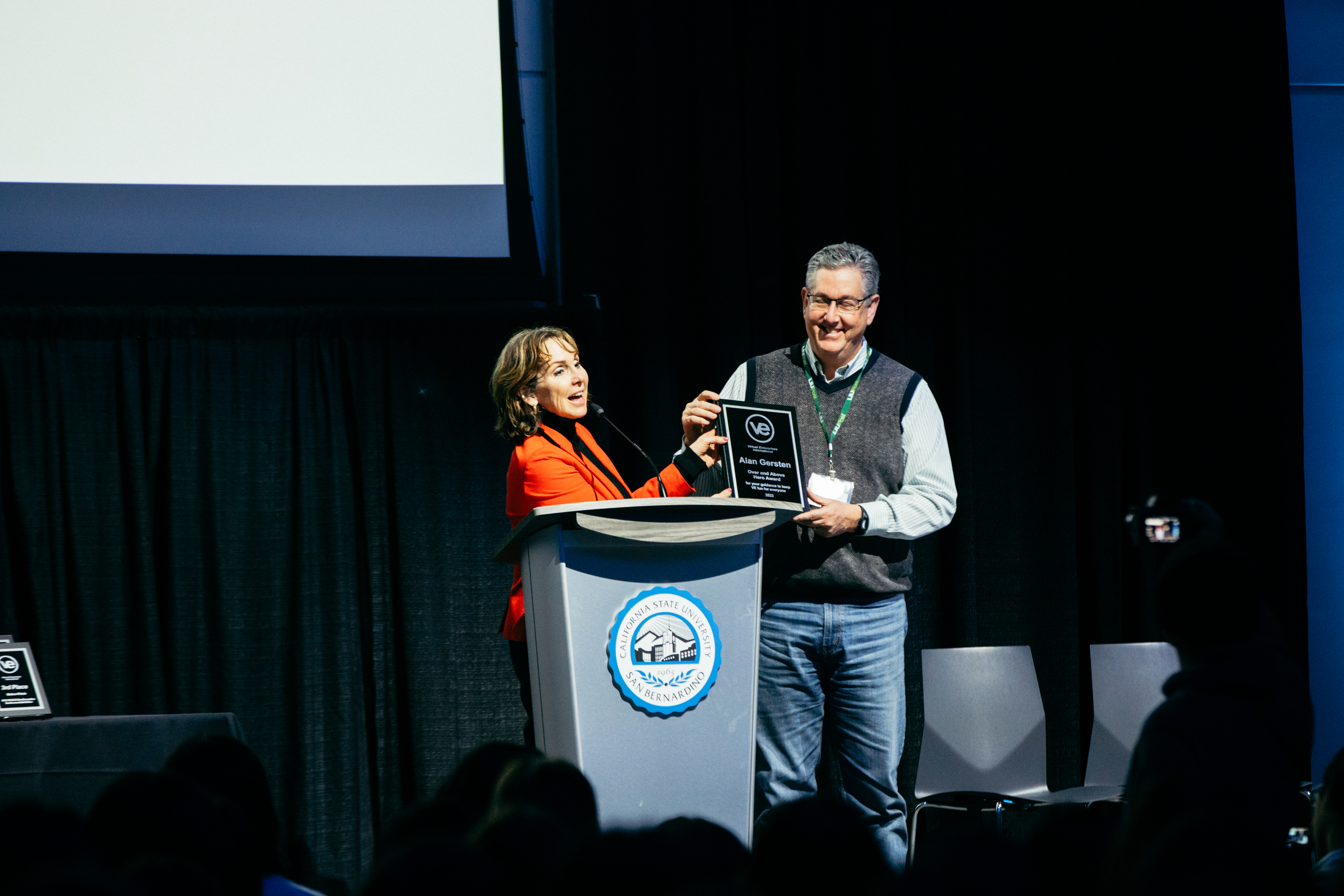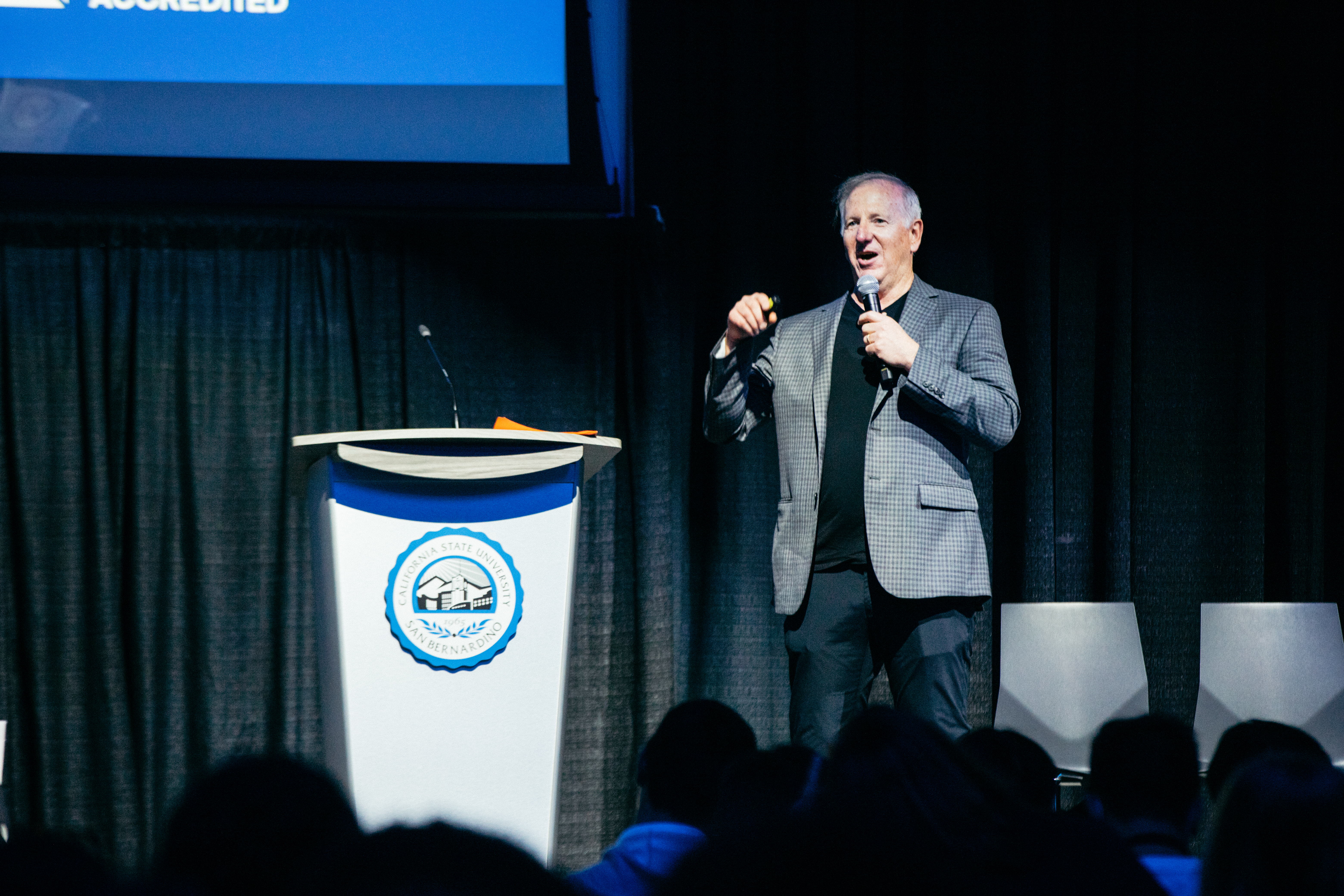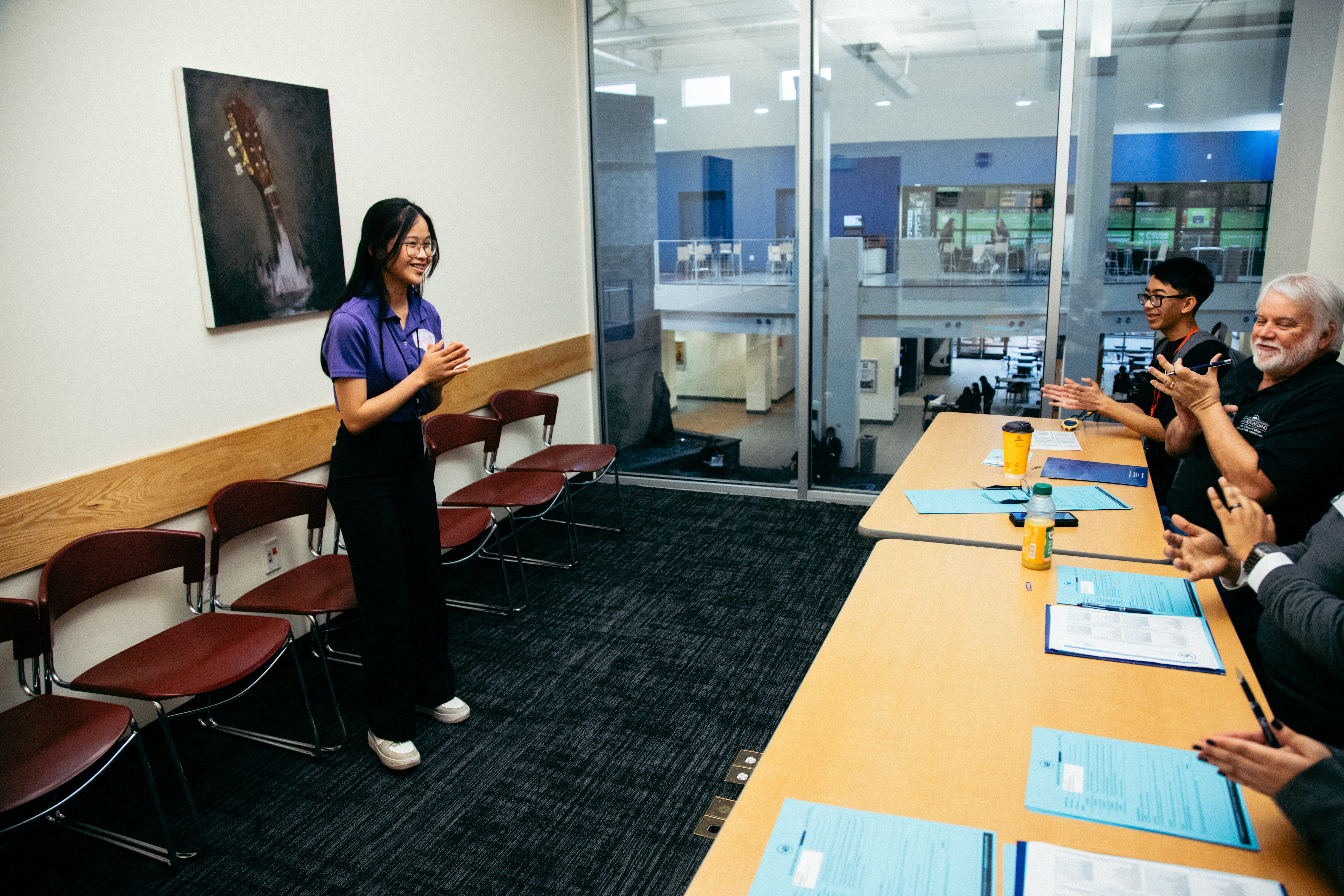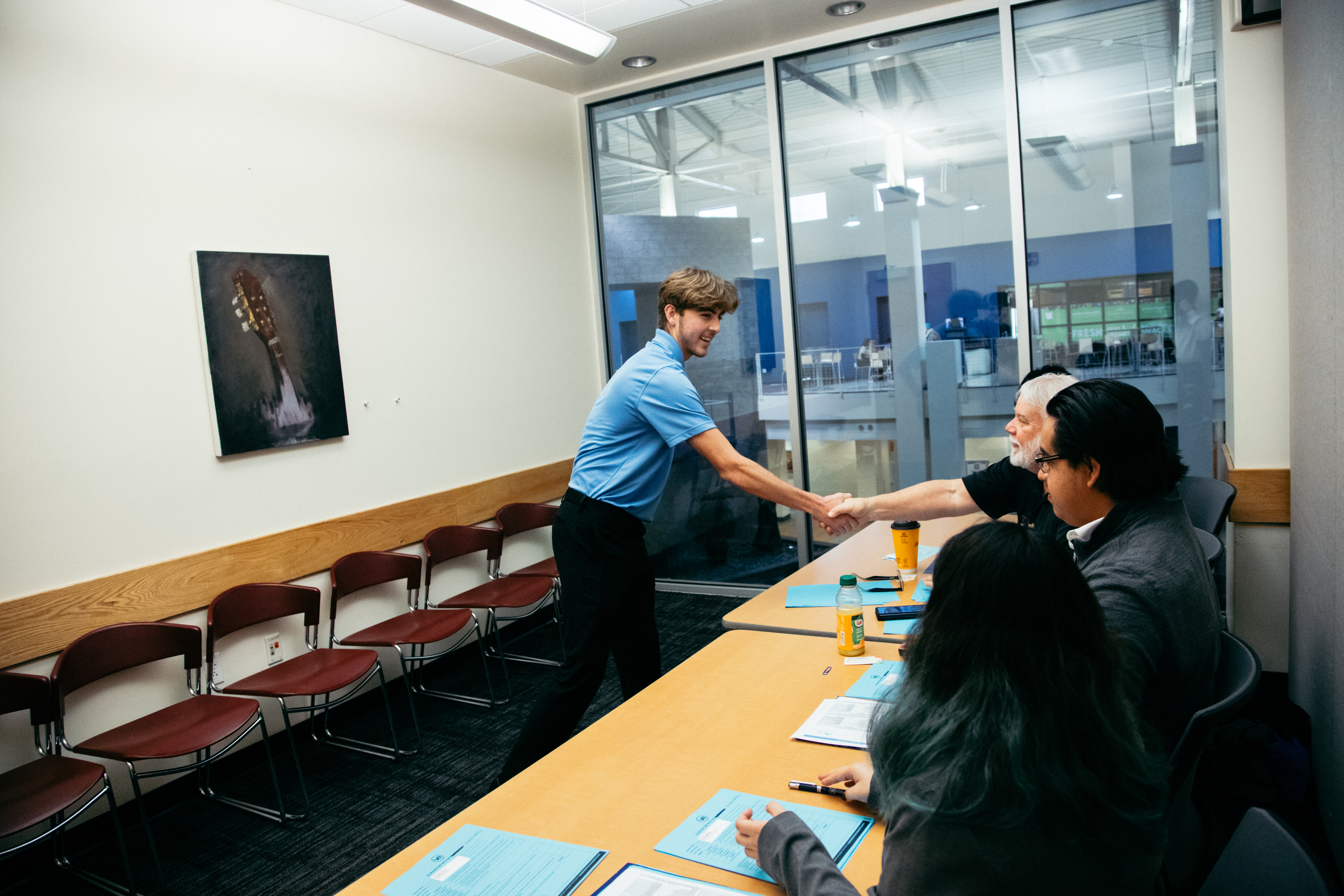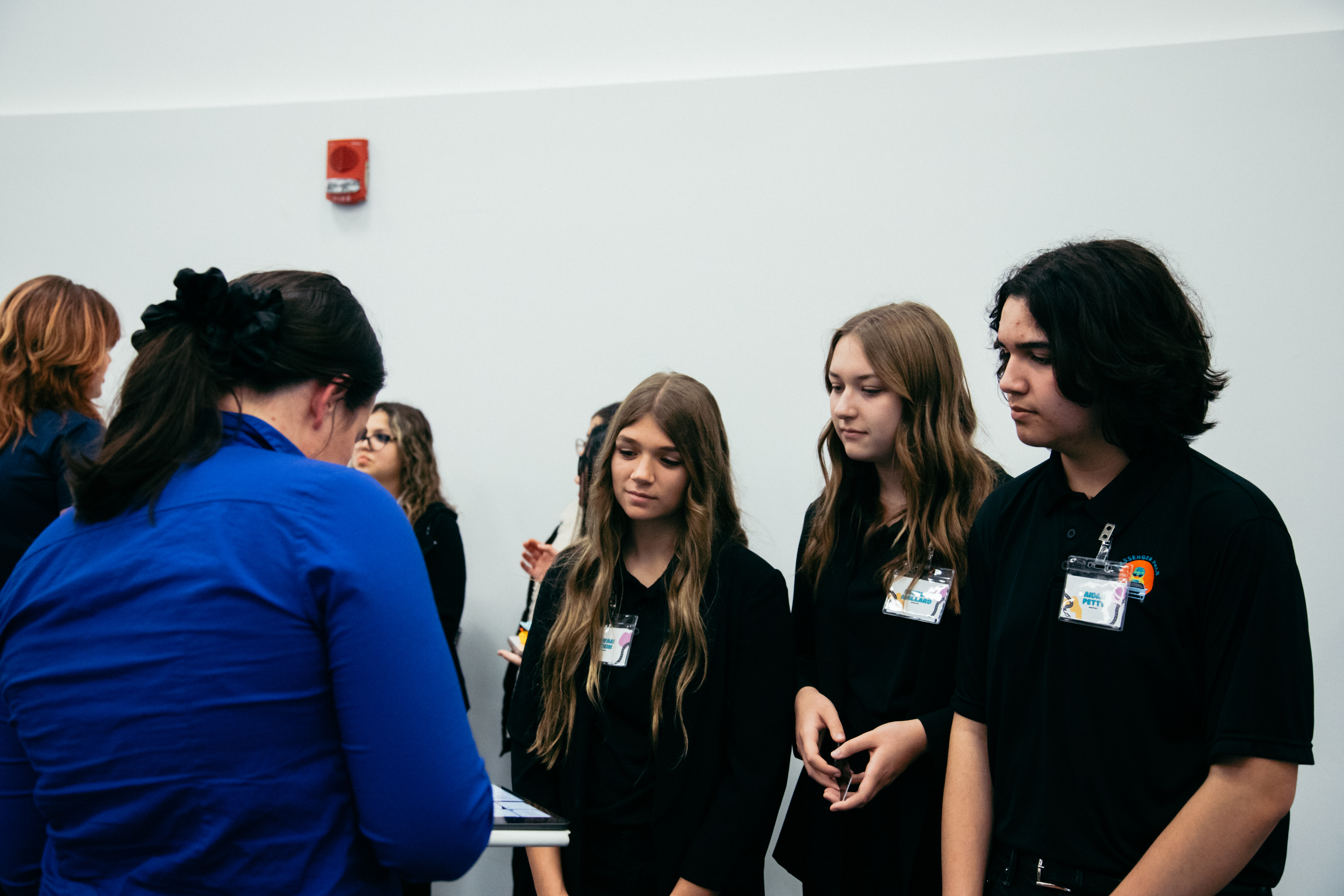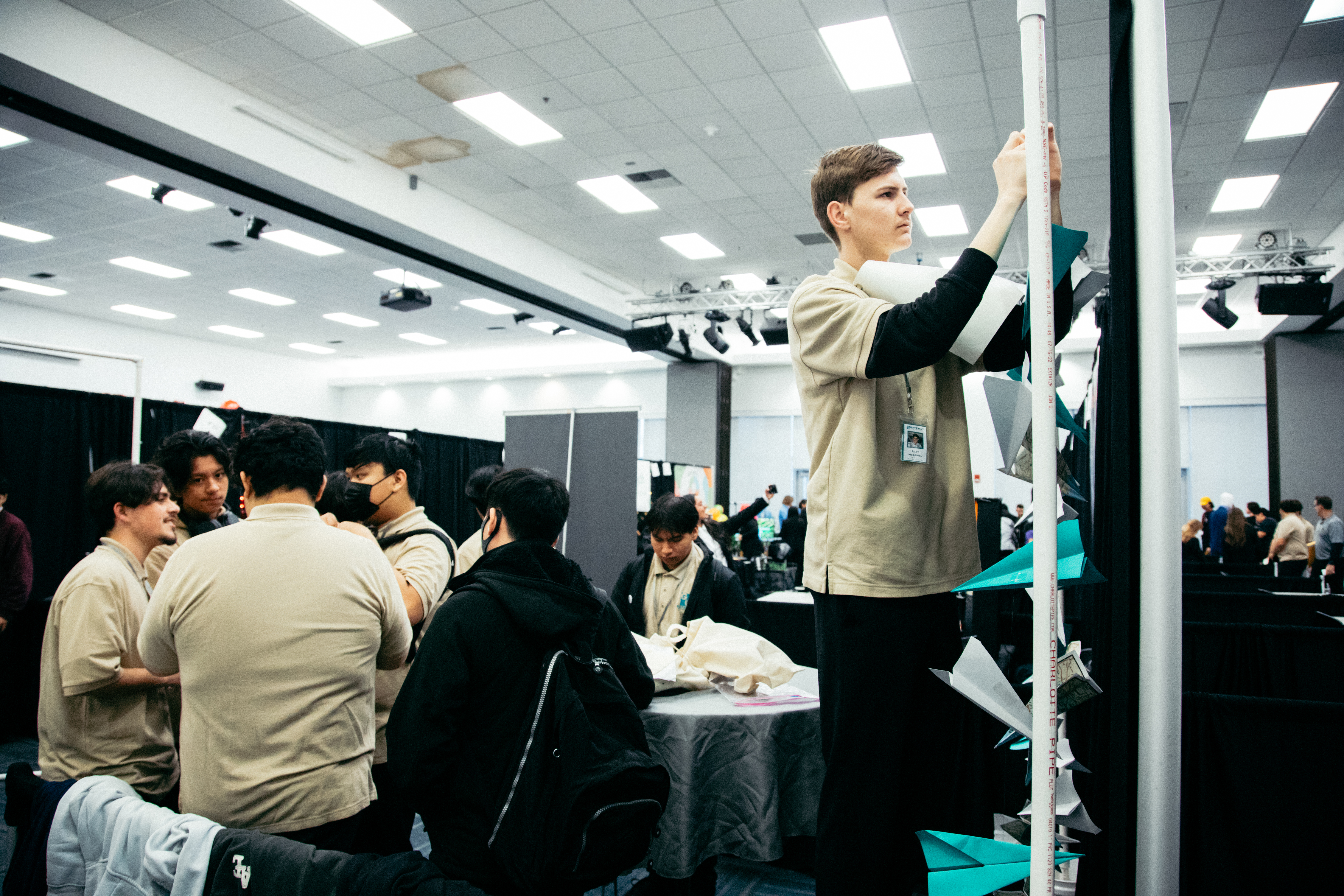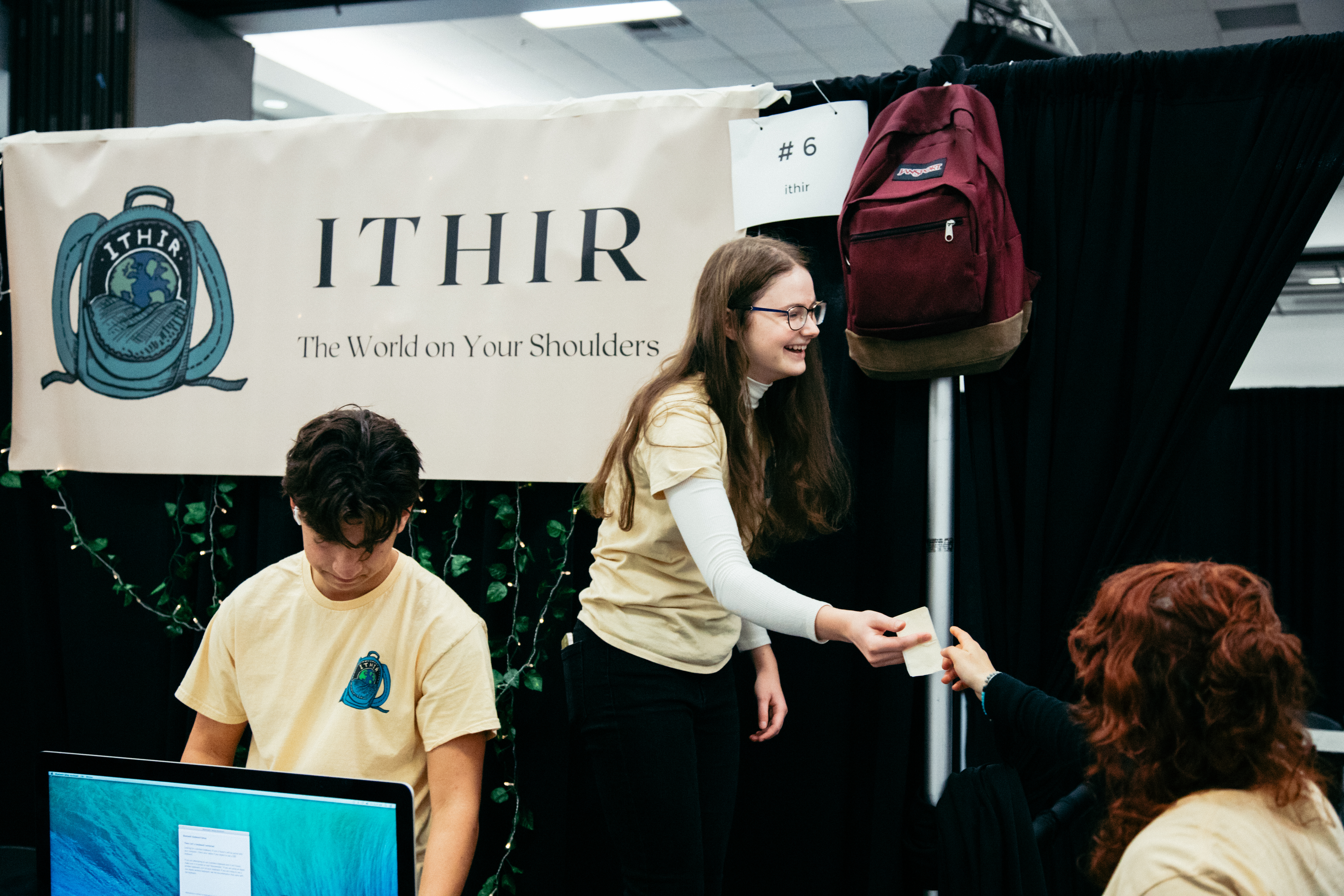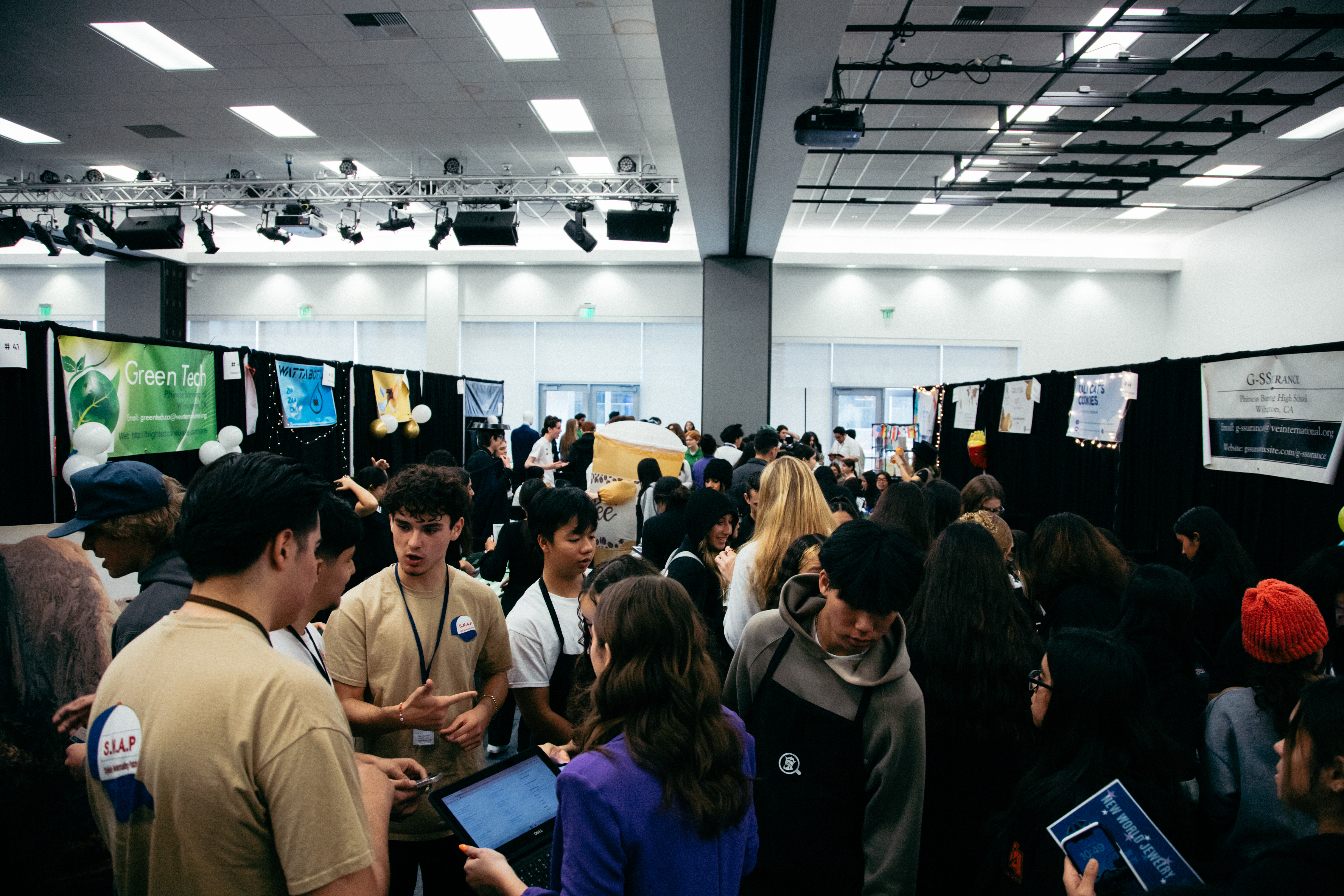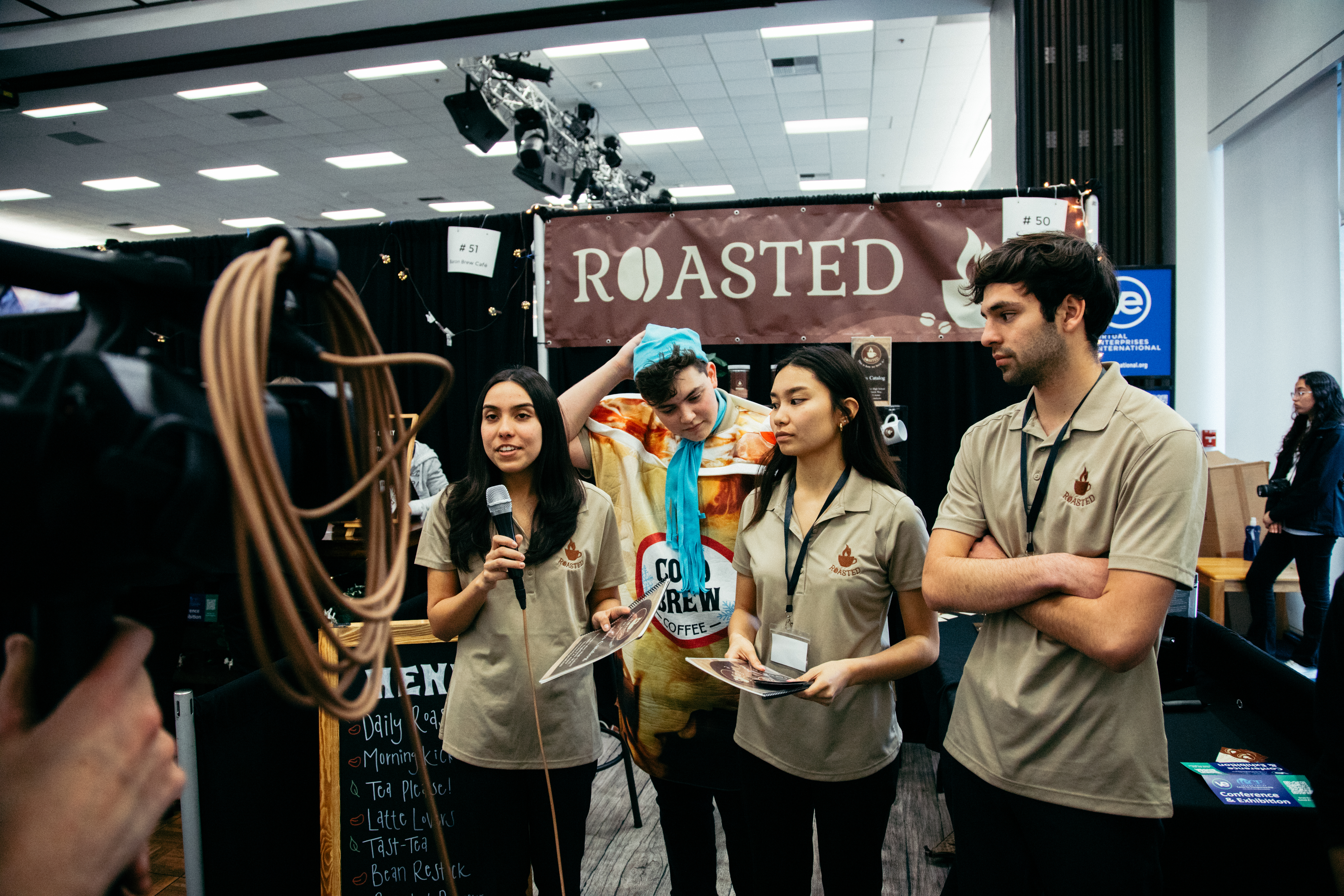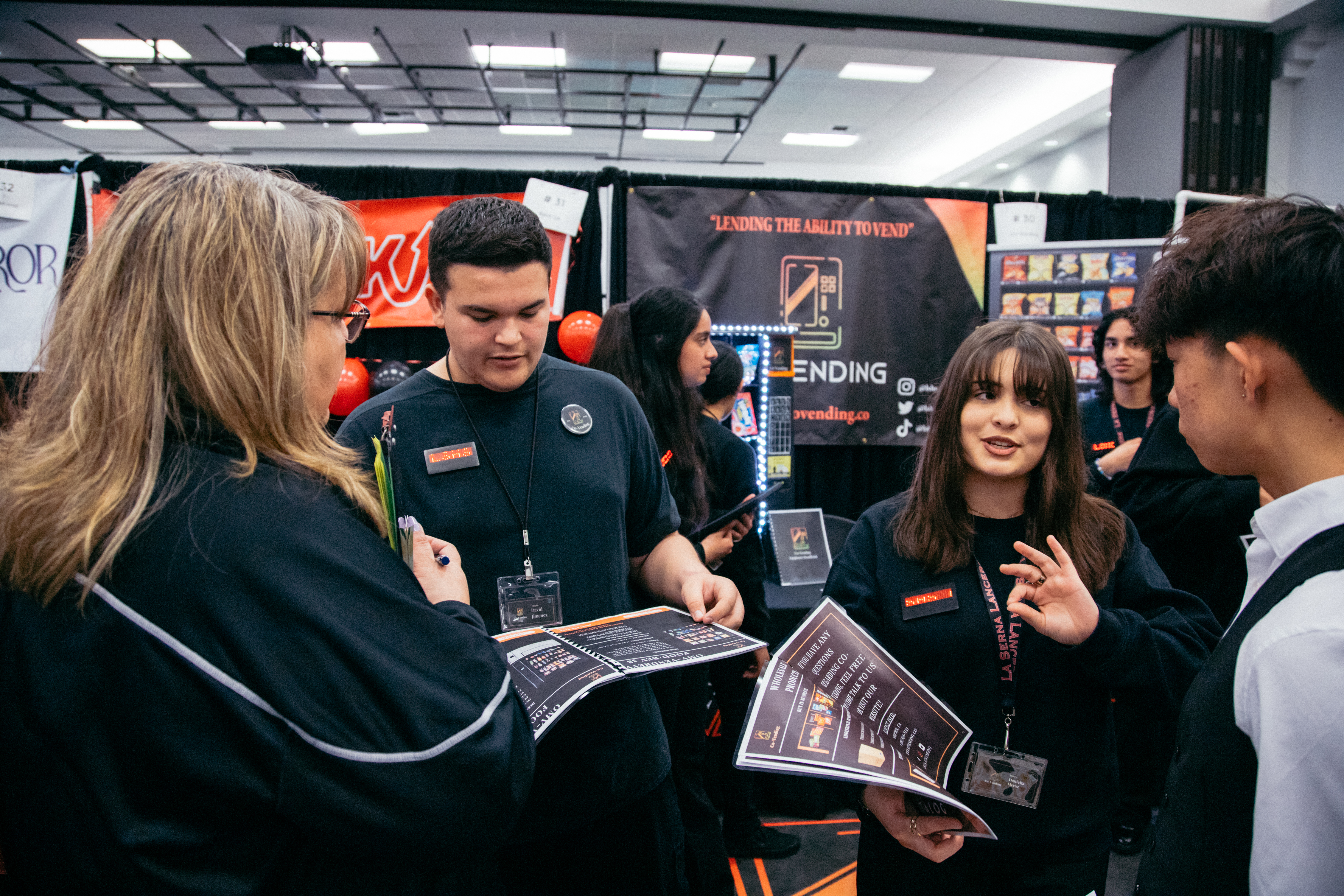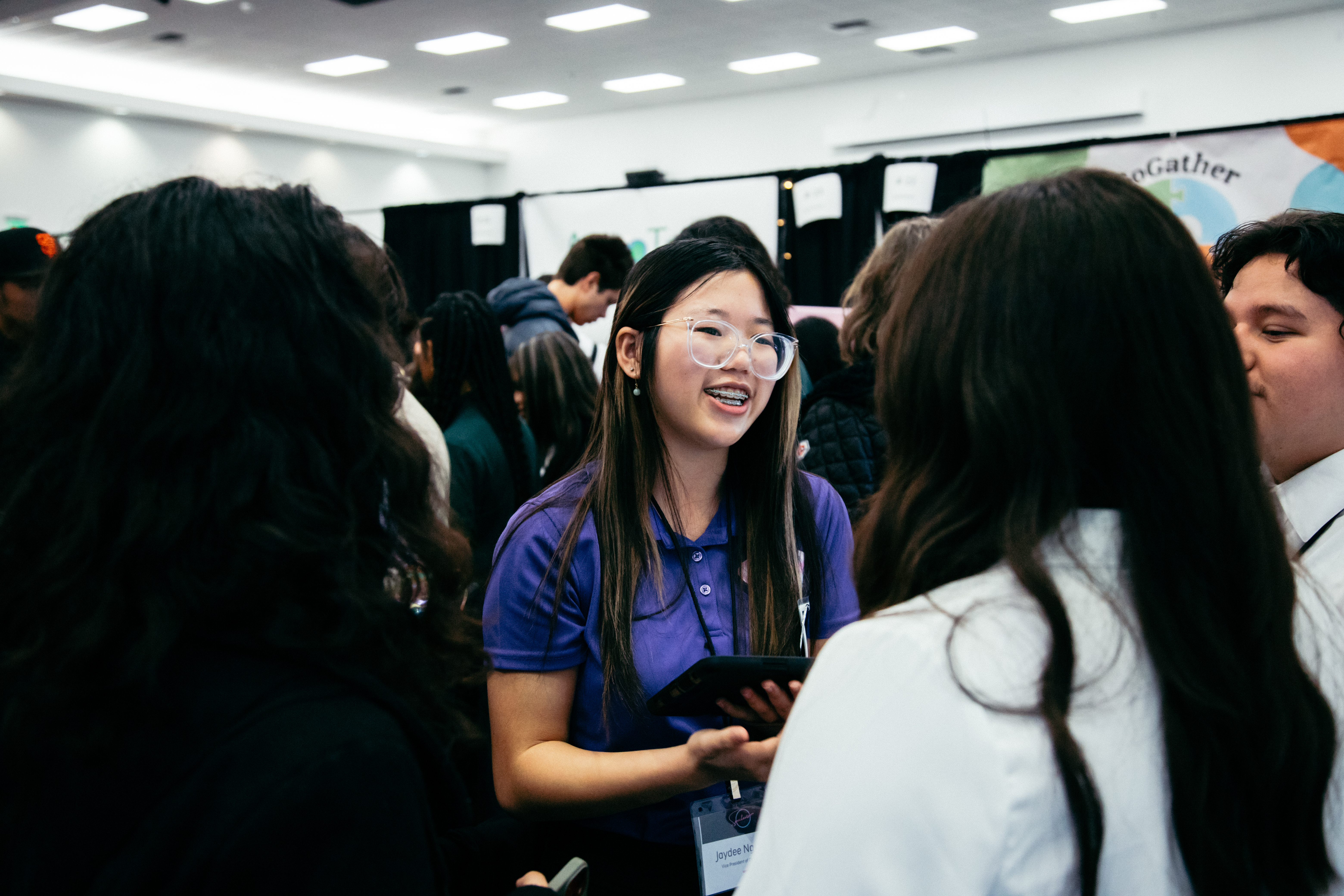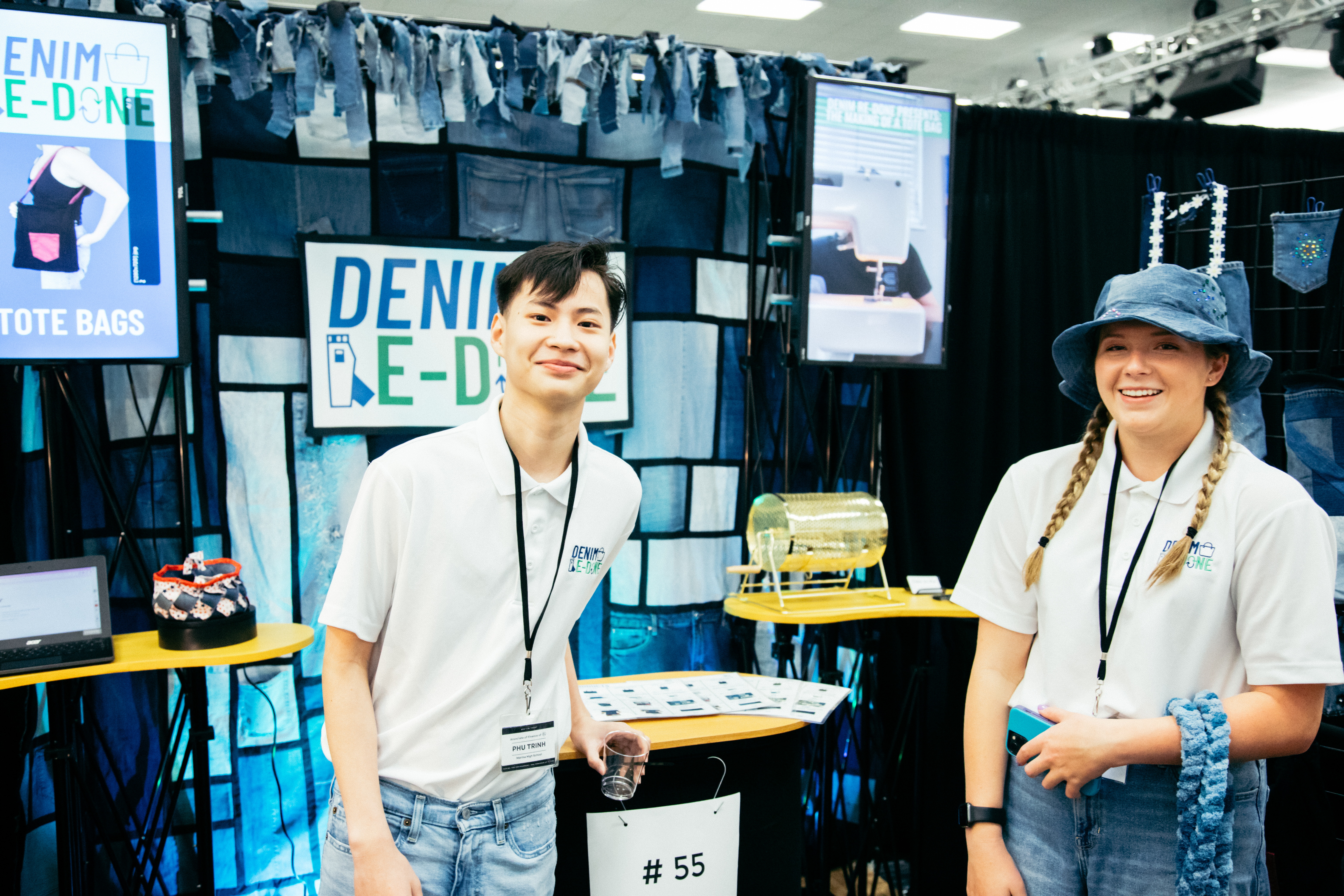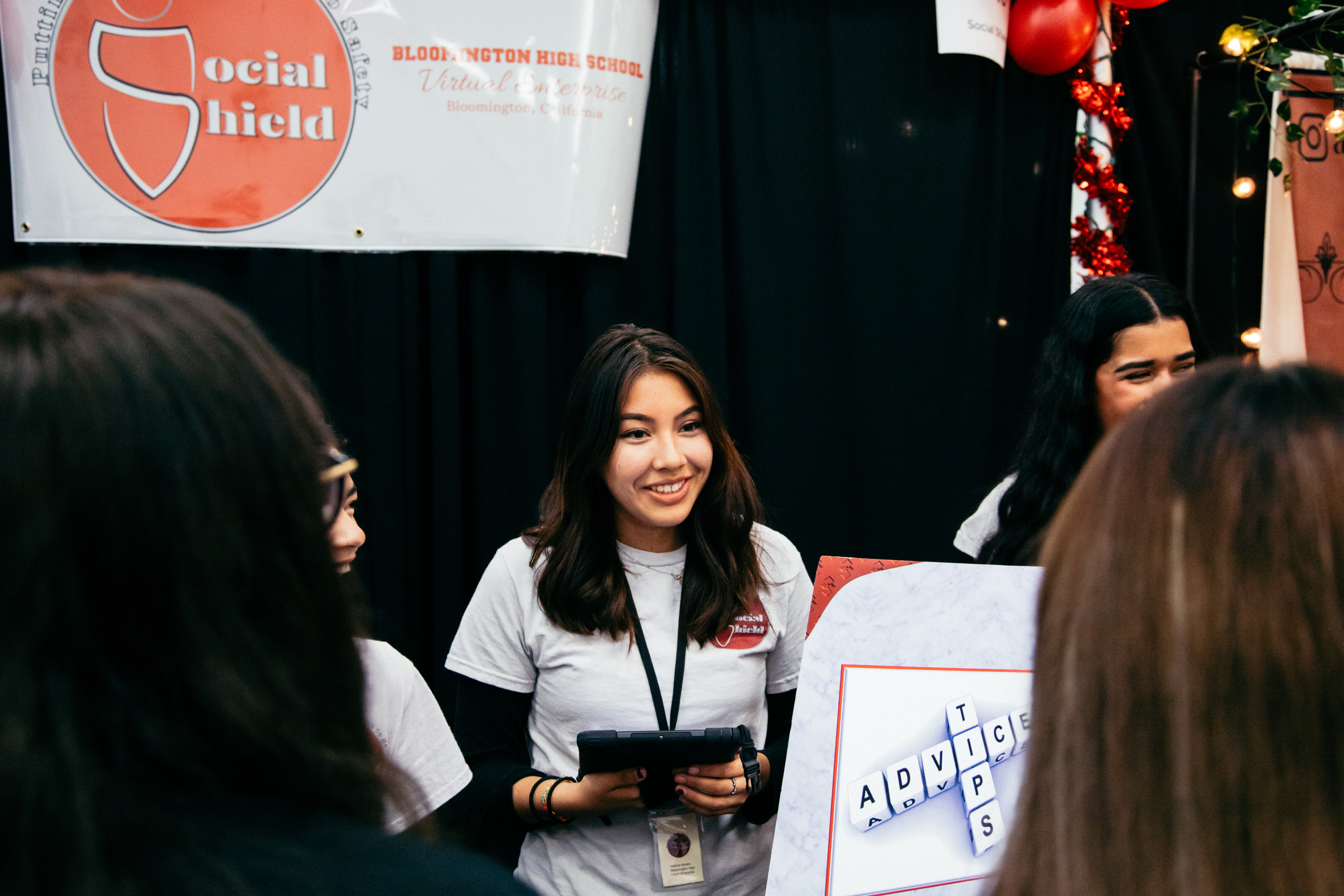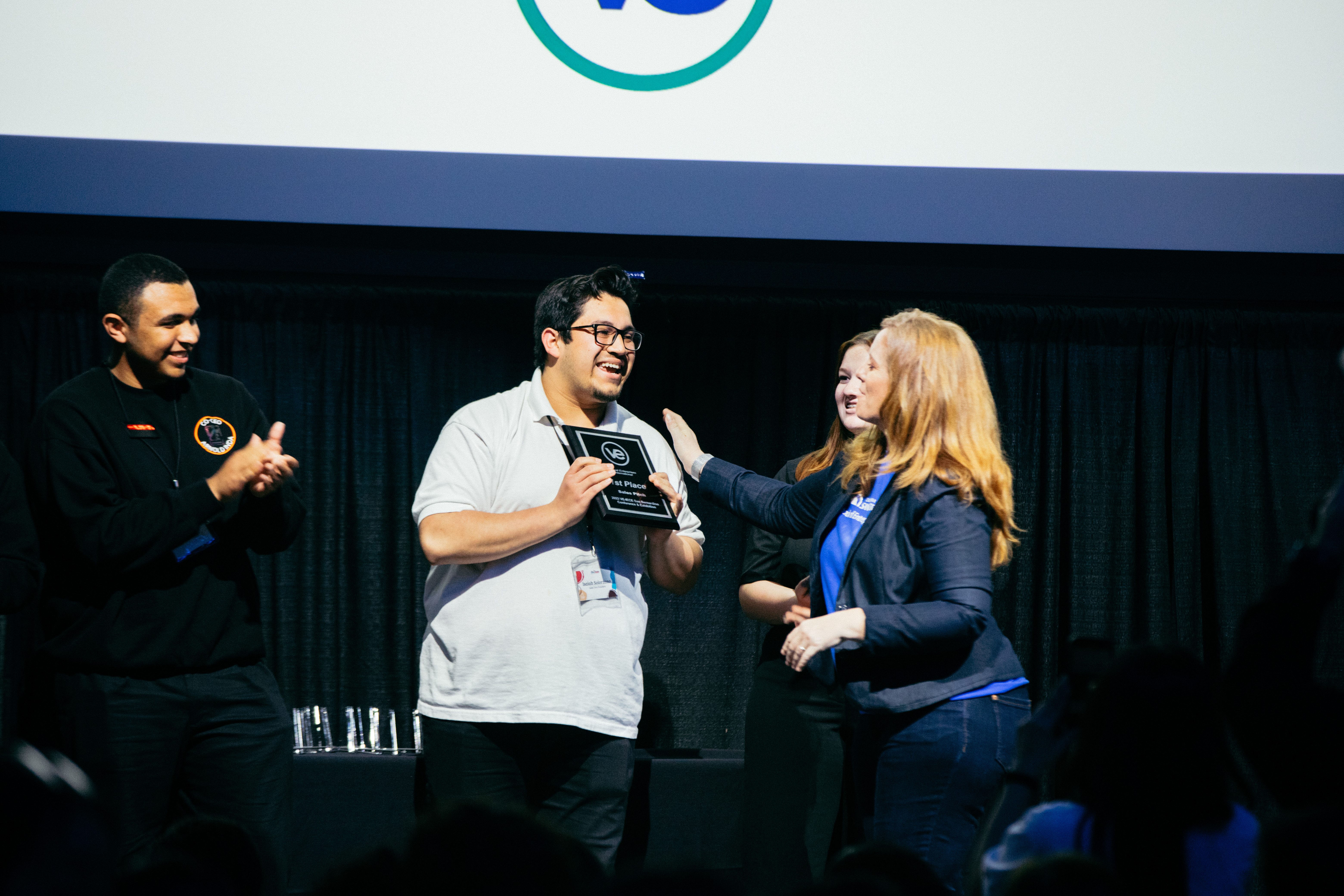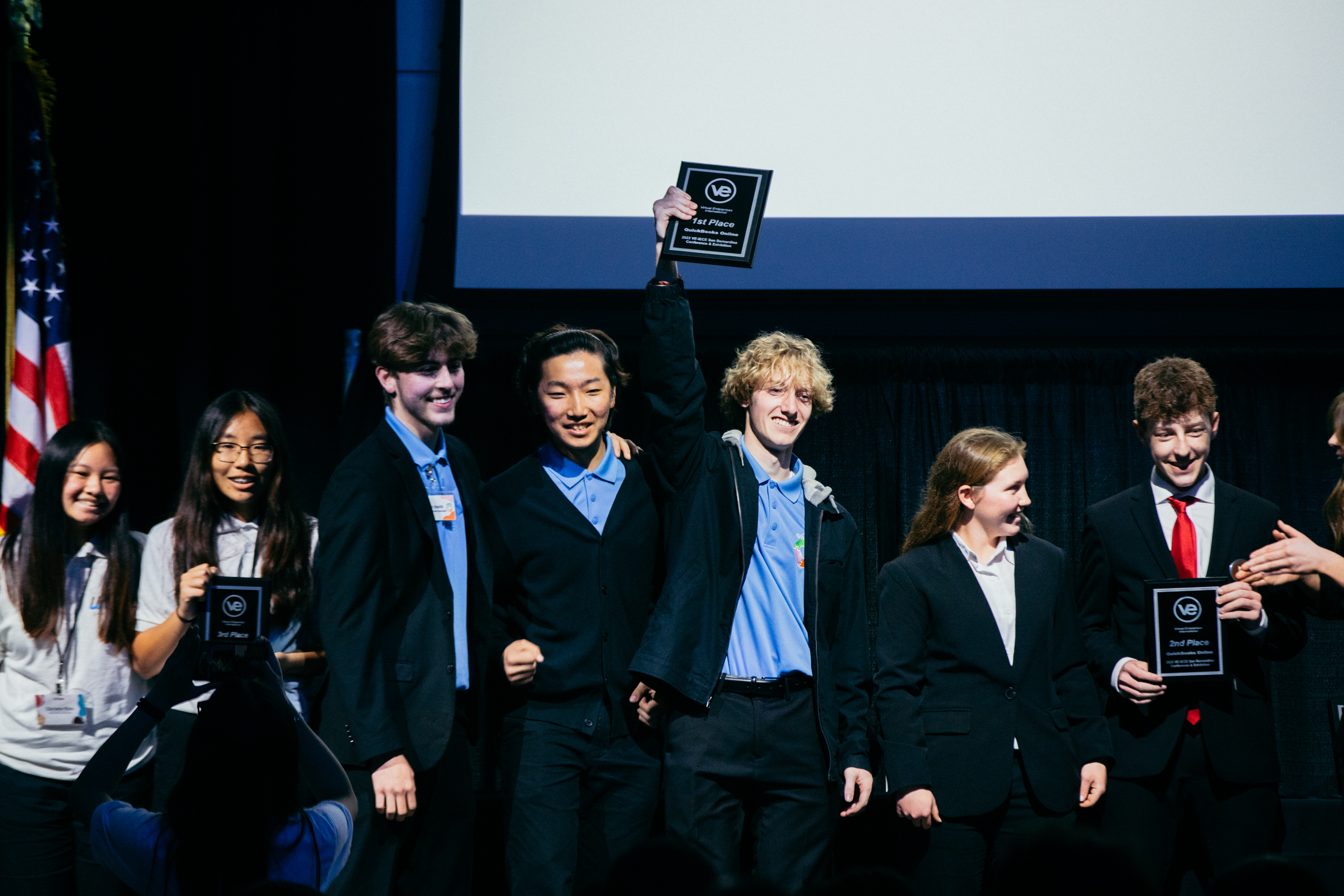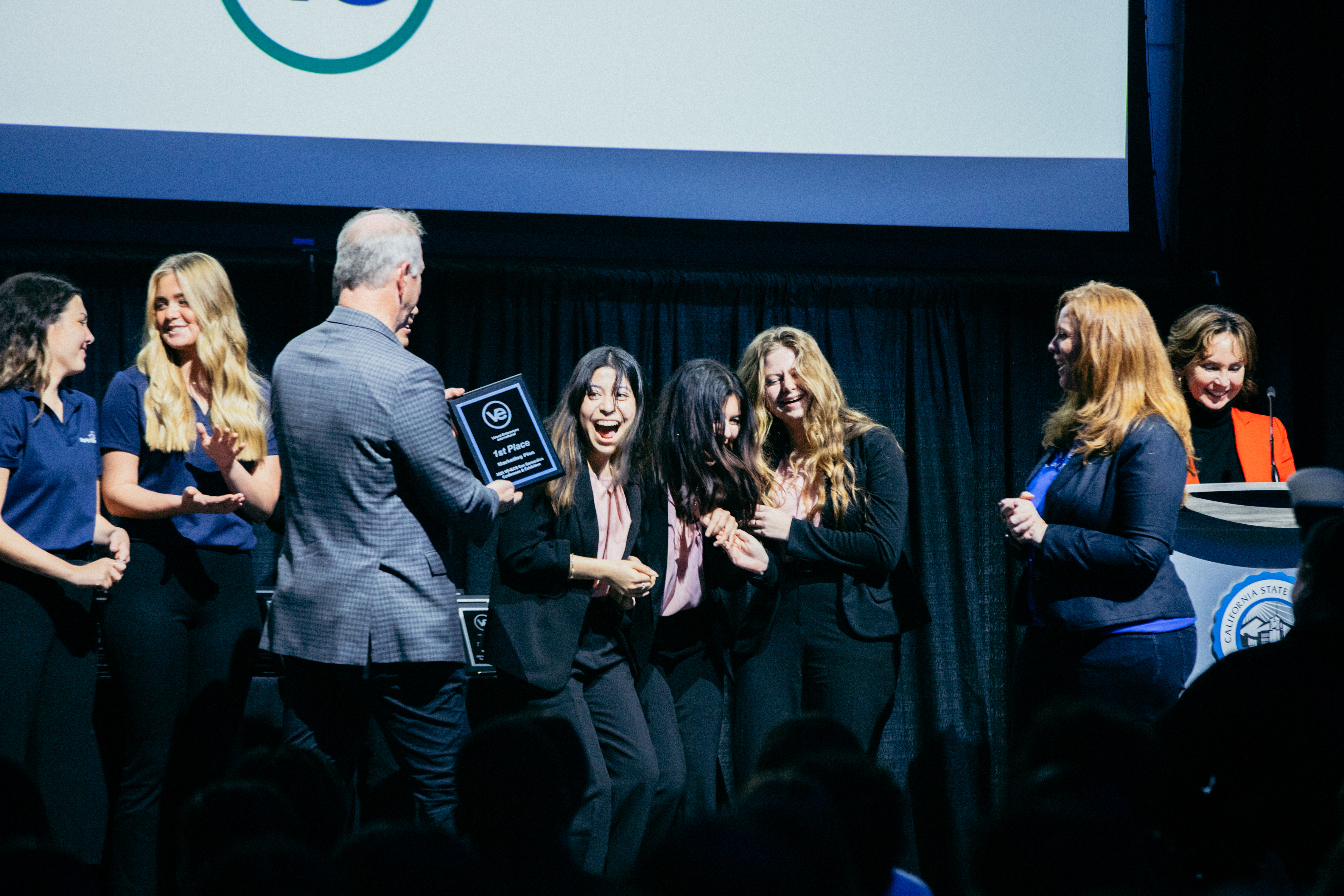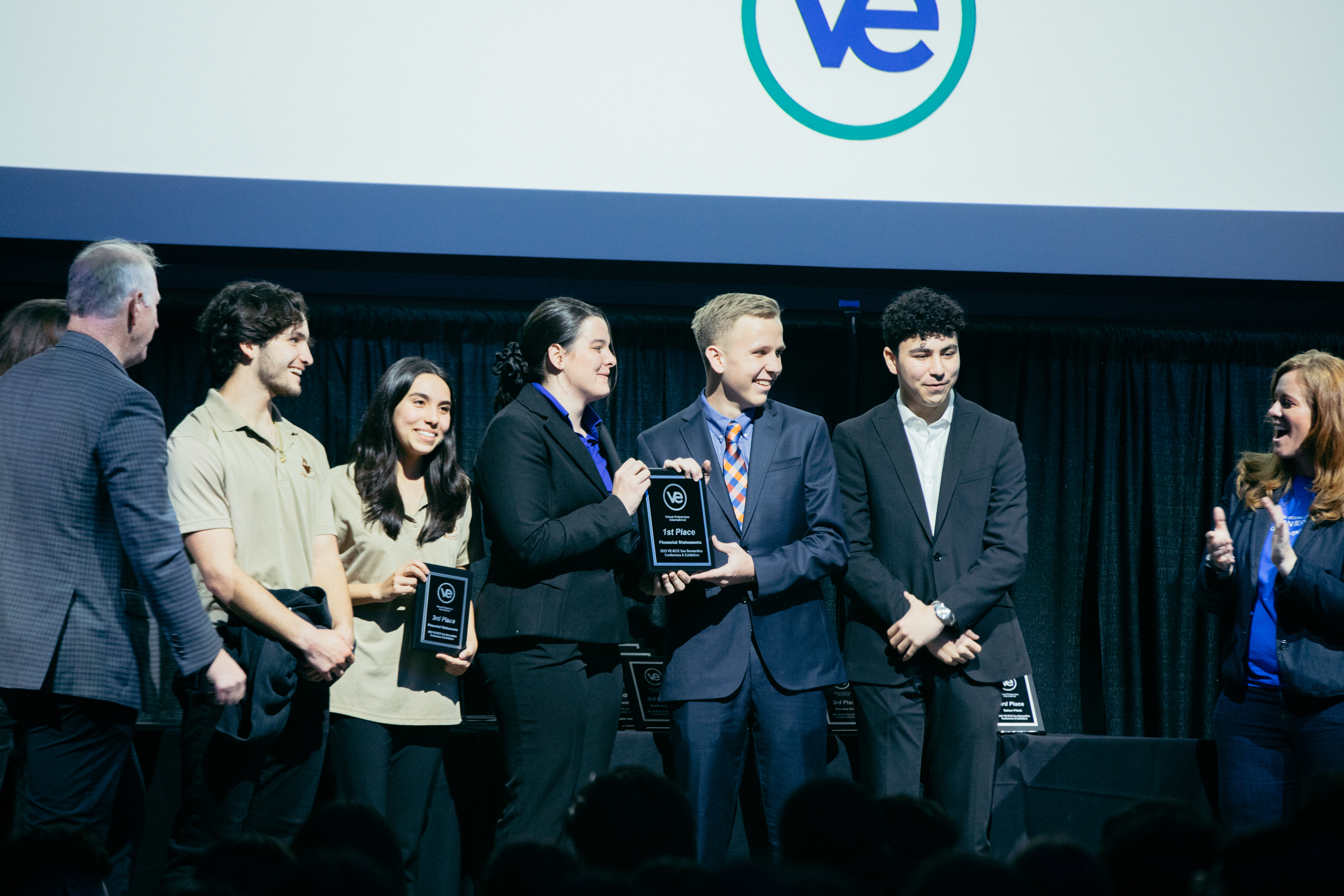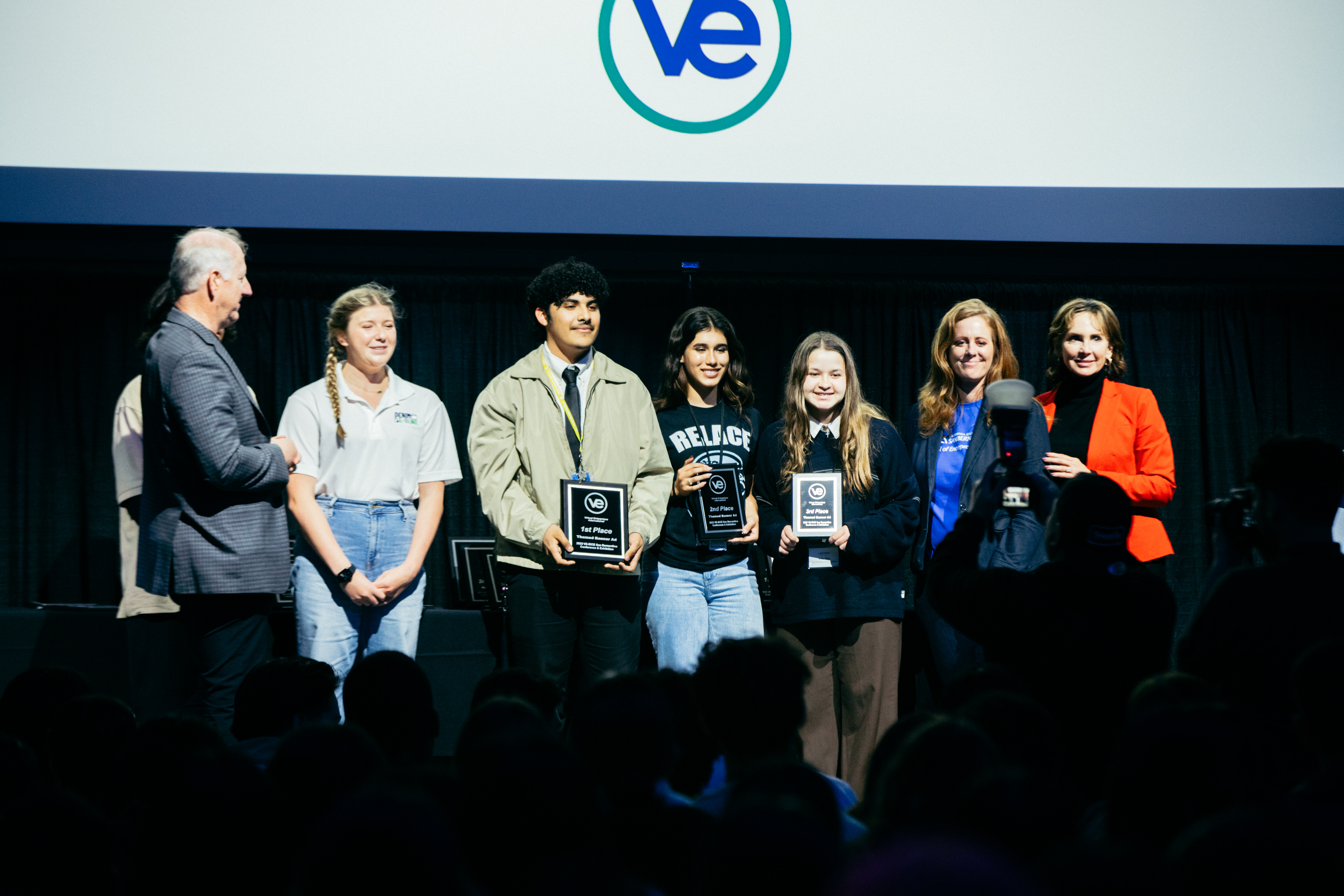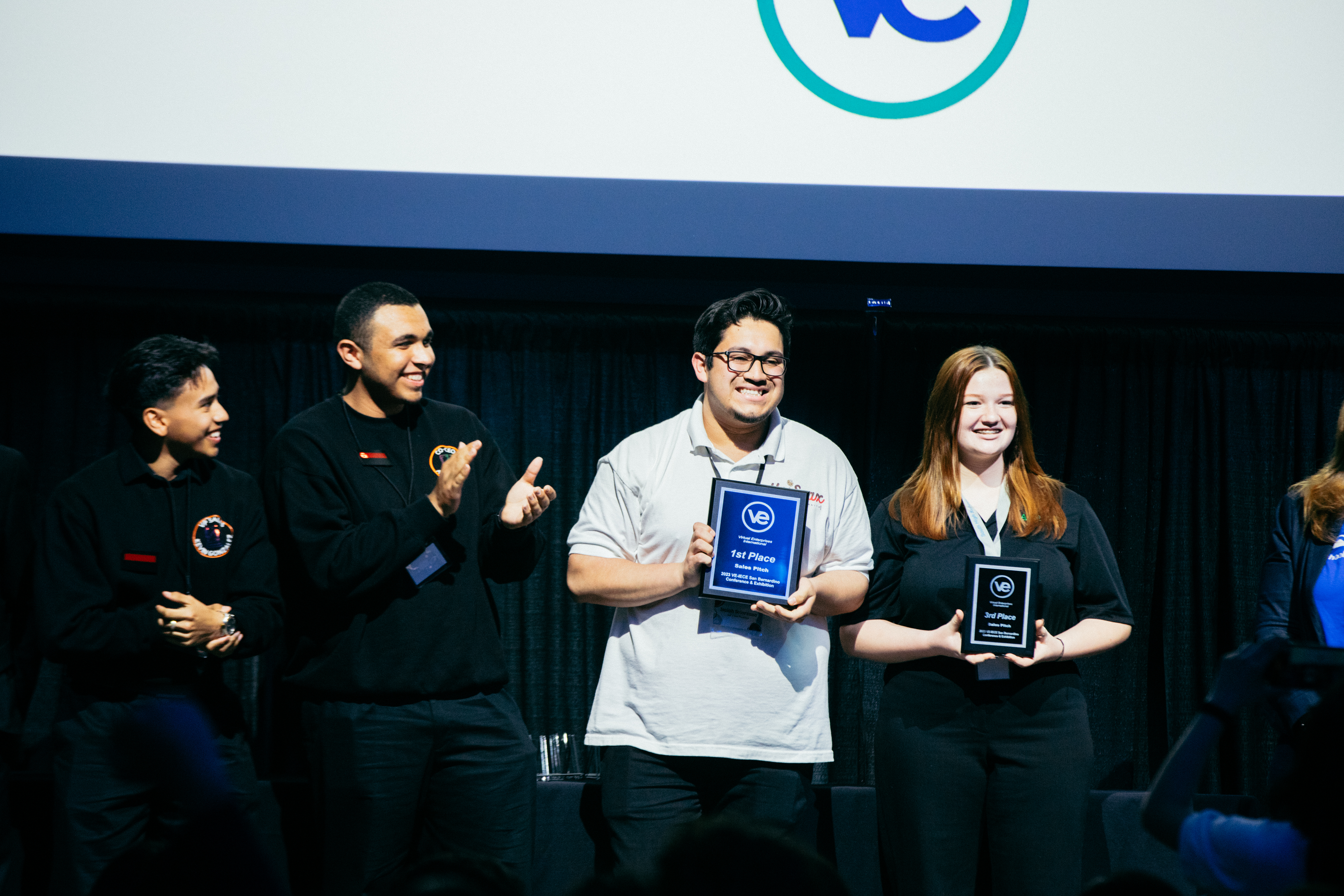 Best Booth Design
1st: Reimagine, La Mirada High School
2nd: Denim Re-Done, Marina High School
3rd: New World Jewelry, Elizabeth Learning Center
Gold: S.N.A.P., Bloomington High School; ArgoTech, South High School
Silver: Steez Skateshop, Moreno Valley High School; Bonsai Bento, Fountain Valley High School; Airomatica, Elizabeth Learning Center; Ithir, Bakersfield High School; SpectaVision, Westminster High School
Bronze: GoGather, Centennial High School; Co-Vending, LaSerna High School; Aval, Canyon Springs High School; YouForia, Ridgeview High School; ReLace, South Hills High School
Bronze: Neo, San Juan Hills High School; UnCord, Legacy Magnet Academy; Vulcan Power, Stockdale High School; Bling, Carlsbad High School; Co-Vending, La Serna High School
Email Campaign
1st: Ella's, Legacy Magnet Academy
2nd: Food4Thought, Bakersfield High School
3rd: GoGather, Centennial High School and Baron Brew Cafe, Fountain Valley High School (Tied)
Gold: SpectaVision, Westminster High School
Silver: Ithir, Bakersfield High School; UniSnax, Westminster High School; Gymness, Legacy Magnet Academy; AgroTech, South High School; ReLace, South Hills High School
Bronze: Steez Skateshop, Moreno Valley High School; Airomatica, Elizabeth Learning Center; Reimagine, La Mirada High School; The Eco Depot, Ridgeview High School; S.N.A.P., Bloomington High School
Quickbooks Online
1st: GoGather, Centennial High School
2nd: Roasted, Murrieta Valley High School
3rd: UniSnax, Westminster High School
Gold: Mode, Murrieta Valley High School; SpectaVision, Westminster High School
Silver: YouForia, Ridgeview High School; AgroTech, South High School; Reimagine, LaMirada High School; Co-Vending, La Serna; ReLace, South Hills High School
Bronze: Gateway Odysseys, La Mirada High School
Bronze: Steez Skateshop, Moreno Valley High School; Airomatica, Elizabeth Learning Center; Reimagine, La Mirada High School; The Eco Depot, Ridgeview High School; S.N.A.P., Bloomington High School
St. Patrick's Day Banner
1st: New World Jewelry, Elizabeth Learning Center
2nd: ReLace, South Hills High School
3rd: Uncord, Legacy Magnet Academy
Gold: Denim Re-Done, Marina High School; Gateway Odysseys, La Mirada High School
Silver: Fast Fund, West High School; Swap-It, El Modena High School; Bonsai Bento, Fountain Valley High School; Baron Brew Cafe, Fountain Valley High School; GoGather, Centennial High School; Reimagine, La Mirada High School
Bronze: Fetch, Walnut Valley High School; SpectaVision, Westminster High School; UniSnax, Westminster High School; The Eco Depot, Ridgeview High School
Bronze: Social Shield, Bloomington High School; Hot and Bready, Samueli Academy; Go Gather, Centennial High School; Ithir, Bakersfield High School; Gymness, Legacy Magnet Academy
Company Branding
1st: AgroTech, South High School
2nd: Airomatica, Elizabeth Learning Center
3rd: UniSnax, Westminster High School
Gold: Swap-It, El Modena High School; Ella's, Legacy Magnet Academy
Silver: Wella, Portola High School; Roasted, Murrieta Valley High School; Mode, Murrieta Valley High School; GoGather, Centennial High School; Baron Brew Cafe, Fountain Valley High School; Reimagine, La Mirada High School
Bronze: Food4Thought, Bakersfield High School; SpectaVision, Westminster High School; Bonsai Bento, Fountain Valley High School; Denim Re-Done, Marina High School
Bronze: Wella, Portola High School; Bling, Carlsbad High School; Baron Brew Cafe, Fountain Valley High School; Accelera, Stockdale High School; Hang N' Fold, Palisades Charter High School
Finance Competition
1st: Food4Thought, Bakersfield High School
2nd: GoGather, Centennial High School
3rd: Roasted, Murrieta Valley High School
Gold: Mode, Murrieta Valley High School; H.A.S.T.E., South Hills High School
Silver: Ithir, Bakersfield High School; ReLace, South Hills High School; UniSnax, Westminster High School; Mirror Mirror, Irvine High School; Baron Brew Cafe, Fountain Valley High School
Bronze: Bonsai Bento, Fountain Valley High School; SpectaVision, Westminster High School; Denim Re-Done, Marina High School; Gateway Odysseys, LaMirada High School
Bronze: UnCord, Legacy Magnet Academy; Neo, San Juan Hills High School; Vulcan Power, Stockdale High School; Bling, Carlsbad High School; Co-Vending, La Serna High School
Sales Pitch Video
1st: Food4Thought, Bakersfield High School
2nd: UniSnax Westminster High School
3rd: AgroTech South High School
Gold: Ithir, Bakersfield High School; Denim Re-Done, Marina High School
Silver: SpectaVision, Westminster High School; Uncord, Legacy Magnet Academy; Baron Brew Cafe, Fountain Valley High School; Ella's, Legacy Magnet Academy; Co-Vending, La Serna High School; Social Shield, Bloomington High School
Bronze: H.A.S.T.E., South Hills High School; S.N.A.P., Bloomington High School; Steez Skateshop, Moreno Valley High School; GoGather, Centennial High School
Trade Show Sales Pitch
1st: UniSnax, Westminster High School
2nd: Passenger Pals, Centennial High School
3rd: AgroTech, South High School
Gold: Co-Vending, La Serna; GoGather, Centennial High School
Silver: Gateway Odysseys, La Mirada High School; H.A.S.T.E., South Hills High School; The Eco Depot, Ridgeview High School; Reimagine, La Mirada High School; Wella, Portola High School
Bronze: SpectaVision, Westminster High School; Fetch, Walnut Valley High School; Denim Re-Done, Marina High School; Food4Thought, Bakersfield High School; Roasted, Murrieta Valley High School; Baron Brew Cafe, Fountain Valley High School
Bronze: Steez Skateshop, Moreno Valley High School; Airomatica, Elizabeth Learning Center; Reimagine, La Mirada High School; The Eco Depot, Ridgeview High School; S.N.A.P., Bloomington High School
Elevator Pitch
1st: Food4Thought, Bakersfield High School
2nd: Fetch, Walnut Valley High School
3rd: Ella's, Legacy Magnet Academy
Gold: Passenger Pals, Centennial High School; The Eco Depot, Ridgeview High School
Silver: Uncord, Legacy Magnet Academy; Roasted, Murrieta Valley High School; Baron Brew Cafe, Fountain Valley High School; UniSnax, Westminster High School; Mirror Mirror, Irvine High School
Bronze: Social Shield, Bloomington High School; Hot and Bready, Samueli Academy; Go Gather, Centennial High School; Ithir, Bakersfield High School; Gymness, Legacy Magnet Academy
Marketing Plan
1st: Go Gather, Centennial High School
2nd: Ella's, Legacy Magnet Academy
3rd: Bonsai Bento, Fountain Valley High School
Gold: Food4Thought , Bakersfield High School; Passenger Pals, Centennial High School
Silver: Ithir, Bakersfield High School; AgroTech, South High School; Reimagine, LaMirada High School; Mode, Murrieta Valley High School; UniSnax, Westminster High School
Bronze: The Eco Depot, Ridgeview High School; Baron Brew Cafe, Fountain Valley High School; Denim Re-Done, Marina High School; Mirror Mirror, Irvine High School; Roasted, Murrieta Valley High School
Bronze: Social Shield, Bloomington High School; Hot and Bready, Samueli Academy; Go Gather, Centennial High School; Ithir, Bakersfield High School; Gymness, Legacy Magnet Academy
VE-IECE Scavenger Hunt
1st: Bonsai Bento's Ethan & Steven from Fountain Valley High School
2nd: The Eco Depot's Kaitlyn & Chloe from Ridgeview High School