Contributed by Trish Vanni 
The Midwest VE Spring Conference & Exhibition was held on March 14, 2023, at the Bavarian Inn Lodge & Conference Center in Frankenmuth, Michigan. A great turnout of 35 VE firms from 18 high schools in Michigan and Illinois arrived ready to promote and sell their firms' products and services, network with business professionals and other VE students, and compete in as many as six competitions, including Best Trade Show Booth Design and Best Sales Presentation.
Participants also had an opportunity to compete in a popular local challenge, the "Frankenmuth Gnome Hunt," a fun search for hidden gnomes in what has been dubbed Michigan's "little Bavaria." Congratulations to 45 North from Alpena H.S. – the 2023 VE Gnome Hunt Champions!
Energy was high at the event. "I walked around the event and looked at the various businesses. There were some well-thought-out and creative ideas. What a remarkable program for young people to be able to take advantage of," observed Heather Garno, Human Resources Director of Bavarian Inn Lodge & Conference Center. Her colleague, Shannon Osantowski, Lead Event Coordinator, echoed that enthusiasm, saying "We were very impressed with the kids. They did a great job."
"In VE, you have youth who can sell, who come up with products, and who do the design work. You get to see incredible creativity in every area."

Retired VE teacher, Mike Gregory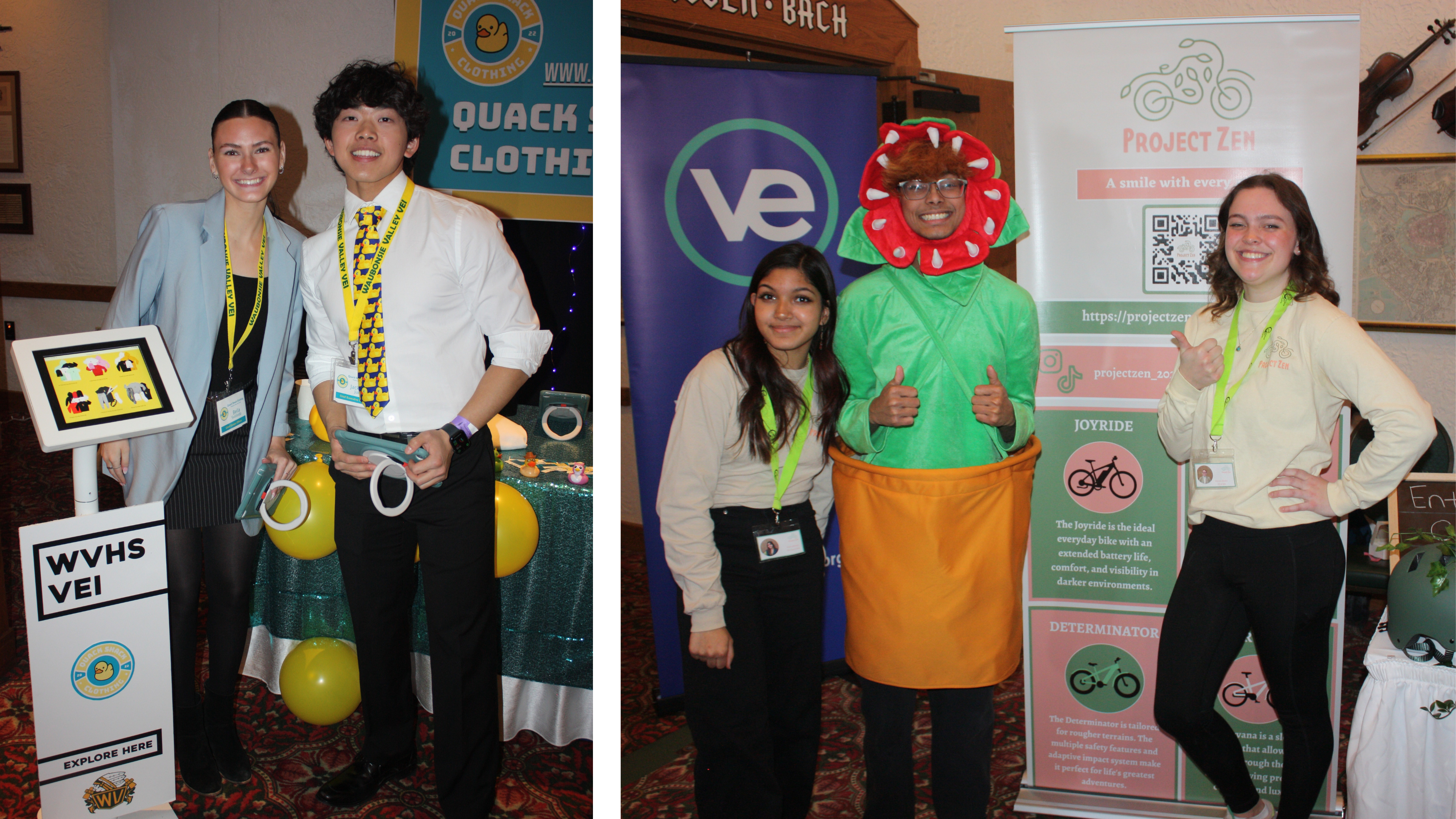 Retired VE teacher, Mike Gregory (formerly of Owosso HS, the first school in Michigan to offer VE) joined the event as a competition judge and shared his praise for VE. Recalling his time in the VE classroom, Gregory noted the real value of students learning what the business world is actually like, and applauded how in the process of building their firms, students find many outlets for building their communication skills and using their talents. "It's not like a classroom where everything is structured," he noted. "In VE, you have youth who can sell, who come up with products, and who do the design work. You get to see incredible creativity in every area," he observed.
Above all else, Gregory values the networking that happens at VE events. "VE trade shows are a great opportunity for that. Students from IL and MI coming together, knowing they have that common ground, opens the door and allows even the shyest person to talk to someone. The energy is contagious," he said. "Seeing participants coming alive, making new friends, making connections and getting new ideas, it's kind of like a classroom in and of itself." 
VE Student Matthew Allor, from Synergy at Genesee Career Institute in Flint, MI shared that his favorite part of VE is "being able to explore the different opportunities of business that you wouldn't normally experience in a regular high school class. And I feel really prepared for my future career as I have gained so many business skills while applying myself in Virtual Enterprise."
Heartfelt thanks are extended to the many volunteers who helped to make this special day possible, including:
Wendy Schmitt, Midwest Regional Director

Kendra Lee, IL-MN-WI State Coordinator

Nour Fayad, Midwest Regional Program Assistant & VE Alumni

Paula Fulton & Mike Gregory (VE Teacher Alum!), Event Volunteers

Dave Cook, Videography

Keith Glavan, Photography
Of course, we also thank all of our truly talented VE facilitators who devote so much of their time, talent and heart into bringing VE to life for their students!
Banner Ad
Summit Skincare.  Neuqua Valley High School

Spectrum  Neuqua Valley High School

Recover  Crystal Lake South High School
Company Newsletter
Catalyst Coffee Co.  Neuqua Valley High School

Summit Skincare Neuqua Valley High School

Xtreme Comfort St. Charles East High School
E-Commerce Website
Nomadic Nest Geneva High School

Eights  Ann Arbor Skyline High School

MetaNova Metea Valley High School
Email Campaign
Quack Shack Clothing, Waubonsie High School

Recover, Crystal Lake South High School

omadic Nest, Geneva High School
Fan Favorite
Electric Avenue, St. Charles East HS

CRAVE, Waubonsie Valley HS

Quack Shack Clothing, Waubonsie Valley HS
Sales Presentation
MenU, Ann Arbor Skyline HS

Electric Avenue, St. Charles East HS

Recover, Crystal Lake South HS
Trade Show Booth Design
Bruce Co., Milford HS

Spectrum, Neuqua Valley HS

Quack Shack Clothing, Waubonsie Valley HS