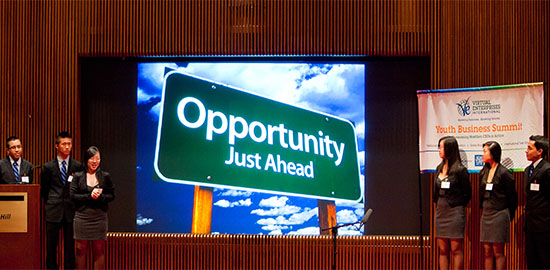 Over the past 16 years, the Virtual Enterprises International (VEI) program has expanded from seven high schools in New York City to more than 500 participating high schools and colleges across the country. This year, VEI is proud to welcome 50 new schools from 42 school districts nationwide.
Among the keys to VEI's success is its unique pedagogical approach to teaching entrepreneurship and business. The program thrives in many different types of schools and is open to all interested students, who are empowered to unleash their potential through creating and managing business ventures. New York Times reporter Elbert Chu notes that, "At a time when there is lingering neglect—but improved appreciation—for business and entrepreneurship education, Virtual Enterprises International is filling a niche at its participating schools."
 VEI's growth has been fueled not only by demand for the program at the school and district levels, but by support from both educators and the business community. In January 2012, the New York Life Foundation announced a $1 million grant to support the expansion of the program in four states—California, Florida, Illinois and New York.
To start a VEI program, complete the  online application and a National VEI representative will follow up with you.
The following is a partial list of schools with new VEI programs:
| School | City | State | School District |
| --- | --- | --- | --- |
| Citrus Valley High School | Redlands | CA | Redlands Unified School District |
| Gateway High School | Clovis | CA | Aurora Public Schools |
| Homestead High School | Cupertino | CA | Fremont Union High School District |
| Reedley High School | Reedley | CA | Kings Canyon Unified School District |
| Sanger High School | Sanger | CA | Sanger Unified School District |
| West High School | Tracy | CA | Tracy Unified School District |
| Austin Business and Entrepreneurship Academy | Chicago | IL | Chicago Public Schools |
| Cary-Grove High School | Cary | IL | Community High School District 155 |
| Crystal Lake Central High School | Crystal Lake | IL | Community High School District 155 |
| Crystal Lake South High School | Crystal Lake | IL | Community High School District 155 |
| Metea Valley High School | Aurora | IL | Indian Prairie School District 204 |
| Neuqua Valley High School | Naperville | IL | Indian Prairie School District 204 |
| Prairie Ridge High School | Crystal Lake | IL | Community High School District 155 |
| Waubonsie Valley High School | Aurora | IL | Indian Prairie School District 204 |
| Byron High School | Byron | MI | Byron Area School District |
| Careerline Tech Center | Holland | MI | Ottawa Area Intermediate School District |
| Corunna High School | Corunna | MI | Corunna Public School District |
| GASC Technology Center | Flint | MI | Flint Community Schools |
| Laingsburg High School | Laingsburg | MI | Laingsburg Community Schools |
| Lakeland High School | White Lake | MI | Huron Valley Schools |
| Lapeer County Ed & Tech | Attica | MI | Lapeer County Intermediate School District |
| Perry High School | Perry | MI | Chandler Unified School District |
| Pinckney Community High School | Pinckney | MI | Pinckney Community Schools |
| Southgate Anderson High School | Southgate | MI | Southgate Community School District |
| Cedar Ridge High School | Hillsborough | NC | Round Rock Independent School District |
| Franklinton High School | Franklinton | NC | Franklin County School District |
| Orange High School | Hillsborough | NC | Orange County Schools School District |
| Person High School | Roxboro | NC | Person County Schools |
| Warren County High School | Warrenton | NC | Warren County Public Schools |
| Boonton High School | Boonton | NJ | Boonton Public Schools |
| Lakeland High School | Lakeland | NJ | Lakeland Central School District |
| Pascack High School | Hillsdale | NJ | Pascack Valley Regional High School District |
| Pequannock High School | Pequannock | NJ | Pequannock Township Public Schools |
| Wallenpaupack High School | Wallenpaupack | NJ | Wallenpaupack Area School District |
| West Essex High School | West Essex | NJ | West Essex Regional School District |
| Cane Ridge High School | Antioch | TN | Metropolitan Nashville Public Schools |
| Cordova High School | Cordova | TN | Memphis City Schools |
| Dickson County High School | Dickson | TN | Dickson County School District |
| East Ridge High School | East Ridge | TN | Hamilton County Schools |
| Houston County High School | Erin | TN | Houston County Schools |
| Houston High School | Germantown | TN | Shelby County Schools |
| Lake County High School | Tiptonville | TN | Lake County School System |
| Lincoln County High School | Fayetteville | TN | Lincoln County School District |
| McMinn County C&T Center | Athens | TN | McMinn County Schools |
| Portland High School | Portland | TN | Sumner County School District |
| South Gibson County High School | Medina | TN | Gibson County School District |
| Summertown High School | Summertown | TN | Lawrence County School District |
| Westmoreland High School | Westmoreland | TN | Sumner County Schools |