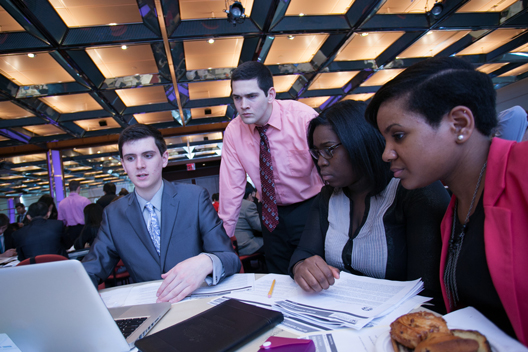 Welcome back to school! We hope you had a pleasant and restful summer and are ready
for an exciting year.
Here at the National Office, much of the summer was spent updating, revising, planning
and enhancing the VEI curriculum, website, teaching tools and other materials for
the new school year. Among our greatest accomplishments this summer was the redesign
of the VEI website.
You will notice the new easy navigation to all state sites, which have been redesigned
for both brand consistency and functionality. Each state site includes two navigation
bars – the top links to the National website and the bottom links to the state site.
We also added several new tools and instructional resources, including recorded
instructional webinars and videos (found on Resources page). Contact your regional director
for passcodes to the bank, curriculum, wholesale marketplace and resources pages.
Note, too, that we have developed a stand-alone Personal Finance Unit (found in
Curriculum) that integrates with VE tasks and activities.
Throughout the school year, we will be posting many more instructional tools for
both teachers and students, and will let you know when they are available.
Our goal is to make the website a dynamic and interactive hub for VEI, and we will
look to you to provide content in the form of best practices, videos of and/or by
your students, announcements of awards/recognitions, media, and testimonials from
your students and business partners. Please take some time to peruse the site and
let us know if you have questions or suggestions.
We're also pleased to announce the launch of a VEI email newsletter, which will
be coming your way in the near future. It is our hope that you will not only enjoy
reading it, but will become active contributors.
Finally, over the next few months, planning will get underway for our 2014 Youth
Business Summit in New York City. As many of you know, we had record-breaking attendance
at and participation in this year's event, and are looking forward to an equally
well attended Summit next year. This year's Youth Business Summit coincided with
another hugely successful event–VEI's first-ever fundraising dinner. Held at Tribeca
Rooftop, a magnificent venue in New York City, the dinner gala attracted a sell-out
crowd of 350 guests and provided the perfect opportunity to promote VEI's work to
a new audience of potential funders, mentors and partners. Among the highlights
of the dinner was the opportunity to hear from three of our extraordinary students.
Over the next few months, we will begin
planning for our 2014 events and will keep you apprised of our progress.
On behalf of our national team and regional directors, we wish you a great year
ahead and look forward to hearing about your successes and challenges. As always,
please don't hesitate to contact any of us with questions, comments or suggestions.