On September 25th, the 2013 Ad Futures Competition held at Young & Rubicam Group in New York City brought together twelve teams of high school students and ad agency professionals to design a recycling ad campaign for Keep America Beautiful.  The Ad Council hosted the competition and provided the challenge: develop a national advertising campaign to increase recycling awareness.
The 18th floor presentation room bustled with Mad Men and Women networking and brainstorming with the Mad Men and Women of tomorrow.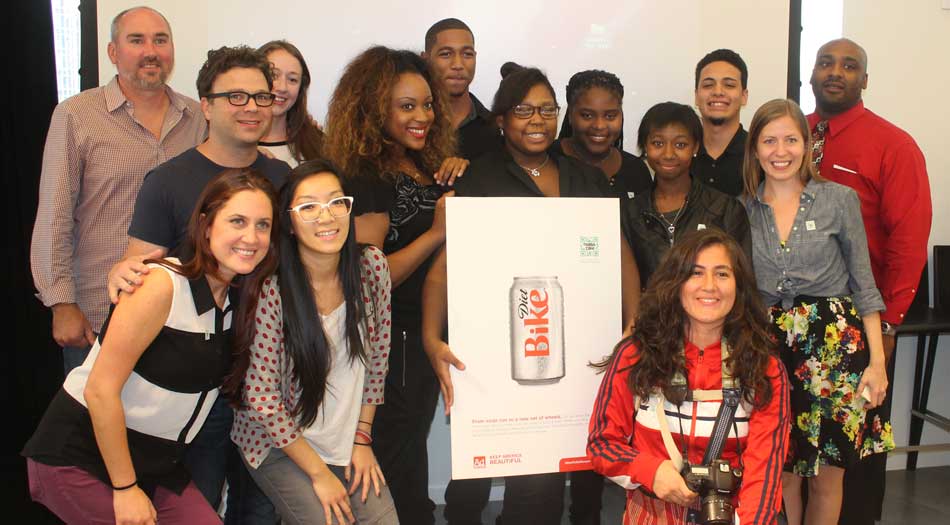 (Above: The team of IN-Tech Academy & KBS+P have a lot to smile about at the 2013 Ad Futures Competition)
The Transformative Power of Recycling
The VEI program at IN-Tech Academy and their partners Kirshenbaum Bond Senecal + Partners (KBS+P) received first place honors for a campaign stressing individual empowerment and responsibility. By flipping the term "Trash Can," this team developed a message that trash can have a second life if we recycle.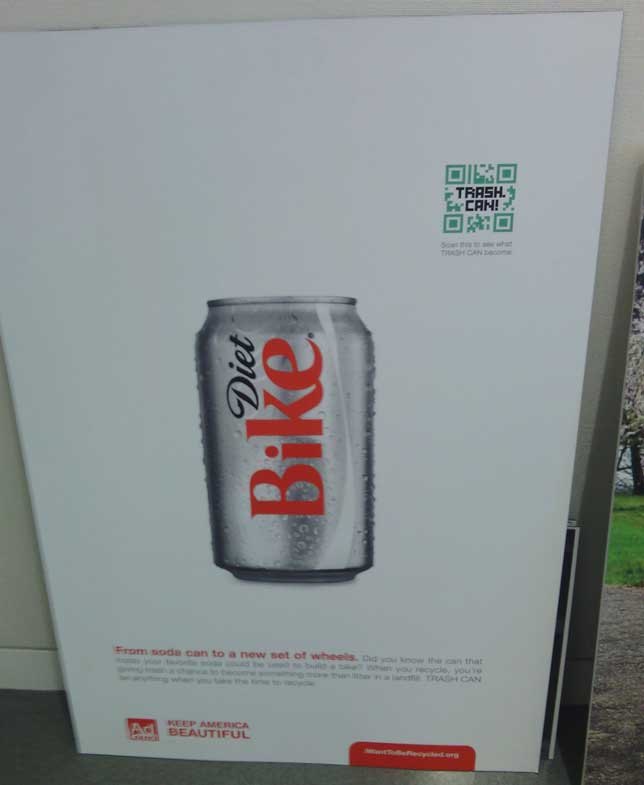 Their campaign consisted of a series of print ads showing an item in its present condition with a suggestion of its future incarnation: for example, Diet Bike (seen left) – a can of diet soda may one day become part of a bike.
Early in the brainstorming process leading up to the event, an IN-Tech Academy student told their coordinator Tyshawn Davis, "Do you see this team? This year we are going to win. I promise you." That promise was fulfilled when the team took home the top prize, a chance to have their idea developed and implemented by the Ad Council.
The transformative power of recycling and its ability to unlock the potential of an item considered "trash" or "waste" were major themes in the competing presentations. Though they didn't place, the VEI firm from Manhattan Business Academy and BBDO put on an exciting musical performance by using recycled items as instruments. When they were done, the team tossed their "instruments" into a recycling bin.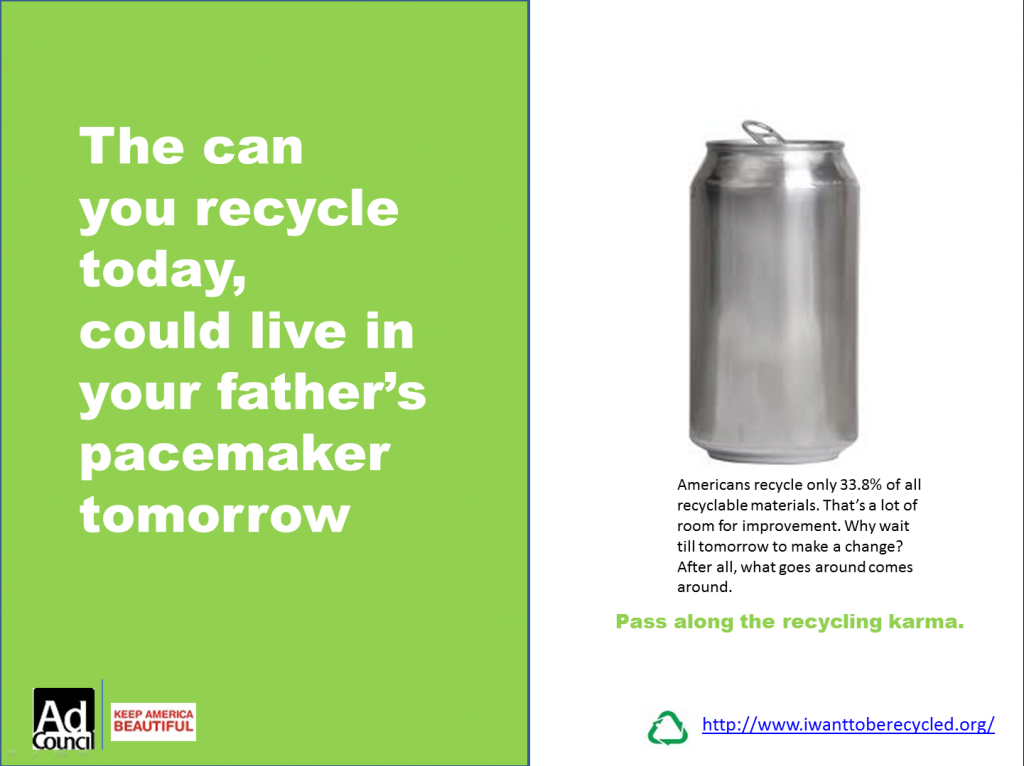 The High School of Arts & Technology and Draft FCB took home second place by appealing to our emotions with a print ad reading, "A Can Today Can Be Your Father's Pacemaker Tomorrow" (seen right). Their approach combined the rational and the emotional to encourage the audience to pass along "recycling karma."
Tottenville High School and McCann, the third place finishers, pitched a campaign comparing recycling to magic. By using the word Voilà and other images associated with magic such as top hats and magic wands, the team cleverly illustrated the transformative power of recycling.
Results and Lessons
After intense deliberation, the judges, all professionals from the advertising industry, made their selections:
1st Place: InTech Academy & KBS+P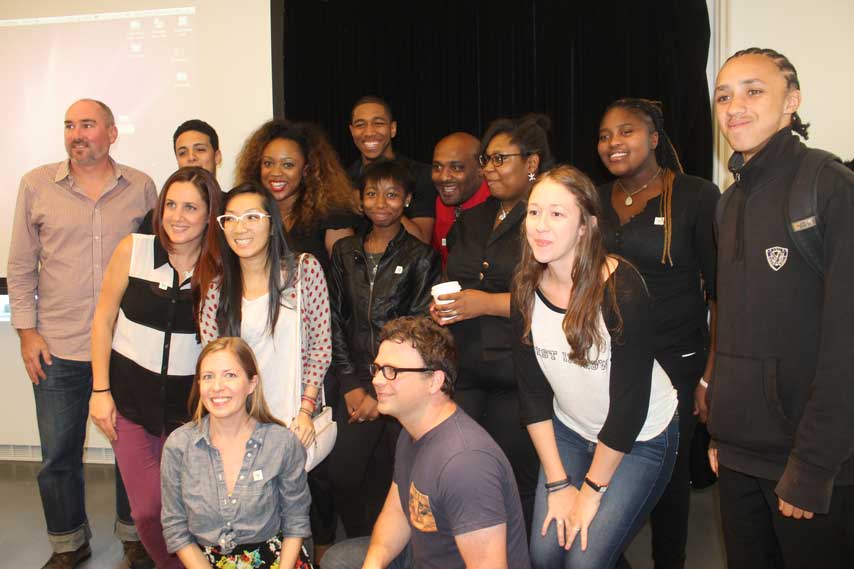 VE Coordinator – Tyshawn Davis,
Student Presenters – Michael Aponte, Kevin Garcia, Kyalamboka Jordan, Ashlee Joseph, Diamond Lecointe, Danisha Ramsey
KBS+ Team – Bill Graham, Mike Merritt, Mary O'keefe, Renee Banta, Cecilia Bogardus, Trish Lung, Jessica Mottola
2nd Place: High School of Arts and Technology from MLK & Draft FCB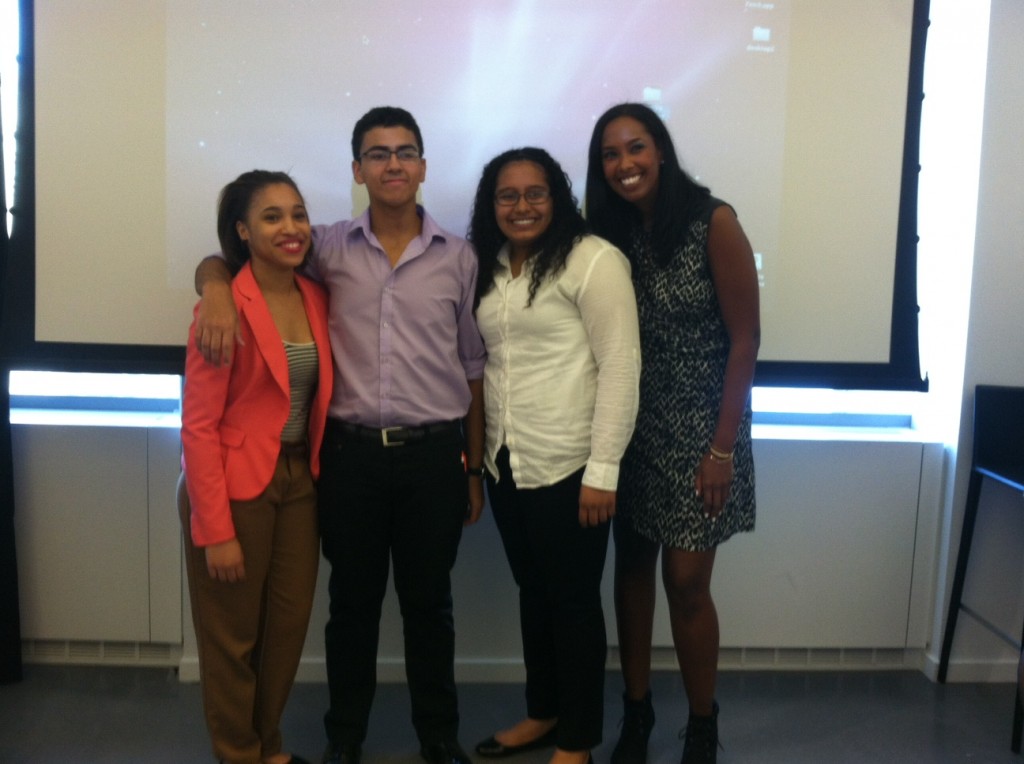 3rd: Place: Tottenville HS & McCann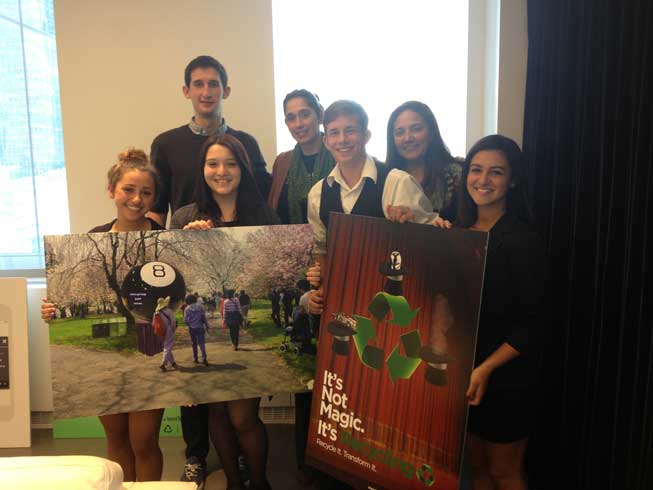 After their announcement, the judges provided important tips including: the message should have a single focus, tell a story, and provide an incentive to change behavior such as a monetary reward for each bottle recycled.
The judges lauded the students' presentation skills, including one judge who commented that they were just as good, or better, than presentations seen at the college level.
VEI is happy to have been part of such an enlightening competition. Everyone was a winner at this event, because of this unique opportunity for students to creatively tackle a real-world challenge and do it alongside advertising professionals with whom they may someday work as peers.
By Tyler Fugazzie
Follow VEI on Facebook, Twitter, and LinkedIn and share this story.