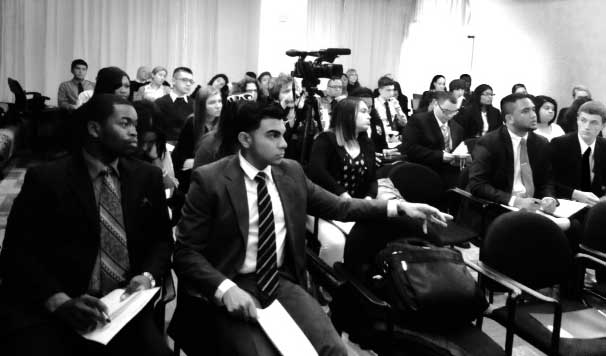 CEOs Spend Day Connecting with Industry Professionals
How often do you see students at the edge of their seats? Students dressed in business professional and raising their hands so high their suit jackets stretch? Students who can listen to a serial entrepreneur talk about his former businesses and relate it to what they do in their business.
"CEO Day was very productive. I learned a lot, I enjoyed the speakers, and it was a good environment since all of the students were focused and there to learn."Rebecca Ligier
CEO of To Dare is To Do
On October 24th, Viacom, the parent company of MTV, BET, Nickelodeon, Comedy Central, CBS, Paramount Pictures and many more, hosted VEI's CEO Day. This event brought together student CEOs from 46 different VE firms to network and participate in a learning experience that connected them to industry professionals such as Mr. Chuck Perl, President of Out Front Inc., Mr. Nick Giglia of NJG & Company LLC, Mr. Matt Schaffnit of Annaly Capital Management, and Mr. Michael Armstrong, Senior Vice President and General Manager of BET International and Paramount Channel Viacom International Media Networks.
Everybody gathered on the 44th floor of Viacom's headquarters and the group was warmed up and primed for an interesting day thanks to the opening remarks made by Mr. John Jastremski, New York City Program Director, and Ms. Fukiko Ogisu, Senior Vice President of HR Operations at Viacom.
Drawing from his robust business experience, the self-proclaimed "serial-entrepreneur" Chuck Perl painted a vivid picture of what it's like to recognize and seize opportunities, take risks, learn from mistakes, and have the confidence to connect to each and every person in the world. He provided very practical advice about how the students can learn more from failure than success and he used examples of some of his ingenuous selling techniques: he found a way to make a belt so fashionable, people would literally steal it.

Next up was the dynamic duo of Nick and Matt, who engaged the students with an interactive, Q&A style presentation about developing a marketing plan and conducting a SWOT (Strengths-Weaknesses-Opportunities-Threats) analysis. Early on, the two commented that they would be calling out any students who looked like they weren't paying attention, but these students were so interested in gaining valuable insights into how to better run their businesses, there was always a sea of waving hands following every question.
Lunch time came around and the students got a chance to mingle with their "competition." As the old saying goes: keep your friends close, your enemies closer, and your competition so close that you'll become friends and have them as professional contacts for years to come. The lunch area buzzed as the students breathlessly shared ideas, strategies, and future ambitions.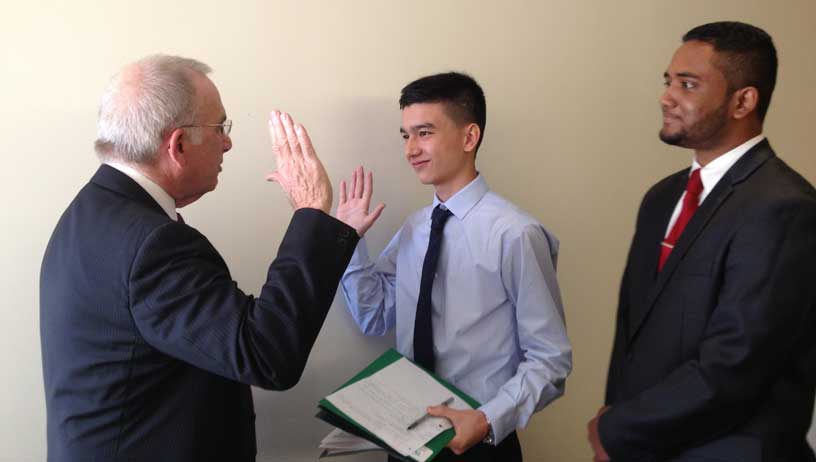 After lunch, Michael Armstrong of Viacom demonstrated how to create and stick to a firm's mission and vision, the importance of self-branding, how to effectively manage one's time, and how to stay motivated on those sluggish Monday mornings. A seasoned leader with over a million frequent-flyer miles under his belt, Michael answered challenging questions from the students regarding work-life balance and sources of inspiration.
A Day Well-Spent
"I learned to be consistent in everything I do, whether leading the company or the way we as a company communicate with our clients," said James Norman, CEO of the VE firm Lucid Investments Financial Enterprise (LIFE). James also pointed out how the day's speakers "were very engaging and effervescent" and he looks forward to future success with his VE firm because the speakers "guided us as leaders."
Suveer Seemangal, CEO of Diverse City Wear, commented how he thought the speakers, "did an amazing job really conveying their messages, as well as connecting with the CEOs." Suveer hopes to cross paths with the speakers in his future, but for now he'll be using their advice to help his teammates understand that they're running a business and, "VE is much more than just a class."
Looking at the image at the top of the page, it's easy to gauge the level of professionalism and focus displayed by the VEI CEOs. Rebecca Ligier, CEO of To Dare is To Do, commented how, "CEO Day was very productive. I learned a lot, I enjoyed the speakers, and it was a good environment since all of the students were focused and there to learn."
The CEO Day was the brainchild of Nick Chapman, Program Coordinator for NYC, who summarized the day's lessons and capped it off best by telling the students to, "Never stop learning." Based on how eager these students are to learn, it doesn't look like they'll ever stop.
Kimberly Simon, CEO of OH! Furnishings, is one example of a student who doesn't want to stop learning from days like the CEO Day; "I had a wonderful experience and time at CEO Day and hope another event like this happens again." Luckily for Kimberly and other eager VE students, VEI NYC is looking to expand the opportunity to hold events for other positions such as CFO and COO.
By: Tyler Fugazzie
Follow VEI on Facebook, Twitter, and LinkedIn and share this story.