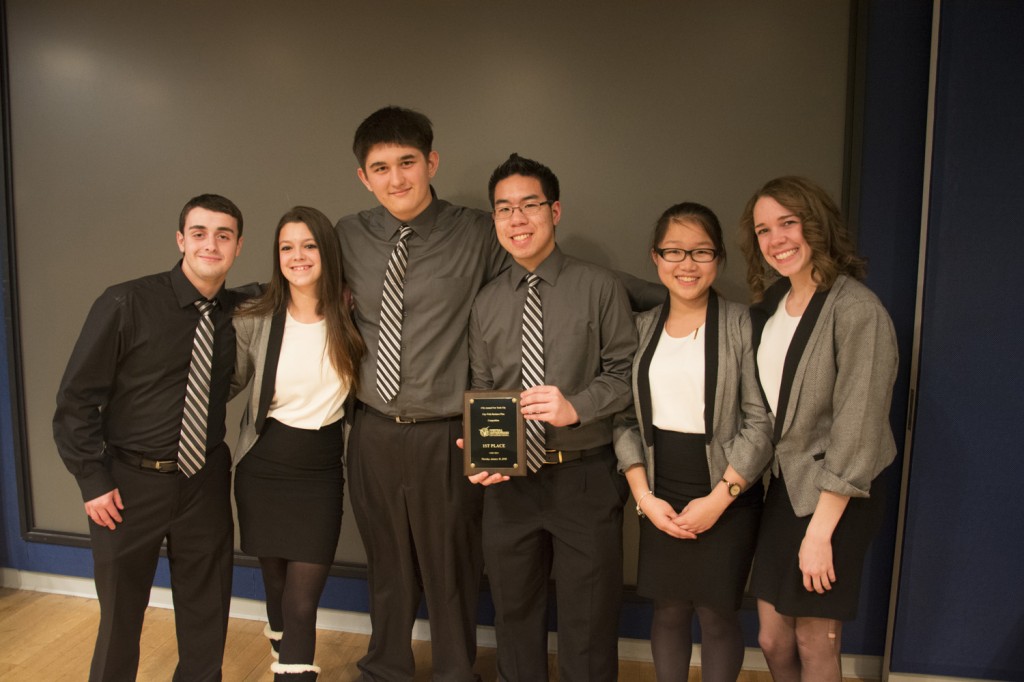 Situated at the United Federation of Teachers headquarters, the annual VEI New York Citywide Business Plan Competition gave twenty firms the opportunity to distinguish themselves as top VEI firms in the region. On the morning of January 15, students and coordinators showcased their achievements to a small panel of judges, in order to represent NYC in the National Business Plan Competition on Tuesday, April 14, 2015.
Each firm's pitch was divided into two rounds and lasted for a maximum of 10 minutes, followed by a Q&A session with the judges. After the preliminary rounds, students exuded confidence and were well-prepared.
Seven firms went on to participate in the Championship round in front of a panel of seven industry professionals. After watching seven strong presentations, judges had a challenging task in picking only three Champions, but Polyglot Translations, T-Squared and Brandmark Advertising were ultimately chosen to advance to Nationals.
2014 – 2015 Champions
| | | |
| --- | --- | --- |
| Place | VEI Firm | School |
| 1st Place | Polyglot Translations | New Dorp HS |
| 2nd Place | T-Squared | Jacqueline Kennedy Onassis |
| 3rd Place | Brandmark Advertising | Edward R. Murrow HS |
2014 – 2015 Citywide Finalists
| | |
| --- | --- |
| VEI Firm | School |
| Nüapps | Francis Lewis HS |
| Cloudcrux | In-Tech Academy |
| T-Squared | Jacqueline Kennedy Onassis |
| Polyglot Translations | New Dorp High School |
| F.A.C.T.S | New Dorp HS |
| Brandmark Advertising | Edward R. Murrow HS |
| Sweet N'Savory Catering | Fort Hamilton HS |
2014 – 2015 Citywide Participants
| | |
| --- | --- |
| Firm Name | School |
| ASAP | Academy of Finance & Enterprise |
| Avant-Garde Furnishings | Fort Hamilton HS |
| Build Your Future Institute | Edward R. Murrow HS |
| Cloudcrux | In-Tech Academy |
| F.A.C.T.S | New Dorp HS |
| Imagination Inc. | HS of Arts, Imagination & Inquiry |
| LIFE | HS of Economics & Finance |
| Majestique Clothing | William Cullen Bryant HS |
| Nüapps | Francis Lewis HS |
| Palatial Hotel | Sheepshead Bay HS |
| Polyglot Translations | New Dorp HS |
| PR Catering | Port Richmond HS |
| ReImagin3d | Francis Lewis High School |
| Sweet N'Savory Catering | Fort Hamilton HS |
| T-Squared | Jacqueline Kennedy Onassis HS |
| Urban Ground | Jacqueline Kennedy Onassis HS |
| Versorna | Manhattan Business Academy |
| Vreal Publications | Francis Lewis High School |
Acknowledgements