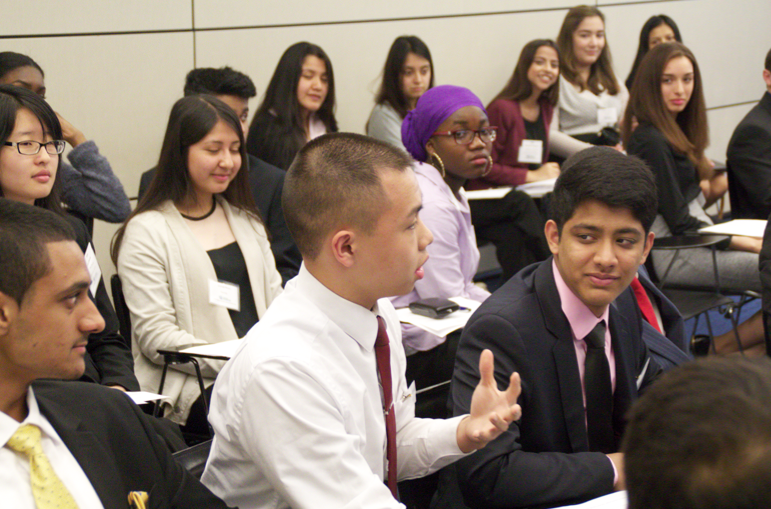 On Tuesday, May 19th, 40 VEI student executives representing 38 different firms from New York City attended the 2015 Spring Executive Conference hosted by Barclays. The event allowed VEI students to highlight and share achievements from the year, reflect upon their experience, and network with their peers.
Opening remarks were given from Soteria Stavroulakis, New York City Program Coordinator, John Jastremski, New York City Regional Director, and Mina Perikleous, Executive Assistant of FICC Research at Barclays.
Following the opening remarks, Aroop Chatterjee, Director of FX Research at Barclays, provided students with information regarding Barclays' role in the economy. Students in attendance asked thoughtful questions, which impressed Mr. Chatterjee, as they wanted to know how certain current event issues were going to affect the global economy.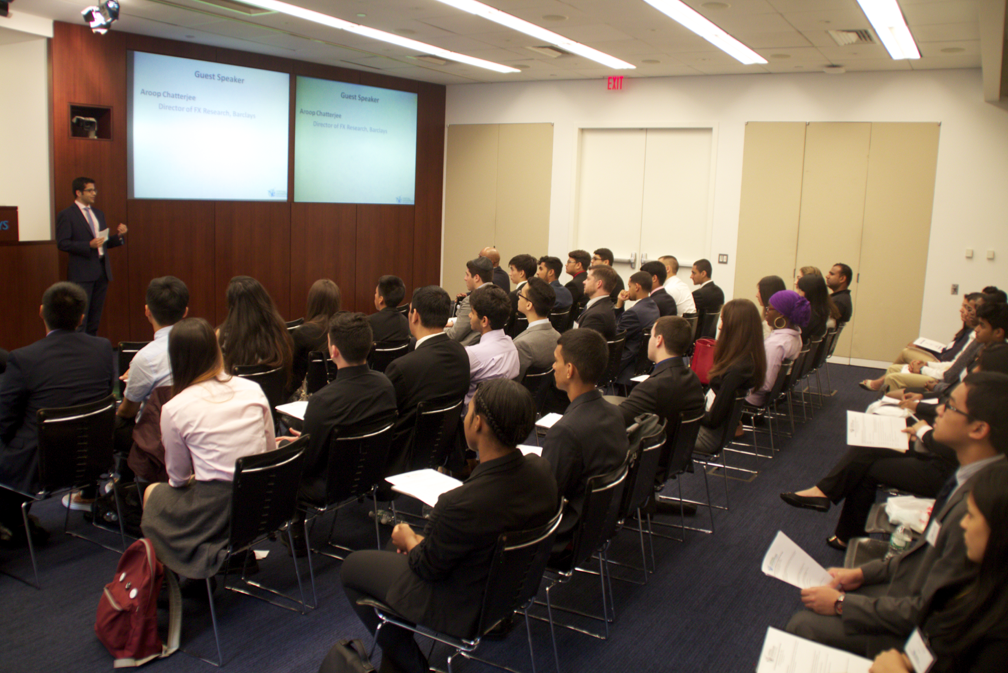 Following Mr. Chatterjee was Elena Tulloch, Director & COO of FICC Research in the Americas at Barclays, shared hard-earned career lessons, the importance of consistency and perseverance, and the need to pursue one's passion.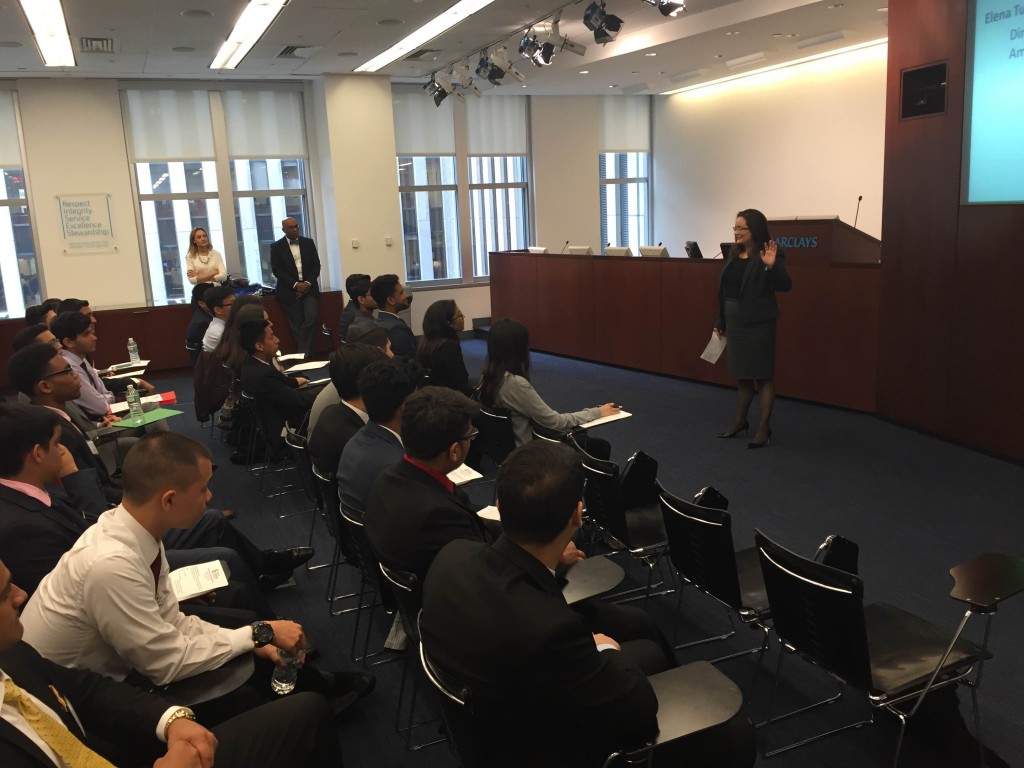 Joining the Barclays speakers was a panel of VEI alumni, who shared tips and advice with the current VEI students as they get ready to embark on the next phase of their careers. Panelists shared their personal experiences, their professional growth, and specific techniques for leveraging the VEI experience after high school.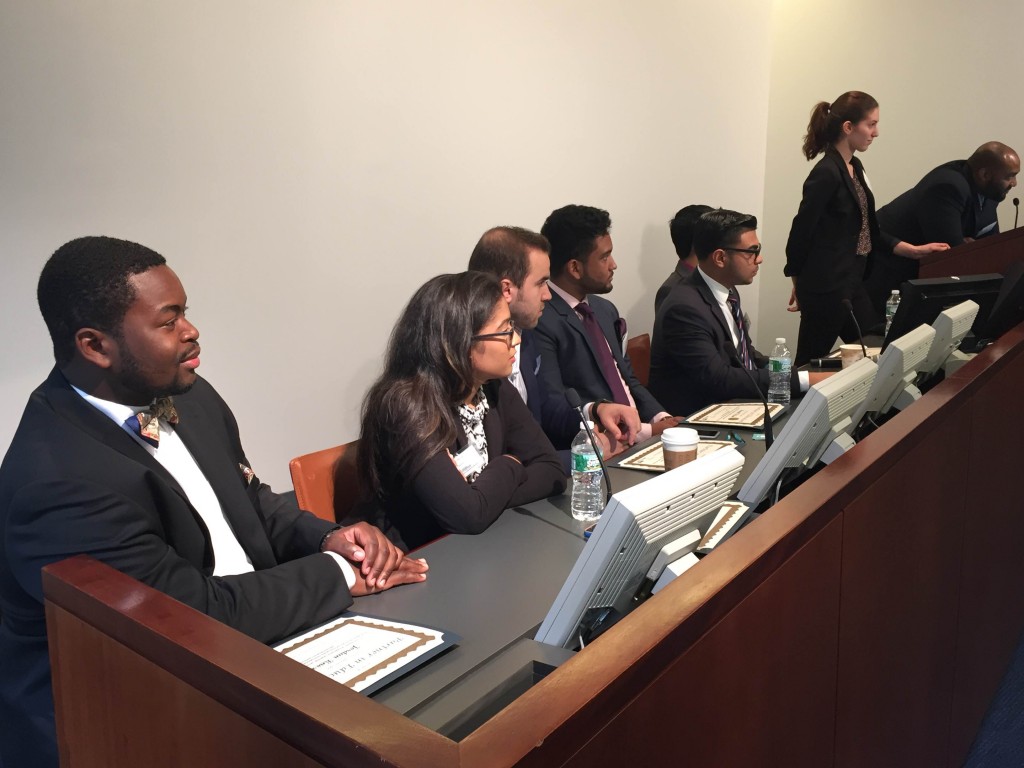 VEI Alumni Panelists
Naasik Islam, Wavelength Capital & Fordham University
Atul Kapoor, Soft System Solution
Jordan Knox, Georgetown University
Amina Music, VE NYC Central Office
Andi Muskaj, Linute
Abril Pena, Baruch College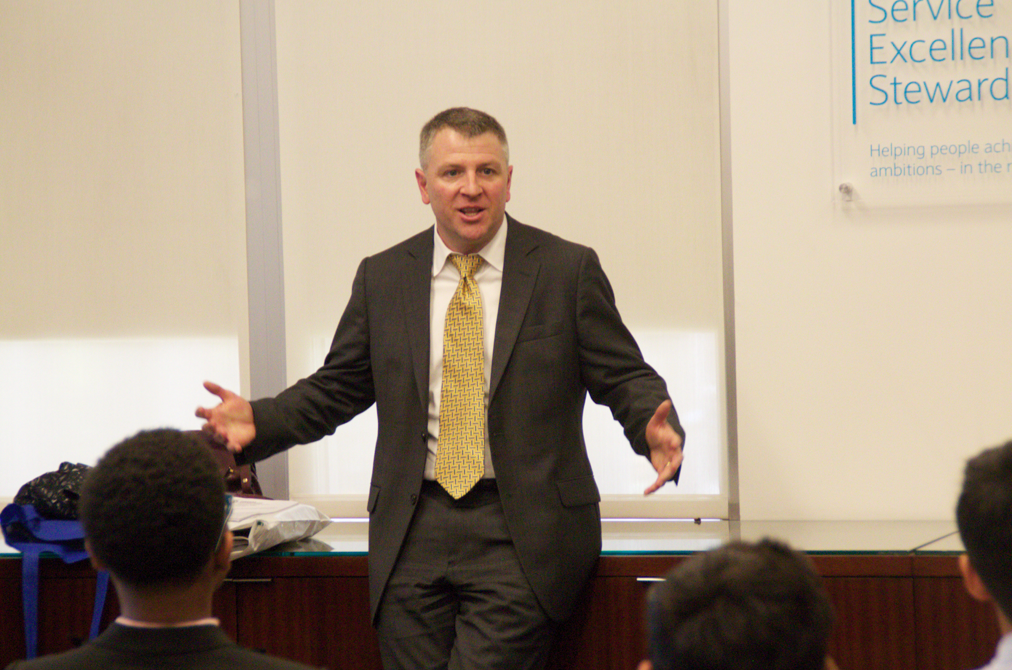 The final speaker was Michael Pond, Managing Director & Head of Global-Inflation-Linked Research at Barclays, discussed working hard to move up the ranks in an organization, the importance of staying fit and sharp, and how first impressions can have a significant impact during one's career.
At the end of the insightful day, VEI executives were presented with Executive Awards and Acknowledgements for their respective efforts and given the chance to provide feedback about their VEI experiences.
List of VEI NYC Executives
| | | |
| --- | --- | --- |
| Student Executive Name | Firm Name | School Name |
| Chi Zhang | Majestique Clothing | William C. Bryant High School |
| Simone Zain | Avant-garde Furnishings, Inc. | Fort Hamilton High School |
| Anne Xie | VReal Publications | Francis Lewis High School |
| Naushin Tasnim | Build Your Future Institute | Hillcrest High School |
| Nicole Taniguchi | T-Squared | Jacqueline Kennedy Onassis High School |
| Bryce Symonette | Vigor Boot Camp | High School of Arts and Technology |
| Halimat Sulayman | Eco-Tech | Bronx Community College |
| Malakhi Smith | ReImagin3D | Francis Lewis |
| Charan Singh | Majestique Clothing | William C. Bryant High School |
| Gaurav Singh | Velocity International | Forest Hills High School |
| Haramritpal Singh | Innovative Technology | John Adams High School |
| Ramneet Singh | Innovative Technology | John Adams High School |
| Satesh Sing | Virtually Protected Insurance | Murry Bergtraum |
| Nichlous Shewpaltan | Next Generation Scholars | Business, Computer Applications & Entrepreneurship H.S. |
| Mahd Sharif | Forza Auto Sales | Susan E. Wagner High School |
| Hira Shamas | PR Catering | Port Richmond High School |
| Marivel Santos | Y.A.L.E. Academy | High School for Teaching & the Professions |
| Monica Salcedo | Imagination, Inc. | High School for Arts, Imagination & Inquiry |
| Kassandra Rivera | Urban Ground | Jacqueline Kennedy Onassis High School |
| Brenda Reyes | Chocology | Abraham Lincoln HS |
| Anaywa Quashie | Virtual Fittters | Business of Sports School |
| Jasmine Quash | Next Generation Scholars | Business, Computer Applications & Entrepreneurship H.S. |
| Emely Perez | Special Thanks and Recognition | Queen Vocational and Technical H.s. |
| Nataly Ortega | Zahab | Bronx High School of Business |
| Syed Naqvi | Sweet 'N Savory Catering | Fort Hamilton High School |
| Jordan leung | PolyGlot | New Dorp HS |
| Sonam Lama | Palatial Hotel | Sheepshead Bay High School |
| Isfak Islam | Infinite Investment Solutions | Academy of Finance and Enterprise |
| Steven Imbat | Urban Ground | Jacqueline Kennedy Onassis High School |
| Brittany Hernandez | Home Sweet Home | Grover Cleveland HS |
| Joseph Hernandez | Assurance Services for Advanced Progress | Academy of Finance and Enterprise |
| Olivia Ford | Brandmark Advertising | Edward R. Murrow |
| Anfernee Falcon | CloudCrux | IN-Tech Academy MS/HS 368 |
| Jesus Espinal | Diverse City Wear | Queen Vocational and Technical H.s. |
| Ashley Dieudonne | FACTS | New Dorp HS |
| Summer Cruz | New Horizons | Richmond Hill |
| Jimmy Chen | olympic insurance | flushing high school |
| Daniel Chalhon | Brandmark Advertising | Edward R. Murrow |
| Jefferson Bermeo | Versorna | Manhattan Business Academy |
| Jack Bayda | 123D Printing | Magen David |
| Otabek Azimov | Velocity International | Forest Hills High School |
| David Alonso | L.I.F.E | High School of Economics and Finance |
| Kayla Adams | FLY New York | The High School of Fashion Industries |
Photos