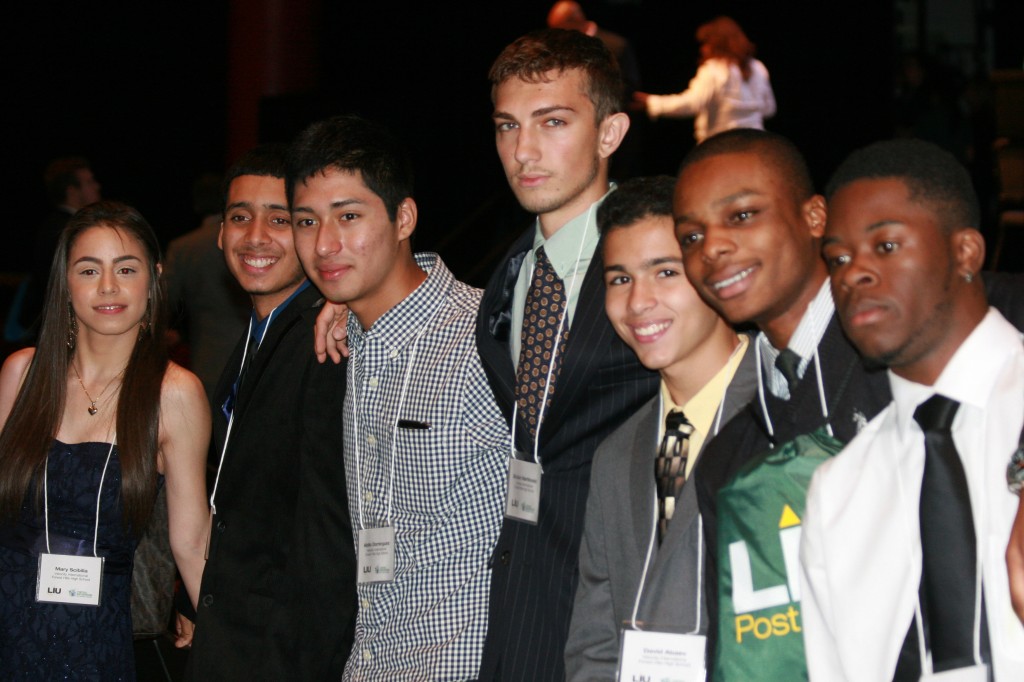 Think of what you usually accomplish in 30 seconds. Maybe it's pouring a cup of coffee, or sending a quick email, or getting up from a chair and stretching.
Would you be able to pitch a newly-created business to a 600-person crowd of your peers and a panel of high-impact business leaders and entrepreneurs?
This is the challenge more than 40 VEI students from New York City and Long Island eagerly accepted during the "Speed Networking" portion of VEI's Business & Entrepreneurship Leadership Conference on October 8 at LIU Post. The fearless students gathered on stage of the Tilles Center and each delivered his or her strongest rapid-fire business pitch, often referred to as an elevator pitch, in hopes of intriguing potential customers and partners from across the VEI marketplace and generating future business for their company.
The pitches were coherent, compelling, and charming. Judges had a difficult time choosing the top three pitches:
| | | | | |
| --- | --- | --- | --- | --- |
| Place | Student | Firm | School | Region |
| 1st | Fressia Ferrantino | Helios | Westhampton Beach HS | Long Island |
| 2nd | Lisa Olszewski | Nuapps | Francis Lewis HS | NYC |
| 3rd | William Hanley | Vmotive | Longwood High School | Long Island |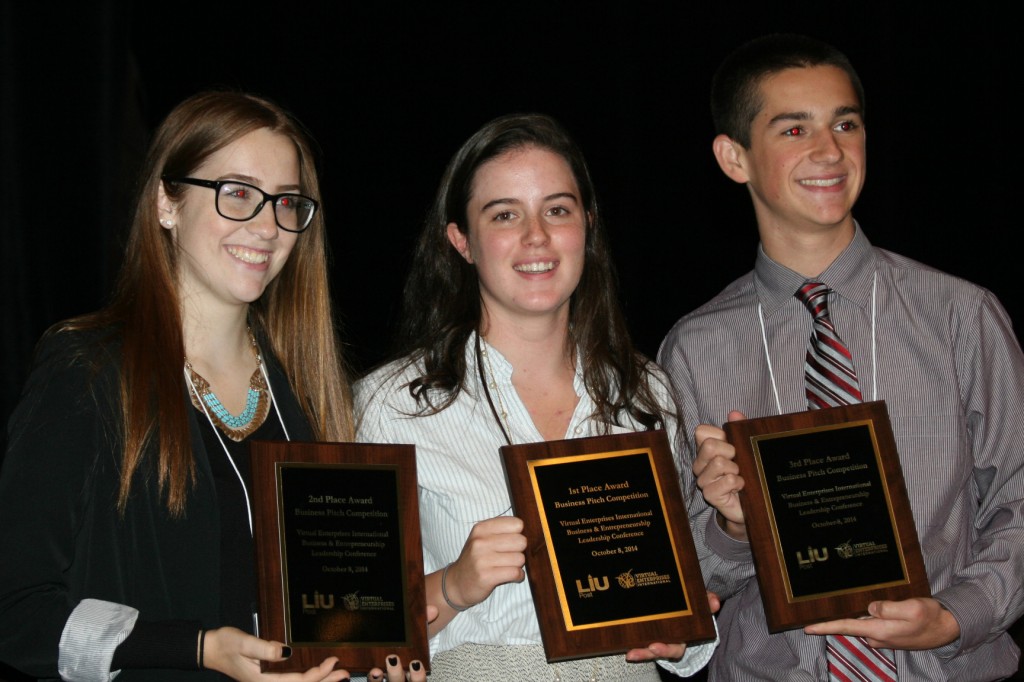 Prior to the speed networking, students gained inspiration from Mark Fasciano, Ph.D., Co-Founder and former Chief Executive of FatWire Corporation, an enterprise Web content management company that grew sales from zero to more than $35 million, as well as a panel about the "Power of Branding" which included Linda Armyn, Senior Vice President of Strategy, Bethpage Federal Credit Union; Caryn Hirshleifer, Vice President and General Counsel of Hirshleifer's Inc., a celebrated Americana Manhasset shopping center destination for exclusive European and American couture clothing; and Randy Lewis, vice president, Global Marketing for the Brooklyn Nets and Barclay's Center.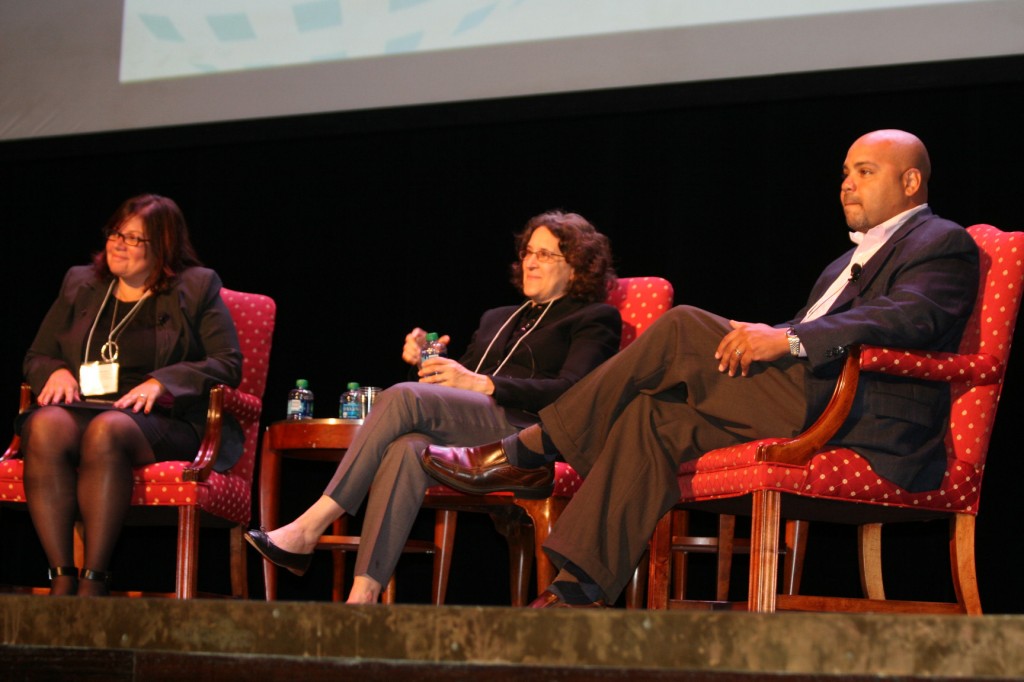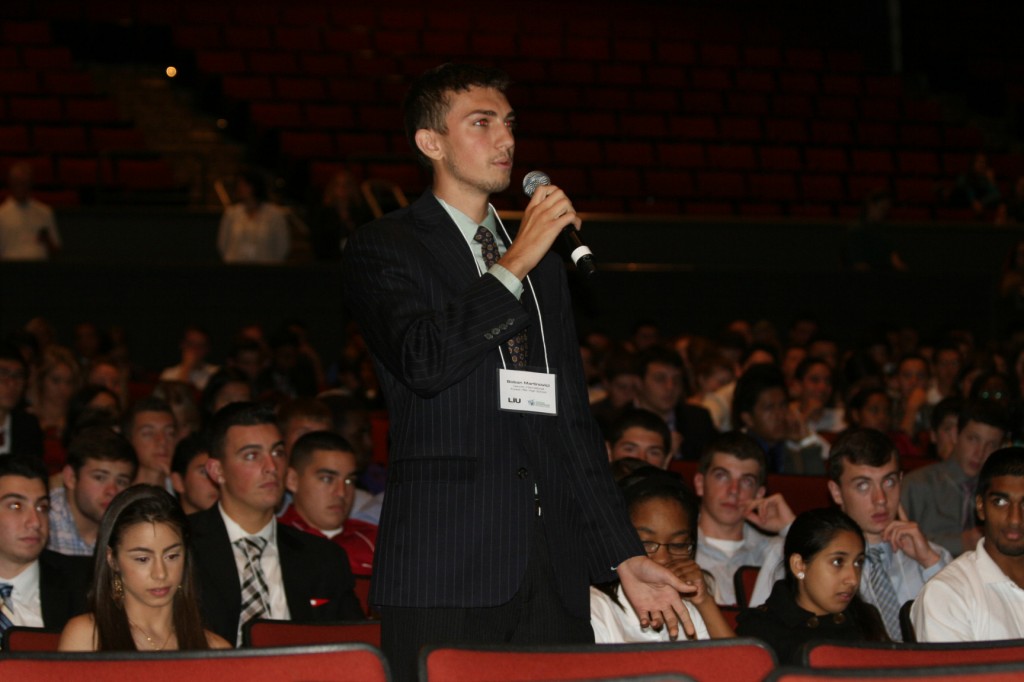 Mr. Lewis won the crowd over with a slam dunk demonstration of the power of branding by not acknowledging the name of the Brooklyn Nets' cross-town rival Knicks.
Afterwards students attended one of four specialized panel sessions focused on entrepreneurship, fashion, high-tech startups, and sports. See below for a full list of the featured speakers.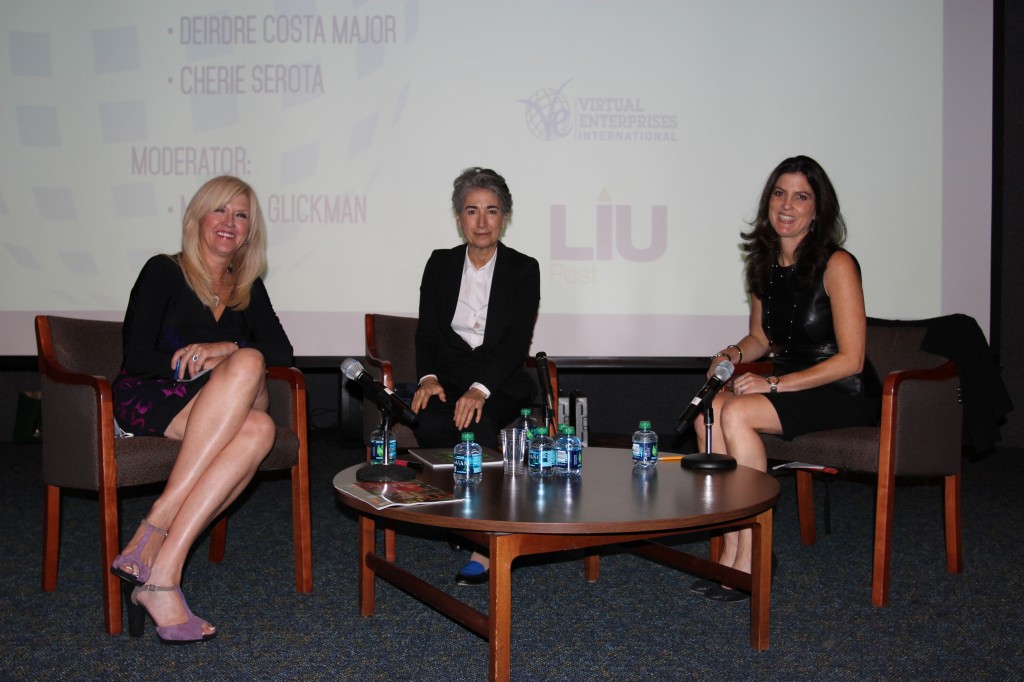 From LIU Post's official press release about the event:
"LIU Post is proud to partner with Virtual Enterprises International in its efforts to inspire innovative, entrepreneurial learners who will lead tomorrow's global marketplace," said LIU president Dr. Kimberly R. Cline.

Iris Blanc, executive director, Virtual Enterprises International, expressed the organization's goal in connecting young students with successful adult role models.  "Events that directly connect students with distinguished business leaders and entrepreneurs inspire young people to build a vision for their future and help them transform into professionals and future business leaders," says VEI's Executive Director Iris Blanc.

Read the full press release here
VEI would like to thank all the students, speakers, and LIU Post team members who helped make this day possible.
---
Full List of Guest Speakers
Linda Armyn, Senior Vice President of Corporate Strategy, Bethpage Federal Credit Union
Bethpage Federal Credit Union is the largest credit union in New York State with nearly $5 billion in assets.
Gerry Chasin, Senior Institutional Consultant, UBS Financial Services and Owner, Northshore Equestrian Center
Amir Chitayat, Partner, OpenMoves Inc
Amir has decades of executive experience running various global businesses to help clients grow and penetrate new markets using out-of-the-box thinking and innovative marketing technologies.
Kari Cohen, Vice President and Assistant General Counsel, Brooklyn Nets
Deirdre Costa Major, President, Americana Manhasset
Carrie Cottingham, J.D., L.L.M., Director, Center for Entrepreneurship and Innovation, Long Island University
Carrie earned her masters of law at Duke University.
Dr. Mark Fasciano, Ph.D., Co-Founder and Former Chief Executive, FatWire Corporation
FatWire Corporation is an enterprise web content management company that grew sales from zero to over $35 million.
Beverly Fortune, Chief Operating Officer, Morey Publishing
Beverly is publisher of Milieu Magazine, a bi-monthly publication written for Long Island women opinion leaders and associate publisher of LongIslandPress.com.
Caryn Hirshleifer, Vice President and Counsel of Hirshleifer's Inc.
Hirshleifer's Inc. is one of the country's most celebrated destinations for the purchase of exclusive European and American couture clothing and accessories.
Ashley Kahler, Director of Partnership Marketing, Brooklyn Nets
Val Kaytayev, Advisor, Board Member & Investor, Bandsintown Group
Val Katayev is a serial entrepreneur, having founded and led four successful startups to hyper-growth, generating over $100M through profits and exits.
Kevin Law, President and Chief Executive Officer, Long Island Association
Long Island Association is one of the most respected business organizations in New York State.
Randy Lewis, Vice President, Global Marketing, Brooklyn Nets and Barclays Center
Randy is leading the marketing strategy on business-to-business and consumer facing platforms.
John Murcott, Chief Executive Officer, Crowdster
Crowdster is an event management platform with clients such as Major League Baseball, American Heart Association, Autism Speaks, as well as thousands of local and regional companies and organizations.
Charles Prizzi, Vice President for Development, Cold Spring Harbor Laboratory
Cold Spring Harbor Laboratory is a world renowned biological research institution based on Long Island, NY.
Lloyd Ribner, Assistant Director of Athletics, Long Island University
Lloyd worked for SBNation, covering events such as the Heisman Trophy Ceremony and College Football Hall of Fame Induction.
Cherie Serota, Co-Founder and Former CEO, Belly Basics
---
Photos from Event
All photos courtesy of LIU Post