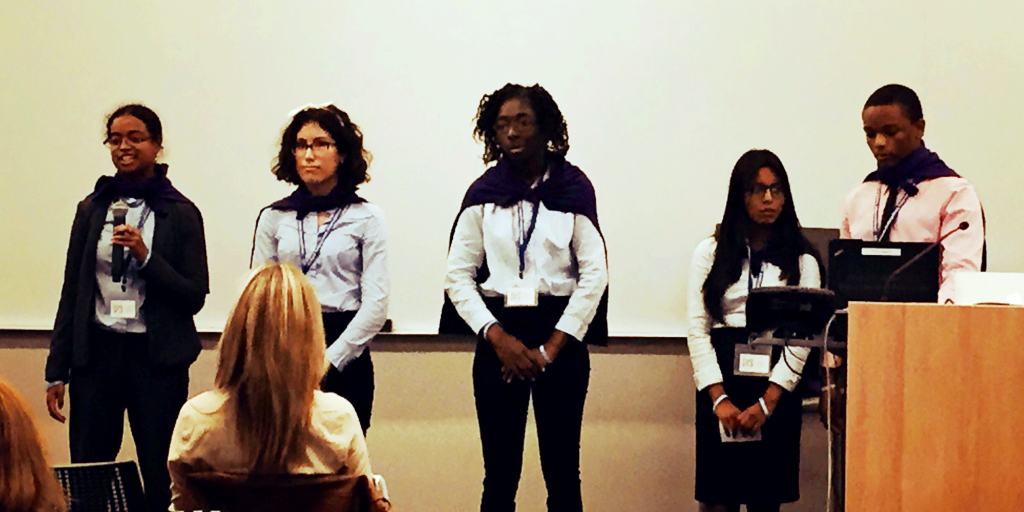 On October 1st, 2015, the Advertising Futures Competition, a much-anticipated event of Advertising Week (the largest and most prestigious annual gathering of advertising and media industry leaders in North America) took place at Microsoft in New York City. The Competition pairs ad agency mentors with teams of students to create an advertising campaign which is based on a brief developed by the Ad Council.
Fourteen teams from Virtual Enterprise programs throughout New York City met their agency mentors and were challenged to develop a campaign to focus on "Bullying Prevention." This initiative was to bring social awareness about the effect bullying has on children and how to create an environment where it is practically non-existent.
For the weeks leading up to the competition, students and their mentors convened with their agency partners at agency offices and worked together on developing an ad campaign. In an exciting display of creativity and innovation, students presented their original ads to a panel of advertising experts and an audience of their peers during the Twelfth Annual Advertising Futures Competition.  Agency mentors proudly cheered as the students showcased their talent and original ideas.
The first place team, from Susan E. Wagner HS, mentored by Havas HB4 Ad Agency, impressed the judges with an original, creative and playful campaign.  Students from HS of Economics & Finance, mentored by Deutsch Ad Agency, placed second.
VEI extends a special thank you to the Advertising Club, Microsoft, and advertising agency mentors who worked with our exceptionally talented students!
Written by Soteria Stavroulakis