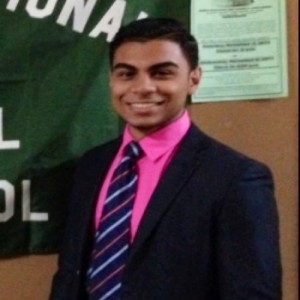 Suveer Seemangal
Founder and CEO of BluBase Consulting
Class of 2014
Queens Vocational and Technical High School
New York, New York
Can you briefly describe what you do in your current role?
I am currently the Chief Executive Officer (CEO) of BluBase Consulting. Blubase is focused on helping entrepreneurs and start-ups navigate the challenges of starting a new business by providing a team of consultants to guide clients through the process of launching a business. I started this firm was because I believe in targeting the root problems with startups early enough to help entrepreneurs avoid failure and have a higher chance of succeeding.
As CEO, I work with our team to grow our company and set and manage internal systems and processes. I also train and educate interns about soft skills they will need no matter what work environment they find themselves in. From sales training to finance, I have made it my personal and professional goal to build a company that has a lasting positive impact on our clients, employees, and business partners.
We're planning to officially launch on September 1, 2016.
What first comes to mind when you think back to your VE experience?
When thinking about my time in VE, it amazes me how similar the virtual VE world of commerce is to the real world of business. I believe my time with VE has prepared me well for my role as CEO, and has definitely led me to where I am today.
What was your favorite part of VE?
One of my favorite parts of VE was networking because I had the opportunity to engage with peers who were as driven and as focused as I was. I also enjoyed being able to connect with industry leaders from a variety of fields. They are remarkable experiences that are hard to recreate!
How does your VE experience relate to your current role? How does it relate to what you ultimately want to do in your professional life?
My experience in VE has taught me to always set extremely high goals in everything I do. My experience as CEO in VE definitely put me ahead of the game in learning about entrepreneurship and making decisions in business. My goal of proving that anyone can be extremely successful, despite overwhelming odds against them, is becoming a reality because of how much more empowered and motivated I became as a result of the program.
Do you believe that your VE experience was a differentiator in helping you find your first internship/job?
Yes. I believe my experience at VE allowed for a smooth transition into the professional world, especially when starting BluBase Consulting, LLC. Gaining the knowledge on how to write a business plan was probably my biggest differentiator. When I was writing the business plan for BluBase Consulting, it felt like second nature because of my past experience. Of course there were a occasional hurdles, but with the skills I have learned through VE, those hurdles were easily conquered.
How did you get reconnected with VE? How do you hope to stay involved? From your perspective, what are the differences between VE now and when you had it?
I have taken VE students under my mentorship and taught them what I have learned since graduating high school. In addition, I have designed an internship program at my company to serve as a catalyst for VE students to continue to develop their soft skills and grow in an environment with real-world impact.
What advice do you have for current VE students?
One piece of advice I would give to VE students is this: Adopt a growth mindset. Seek to educate yourself outside of the classroom. Everything you do and everyone you meet has something to teach you. It is in recognizing those opportunities to learn and grow that you will ultimately succeed in any endeavor. I am not sure where I heard this, but someone once asked me "What is the biggest room in the world?" puzzled by the question, I gave every answer I thought would make sense. After all my answers proved to be wrong, that same person told me "…room for improvement." I have carried that riddle with me ever since.
---
If you are a VE alumni with a story to share and would like to reconnect with VE, please contact Tyler Fugazzie, Marketing and Communications Manager, at tyler@veinternational.org or visit our Alumni page.