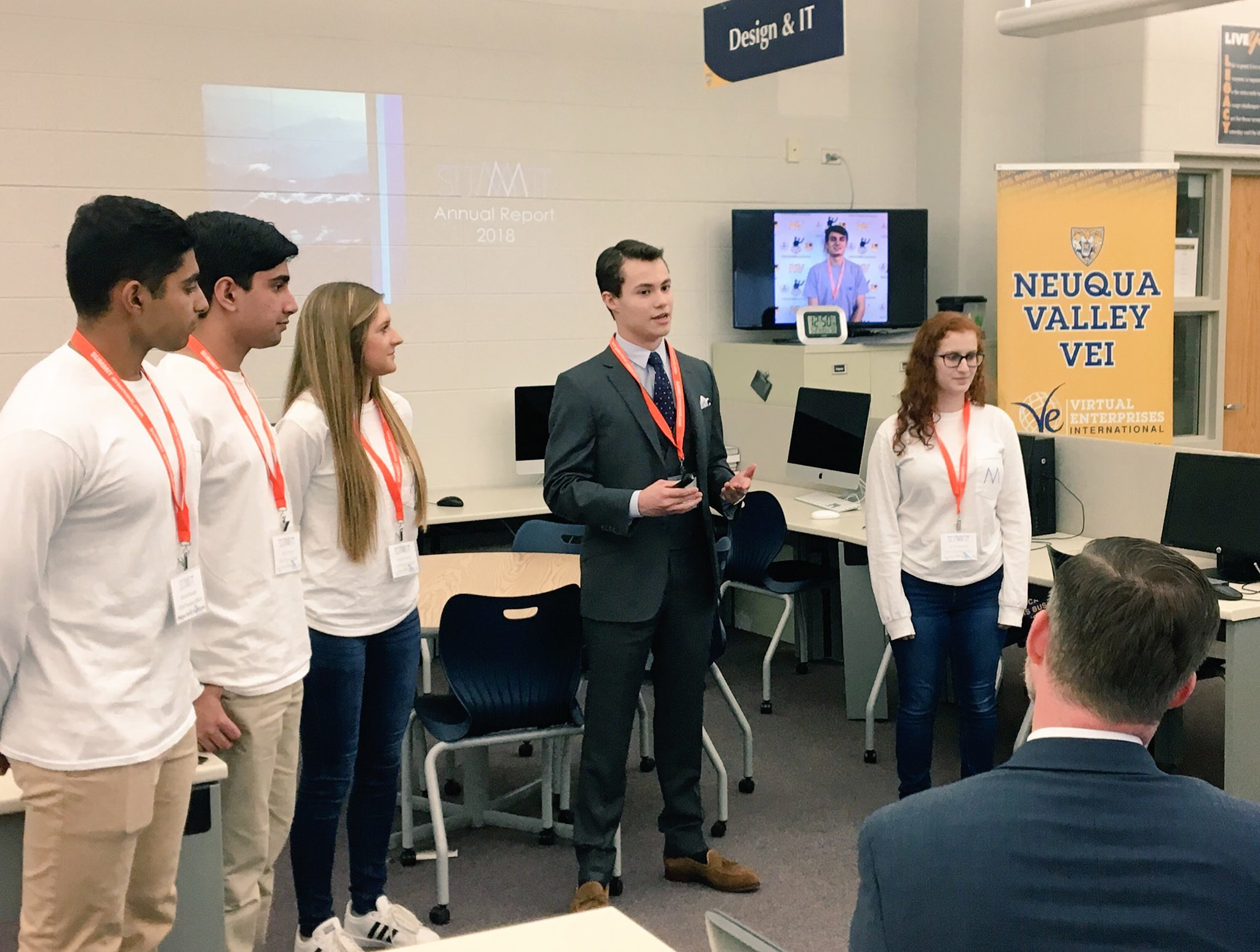 On May 21, 2018, six VE firms from Neuqua Valley High School welcomed VEI President Nick Chapman to their VE closing ceremony, where they shared year-end reflections, discussed important program takeaways, and shared student portfolios and company annual reports.
---
Jump to Section
---
What is VE: Student Testimonials
Three Neuqua Valley High School students share how the VE program impacted them.
https://www.youtube.com/watch?v=3V-uxHXgXe8&feature=youtu.be
Greatest Takeaways from VE: Student Reflections
"TAXES! I learned more about personal taxes and corporate taxes, which are very essential to know about in the real world." – Bryan Johnson, Catalyst
"That in order to succeed in real life you need to put yourself in positions that might make you uncomfortable. If you want to be the boss someday then you have to get used to leading your peers." – Mitchell Donahue, Catalyst
"The greatest takeaway from this course is managing deadlines. Everything in VE has a due date, and that has kept me on top of all of my VE work. Now, whenever something is thrown at me, I tackle it immediately instead of putting it off, because that's the most efficient way to work!" – Gabija Tonkunas, Chief Project Manager, Legacy
"The one greatest takeaway from this course is the professional experiences that I was able to be a part of. From interviews to résumé writing, this class gave me the most realistic outlook on what having a job really looks like and the process necessary to obtain, maintain, and be successful in a job." – Katherine Williams, Marketing & Sales, Legacy
"I think one of the greatest takeaways from the course is the realization of how important it is to work as a team. Yes, people can attempt to do things individually (and occasionally find success), but the more valuable goals will be achieved as a team. I have also realized that it is crucial to collaborate with other departments to complete many documents and complete goals as a company." – Joe Kennedy, Accounting & Finance, Summit
Student Portfolios
Student portfolios are a dynamic way for students to capture and share their newly-acquired work experience. A student portfolio can include a biography, résumé, professional summary, VE company information, and demonstration of the career readiness competencies (Leadership, Professional, Functional, Core Technology Skills) developed during their VE experience.
Check out links to the portfolios for four Neuqua Valley High School VE students to use as inspiration to create your own student portfolio.
Maggie Martin, Chief Financial Officer, Spectrum
Sarah Paolucci, Chief Project Manager, Spectrum
Nick Szimon, Chief Executive Officer, Affinity
Bryan Johnson, Bank Manager, Catalyst
Company Annual Reports
Click on the links below to see what these Neuqua Valley High School VE firms accomplished and learned in the 2017-18 fiscal year.
2017-2018 Affinity Annual Report
2017-2018 Catalyst Annual Report
2017-2018 Legacy Annual Report
2017-2018 Spectrum Annual Report
2017-2018 Summit Annual Report
Closing Ceremony Social Media
Thanks to @VEInternational President Nick Chapman for visiting @neuquavalley to listen to the annual reports of our VEI companies. With VEI our students are ready to rock the business world! #futureready204 @ipsd204 @204Secondary @McBrideCats97 pic.twitter.com/FWB0nkNuOc

— Karen Sullivan (@ksullivan204) May 21, 2018
Special thanks to Mr. Chapman, VEI's national program director, for coming in and listening to Catalyst's presentation! It was a privilege speaking to a powerful influence for our high school business education system. @NVHSBusiness @VEInternational pic.twitter.com/SlIPSPCE87

— Catalyst (@catalystvei) May 21, 2018
The highly touted commercial from @catalystvei being played for Nick Chapman, National Program Director for @VEInternational #futureready204 pic.twitter.com/Qk5RHQt8VB

— NVHS Business Dept (@NVHSBusiness) May 21, 2018
Legacy presenting annual report and department reflections to Mr. Nick Chapman! @VEInternational @LegacyVEI @neuquavalley pic.twitter.com/AgzRBYd7qv

— Amanda Dunham (@Amanda_Dunham1) May 21, 2018
Thoughtful reflection points being shared by @ApexNvhs today with National Program Director Nick Chapman in attendance! @VEInternational pic.twitter.com/8EIabB354p

— NVHS Business Dept (@NVHSBusiness) May 21, 2018
Nicely done! @NVSpectrum presenting Annual Report and department reflections to Mr Chapman from @VEInternational #futureready204 pic.twitter.com/1hIVmJzPZU

— NVHS Business Dept (@NVHSBusiness) May 21, 2018
Media Gallery