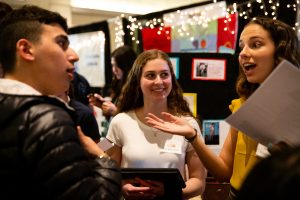 Los Angeles Area Conference & Exhibition
February 19, 2019
Pasadena Convention Center
Pasadena, CA
---
Key Stats
2,200 total attendees
1,600 participating students
72 volunteers
69 firms
53 schools
13 competitions
Student Highlights
InVEst tied with Current Threads for 1st Place for the Marketing Plan Competition and both have recently gotten some press. InVEst is also working with a PIMCO mentor for guidance on financials of a brokerage firm.
iKOMO and InVEst are some of the few firms to operate blockchain technology-based businesses; they have forged a collaboration to work with each other in VE and will be participating in the National Business Plan Competition in April.
All California National Business Plan Competition participants were present at the LA Area Conference and Exhibition and took top honors in various awards, including Current Threads, Phoenix Wood (a 1st year VE class), Ancora Safety, Nurture, and Safe N' Sound.
VE-JV team O'Snap from Elizabeth Learning Center brought home a silver award for booth design – after competing with all high school firms!
Ink, Inc. from Ortega High School took 1st Place in the IECE sponsored Elevator Pitch Competition and received Echo Spot devices as prizes.
Photos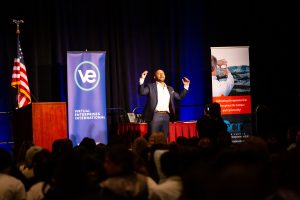 Competition Results
Results for top teams in Booth Design, Company Branding, Company Newsletter, E-Commerce Website, Elevator Pitch, Employee Handbook, Financial Statements, Impact Marketing, Marketing Plan, Salesmanship, Sales Materials, and Video Commercial can be found on the Competition Results page.
Participant Quotes
"The trade show allowed me to realize how well my peers and I work together when we are put into a tough, high stress situation, such arriving at the trade show late (due to weather) and having to quickly set up the booth and begin selling as soon as possible. I also felt very appreciated by my teammates when they had all cheered me on when my newsletter got first place."
– Allie Hunter, Ancora Safety

"I wanted to express my gratitude to Johanna Smith for her amazing workshop. Coming into the workshop, I was not quite sure what to expect. However, I quickly caught on and was pleasantly surprised. The workshop pushed me to try things that I had never done before. I think that the workshop really brought to light a new side of me and allowed me to grow as a person. I really appreciate Ms. Smith taking her time to host the workshop and I hope that she is able to come again next year to help even more students."
– Ethan Nguyen, CEO of Ecocentric.

"The biggest thing I've taken away from it is just being more prepared for my future career, whatever that may be," shared Lovejoy. "Even if it isn't necessarily in HR or part of a corporate structure, I feel more adequately prepared for my job future."
– Chloe Lovejoy, iKOMO, South Pasadena HS (taken from BP article)
Social Media Contest Winners
Phoenix Wood, Stockdale HS, Bakersfield, CA
Ancora Safety, Centennial HS, Bakersfield, CA
Global Grub, Samueli Academy, Santa Ana, CA
Special Thanks
Volunteers: South Pasadena Skills USA students were guest relations and assistants in all areas of the competition. Many thanks to the 17 students who worked the event!
Sponsors: Long Island University; Bank of America: Raul Bustillos, Senior Vice President of Community Relations; Inland Empire Center for Entrepreneurship at CSU San Bernardino (IECE)
Judges From: Brandman College, CSU Northridge, CSU San Bernardino, FedEX, Larry Chen Photography, LAUSD, High School Career Day Network, Southern California Edison, SCORE LA, Rio Hondo College, Rancho Santiago College, San Bernardino Community College District, Sony Music Entertainment, Spin PR, USC Marshall School of Business, Valley College Los Angeles, Wessco
Special Guest Speakers: Psychology Driven Sales Trainer Ben Patwa, Dr. Robert Valli of LIU, Larry Chen of Larry Chen Photography
In the News