The National Teachers' Conference has always been the best way for new and returning VE teachers and school administrators to get ready for the upcoming school year. We are excited to return to Long Island University Post Campus for the National Teachers' Conference July 11-13, 2022, our first in-person conference in three years!
Please join us for three days of collaborative training and professional development, including workshops, presentations, networking, and special events!
NOTE: New VE Facilitators must complete both registration forms 
Registration for NTC 2022
Registration for the conference is now open! 
Registration deadline is July 4, 2022 by 11:30pm ET. Registration information can be updated until the registration deadline by using the links provided in your email confirmation.
Please print your ticket pass or plan to pull up the PDF on a mobile device to check-in at the conference each morning for attendance tracking.
View the 2022 National Teachers' Conference Booklet PDF.
ALL CONFERENCE ATTENDEES – In Person at Long Island University

Monday July 11: 7:00am – 4:30pm ET
7:00am – 8:00am – Kick off the conference with others from your region! Grab a quick bite and a cup of coffee and meet your regional leadership team and peers from around the country during this pre-conference mixer.
Keynote address begins at 8:00am ET.
Tuesday July 12:  8:00am – 4:30pm ET
Wednesday July 13: 8:00am – 3:30pm ET
---
NEW VE FACILITATORS – Orientation Day via Zoom 
Wednesday June 29: 10am – 3:30pm ET

The pre-NTC conference VE Orientation Day is available to all new VE facilitators and is designed to provide the foundation necessary to get the most out of the NTC Conference and to prepare you for launching your VE program.
---
Location
Long Island University Post Campus
720 Northern Blvd. Brookville, NY 11548
Billing Details
No invoice will be generated by Virtual Enterprises International. Our EventBrite registration will list your pass as "free" because the NTC Conference Registration Fee is included in the school's Program Participation Fees for the 2022-23 school year. 
Budget planning for a teacher traveling from out of state would include:
Conference registration – included in your Program Fees; no additional cost
Roundtrip airfare – school district expense
Ground transportation – free if using the complimentary shuttle service on Sunday and Wednesday. Refer to the Shuttle Schedule

 

for details.
Lodging – free if staying in the dorms OR

$129 per night (plus tax, book by 6/09) if staying in the room block at The Roslyn

OR

cost for other nearby hotel. Refer to the

Accommodations

section

for details. 

Meal expense (refer to the Meals and Entertainment

 

section for details):

Sunday – all meals at the school district's expense
Monday – all meals covered by VE/LIU
Tuesday & Wednesday – breakfast and lunch covered by VE/LIU, dinner at the school district's expense
Shuttle Schedule
Sunday, July 10: Airport Arrivals
Complimentary shuttles will pick up at JFK and LGA Airports at 3pm or 6pm ET, and will drop off at The Roslyn and LIU Post Campus. Attendees arriving by air on Sunday may reserve a shuttle seat during registration.
Monday, July 11 – Wednesday July 13: From Roslyn Hotel to LIU Campus
During the conference, a shuttle service will be available to take participants from The Roslyn Hotel to the LIU Campus. The shuttle schedule will be posted closer to the event.
Wednesday, July 13: Airport Departures
Following the conference completion on Wednesday, complimentary shuttles will pick up at LIU Post (tentative pick up between 4pm-4:30pm ET to be finalized). One shuttle will drop off at JFK and another will drop off at LGA. The Wednesday shuttle signup will be available at the conference on Monday.
Dorm Information (free to attendees)
Teachers will be staying in the South Residential Complex for the week (air-conditioned!).

Each teacher will be assigned their own room in a suite with a shared

bathroom.

LIU Residence Life staff will be present on Sunday to assist with checking into the dorms between 3:00PM – 10:00PM. For late arrivals, please contact Public Safety at (516) 322-1383 for assistance.

Basic linens, pillows, and towels will be provided. However, you may bring any items that will make you more comfortable.

You will be responsible for bringing soap, shampoo, and other toiletries.

Please be aware that these are dorm facilities that do not have the same features and amenities as a hotel.  Please plan accordingly.
Hotel Information (at school district expense)
Teachers have the option of staying at the The Roslyn, Tapestry Collection by Hilton, 1221 Old Northern Blvd, Roslyn, NY – 11576

Rates are $129 per night plus taxes. There are King and Double rooms available. Room rate includes complimentary wifi.

The cut-off date to book rooms at the group rate at The Roslyn is June 9th. Please do not wait until the last minute to make your reservations.

When making reservations, please call (516) 625-2700 or visit

The Roslyn booking website

, and refer to the "LIU Post Teachers' Conference" room block to receive the discounted rate for VE.

Shuttle details between The Roslyn and the LIU Campus during the conference will be available closer to the event.

Please include required accessibility accommodations on your registration form.
Arrival Upon at LIU Post
For attendees who are staying at LIU Post, you will be greeted by LIU staff to assist with checking into the dorms upon arrival.

If you are driving, you may park at the lot nearest the South Residence Hall (buildings 42 & 43). You will not need any specific parking passes.

Travel directions to the campus can be found here:

http://www.liu.edu/CWPost/Campus-Life/Campus-map

 

If you have any questions or need help during your stay, please contact Public Safety at (516) 299-2222.
Meals & Entertainment
A light breakfast and full lunch will be provided Monday through Wednesday.

For budgeting purposes, dinners are planned as follows:

Sunday – on your own
Monday – provided
Tuesday – on your own

Please include any special dietary restrictions on your registration form.

The Hillwood Commons will be open throughout the week for you to purchase additional food and beverage (Starbucks, Subway, etc.).

LIU will be arranging evening activities during the conference. Additional details will be available closer to the event, but a general schedule follows:

Sunday – NTC Mixer! This optional event includes drinks and light refreshments (dinner on your own).
Monday – Dinner with LIU President, Dr. Kim Cline
Tuesday – Field Trip (dinner will be on your own)

Planning to explore NYC while in town for the NTC? Check out these resources, courtesy of

nycgo.com

:
Notes for the Week
Attire: Attendees should plan to dress in business casual attire.
Bring Your Own Device: The conference will be BYOD "bring your own device"
Internet Connectivity: Wireless internet will be available for all participants throughout the week.
Announcements & Updates: We will be using Remind to send SMS text message updates to participants throughout the week. If you don't wish to receive these messages, please contact Susan Chan at schan@veinternational.org.
Photo Consent Form: We will be taking photos and videos during the conference so please submit this Photo Consent Form to provide VE with permission to include you in communications materials following the conference.
Sharing Media: Please share any photos or videos you take during this year's NTC by dropping your content in this folder.
(NOTE: the Photo Consent Form is also included as part of the NTC registration. Only one consent form is needed per person).
Special Student Opportunities:
Summer Honors College at Long Island University
This summer, rising high school seniors can pursue their passion and get a taste of college life at LIU Post's residential campus in New York. The Summer Honors College at LIU will give students the chance to immerse themselves in different fields of study. Students work closely with distinguished faculty mentors and gain invaluable experience through hands-on projects and field trips. Students can earn college credit for one or both summer sessions offered from July 11 – August 5 at a tuition rate of $500 per course.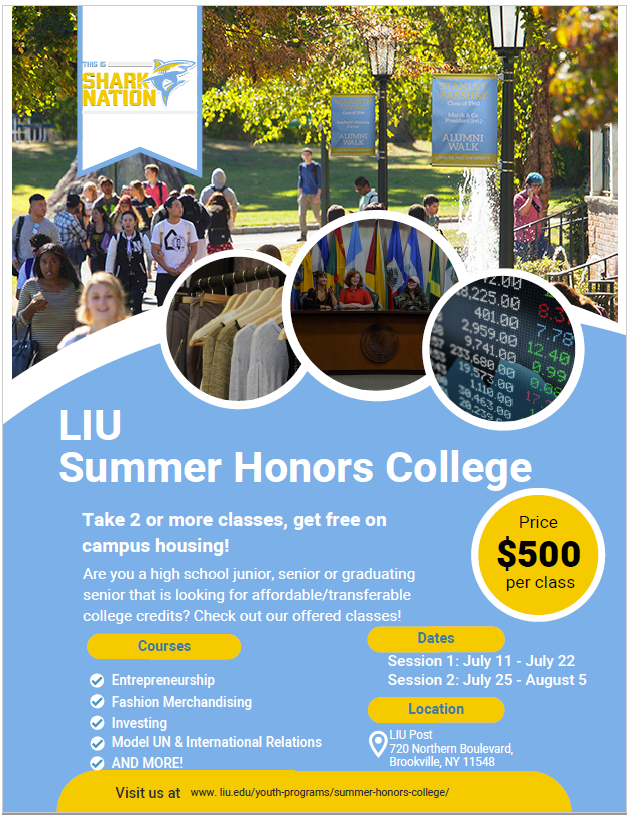 Contact Information:
Please contact us immediately in the event of any issues or major concerns. Susan Chan, National Events Manager, schan@veinternational.org
                                                                                         Hosted by LIU Post