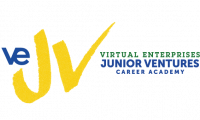 What Did You Do In School Today?
The VE-JV Career Academy helps engage middle-level students through real-world experiences and hands-on learning about technology, business, and careers. Students learn business by doing business, test driving potential careers. Students work individually and as a team to develop technology, problem-solving, communication, and critical thinking skills, preparing them for success in high school and beyond.
The VE-JV Program was made possible by the generous support of the New York Life Foundation

Technology Applications for Business
Technology Applications for Business introduces students to technology projects typically used in the business and professional world that require facility with spreadsheets, presentation software, word-processing, graphics, web design, and social media. Lessons and activities are built around an entrepreneurial theme and include projects such as creating a budget, conducting a break-even analysis, making expense reports, developing newsletters, developing and presenting a business plan, and more.
VE-Junior Ventures
VE-Junior Ventures challenges students to build on skills from Technology Applications by collaborating with their classmates to launch and manage a business that replicates the functions and demands of real business in both structure and practice. Students take on the roles of employees in a company, work in functional departments of the organization (marketing, sales, human resources, accounting, finance, and IT) and complete department-related work and projects that support the goals of the company.
Ready to Start Preparing Your Students for the Future?
Spring VE Winning Women Conference
A Day of Insight and Skill Building for VE Student Leaders   The VE Winning Women Leadership Conference, held May 5, 2023, and hosted and sponsored by Mastercard at the…
Read More
Class 328 came to school camera ready today to showcase their company Youtrition, for a video shoot titled "A day in the life of VEJV". We are so proud of our young entrepreneurs, you've all done such an amazing job this year! 👏👏👏 #VEJV pic.twitter.com/tlWI4ofsdz

— MS137Q Heroes (@MS137Heroes) May 20, 2022
School Administrator Testimonial
"The VE-JV program has opened doors for our scholars to be able to experience "the business world" and gain experiences they would not have half the opportunity to do without the VE-JV program. It allows for our scholars to shine nationally as they compete in competitions and participate in events. Scholars are learning skills they can apply in their other classes as well as in in high school, college, and beyond. The VE program brings another level of opportunity for scholars at NWP to participate in something not all other schools offer.
Other schools should consider opening a VE – JV program because of the skills and opportunities scholars are exposed to through the program. Scholars not only get to experience starting a company or business, but they also learn computer skills, teamwork skills, communication skills, and are able to be creative. The program becomes very scholar-centered and allows for students to serve in leadership roles. The VE-JV program comes along with a community that provides support for teachers and allows for collaboration and professional development."
Randi Schafer
Assistant Principal
New World Preparatory Charter School
Staten Island, NY
The map below indicates middle schools implementing VE-JV programs across the United States. Click on each icon to learn more about these locations.