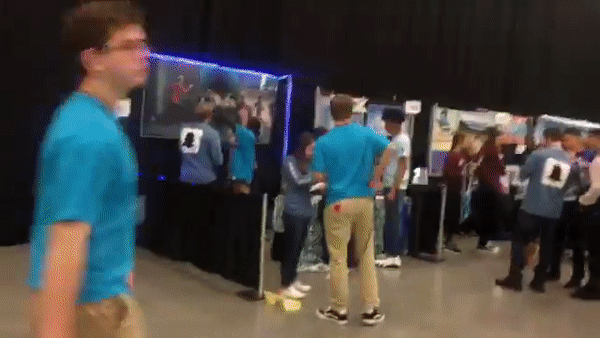 November 20-21, 2017
LeConte Event Center
Pigeon Forge, Tennessee
Key Stats
1,617 total attendees
72 schools
92 firms
13 competitions (including Business Plan)
7 states (Illinois, Michigan, Missouri, North Carolina, New York, South Carolina, Tennessee)
Competition Results
Southern Regional Business Plan Competition
Representing Tennessee
Elysium, Bearden High School
AuNaturale Spa and Hair, Inc., Oakland High School
Extreme Adventures, East Hamilton High School
The Animal Kingdom, Inc., Loretto High School
Alpha and Omega, Lawrence County High School
Kutt Loose, Siegel High School
Representing Missouri
Global Goodies, Parkway West High School
Arrow Shipping, Parkway South High School
VIVID+, Parkway West High School
Congratulations to all the winners, and to Global Goodies, Elysium, and AuNaturale Spa and Hair, Inc who will be going to the 2018 National Business Plan Competition!
Results for Top 10 teams in Advanced Website, Booth Design, Company Branding, Company Newsletter, E-Commerce Website, Elevator Pitch, Human Resources, Impact Marketing, Marketing, Sales Materials, Salesmanship, and Video Commercial can be found at the Competitions Results page.
View Competition Results
Social Media Contest Winners
Bucket List, Waubonsie Valley High School, Aurora, IL
For a comprehensive overview of their firm's conference and exhibition experience:
A Bucket List recap of our days at the Southern Regional Conference in TN!! 😃 #VEInternational pic.twitter.com/DnsQp91UHD

— Bucket List (@BucketList2k17) November 21, 2017
VIVID+, Parkway West High School, Chesterfield, MO
For their great timelapse of the exhibition space and all the booths:
The Cozy Company, Stewarts Creek High School, Smyrna, TN
For their wonderful behind-the-scenes video of their class trip:
Just a glimpse behind the scenes of trade show! (credit: @alyposton) #veinternational @VEInternational pic.twitter.com/mSu6Dvua7r

— The Cozy Company (@TheCozyCo) November 22, 2017
Thank You to Our Judges
On behalf of the VEI, we would like to say a big thank you to the following individuals who helped with the judging of the business plan competitions and all the live competitions the day of the conference and exhibition. The success of the conference would not have happened without their help.
Jutta Bangs, Director TSBDC Oak Ridge, TN
Richard Bettis, Sr. Commercial Loan Officer, Highland Union Bank
Doyle Boyd
Cliff Claudell, President, Greater Knoxville Score Chapter
Holly Cross
Felicia Demos, CFO, Demos' Restaurants
Bruce Hayes, Director, Tennessee Small Business Development Center
Stephen Jenkins, Knoxville Entrepreneur Center
Tabitha King, Regal Title, LLC
Christopher Salute, Asst. Dean, Long Island University Global
Laura Overstreet, Sr. Business Specialist, TSBDC
Teresa Sylvia, Business Specialist, TSBDC
Mary Metz
Doug Minter, Knoxville Chamber Director of Small Business Development
Judi Molla
Linda Ousley, Former VE facilitator
Amy Pangelinan, Market President, Highland Union Bank
Pam Thurman, CTE Core Consultant
Christy Seals
Vanessa Thompson